I'm thrilled you've decided to join the thousands of Americans already tapping the 7%+ dividends (and price upside) our Contrarian Income Report portfolio offers.
With these huge, steady payouts, you really can retire on dividends alone – and on a lot less than most advisors say you need!
Best of all, many of our picks pay dividends monthly – so you'll want to buy now and get set for your first payout in short order.
To get you started, I've prepared a detailed Contrarian Income Report Member Guide. It gives you everything you need to know, from how to log into your new account to a complete breakdown of the proven high-yield strategies I'll give you in the months and years ahead. It's a good idea to keep this handy guide close by. I've designed it as a quick "go to" to answer any questions you might have. (And you can always get a quick response from our customer service team at help@contrarianoutlook.com, too.)
But let me save you a click and show you, right now, how to log in and use the Contrarian Income Report Member Resources page – your "Dividend Dashboard" for the many benefits your new account gives you.
To start, click here and enter the email address and password you provided when you signed up. That will take you to Member Resources: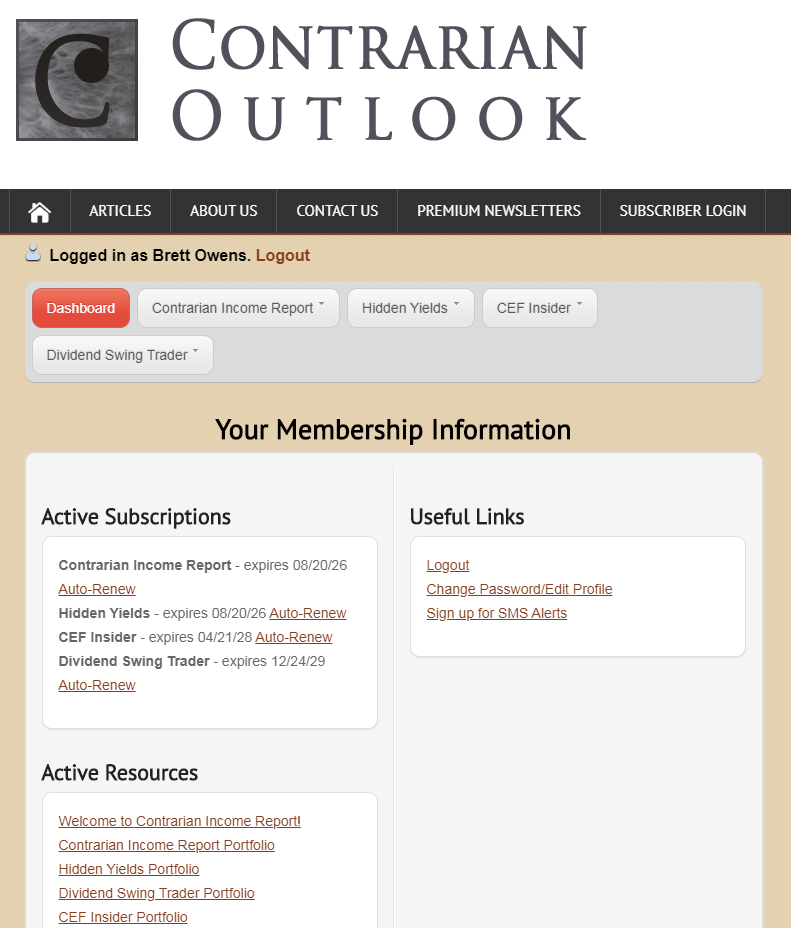 Let's explore what's here, starting from the top. Click on the Contrarian Income Report drop-down menu and you'll see the following:
Issues: Home to every Contrarian Income Report issue we've ever published.
Portfolio: the heart of our service, with all of our picks and my latest recommendation on each one, along with their current yields, accumulated dividends (in dollars and cents received per share), dividend frequency and more.
Special Reports takes you to our full report library. We regularly add to this wealth-building archive, so it pays to pop in occasionally and see what's new.
Below these links, you can manage your subscription, including changing your password and updating your payment info. It's all upfront and simple to use.
But if you do run into any roadblocks, don't worry: we've got you covered. Just refer to the member guide or email our customer service team at help@contrarianoutlook.com and we'll get you back up and running fast.
Once again, thank you for joining Contrarian Income Report.
Yours for big dividend payouts,
Brett Owens
Chief Investment Strategist
Contrarian Income Report
P.S. To make sure you don't miss an issue or breaking email alert, you can now get all of our updates by text message (in addition to regular email delivery). This is a free service we're offering to members, and you can get it by signing up here. (We'll only send a text message to you when there's an issue or alert – we won't bother you at any other time.)
P.P.S. Over the next few days, I'll send you more "pro tips" for getting the most out of your new membership. Keep an eye on your inbox for those.