Brett Owens, Chief Investment Strategist
Updated: November 1, 2017
This is an example of a bad almost-10% yield:
When a Bullish Chart is Bad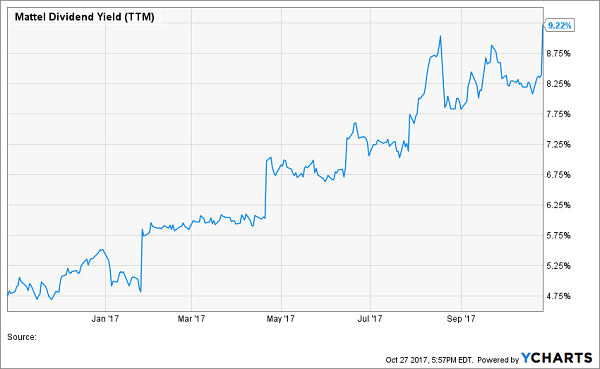 Mattel's (MAT) yield was rising for the wrong reason – because its stock price was dropping faster than its payout. Going forward, that shouldn't be a problem. The firm officially suspended its dividend on Friday.
I warned you that the toy maker was a dividend disaster waiting to happen. In June's edition of our Dirty Dozen: 12 Dividend Stocks to Sell Now report, we discussed how falling profits were going to be a serious problem for the stock's payout:
When Mattel last raised its dividend, from 36 cents to 38 cents quarterly at the beginning of 2014, few people batted an eye.
…
Read more