Brett Owens, Chief Investment Strategist
Updated: August 4, 2016
Dividend stocks are a "no brainer" compared to Treasuries says Bob Doll, the chief equity strategist for Nuveen Asset Management. He told Bloomberg Radio that with dividends outpacing yields on government bonds, it's an easy decision in favor of equities.
But which high yield stocks should be bought, and which are already overbought?
Anything that pays is hot. Yields on most utility stocks, for example, are at their lowest levels this decade with popular payers such as Southern Company (SO), Duke Energy (DUK) and Dominion Resources (D) dishing investors between 3.4% and 4% – well below their historical payouts.
Utility Yields Driven Down by Dividend-Hungry Investors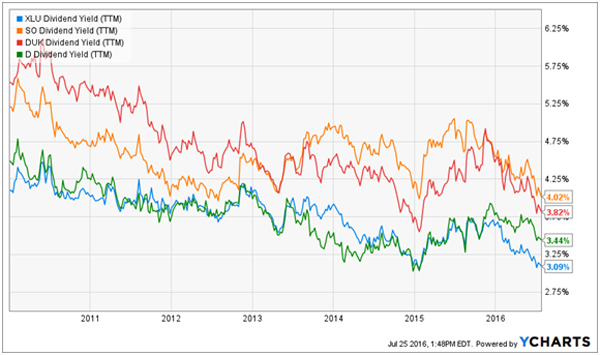 With respect to the 10-Year Bill's sad 1.6% yield, these dividends look great.… Read more