All of my indicators are telling me that oil is getting set to rip higher. And when it does, we're going to be ready with two funds throwing off outsized 9% dividend yields!
How can I be so sure the goo is a coiled spring? Well, for one, the two underrated oil funds we'll discuss below trade at huge discounts to their "true" value. Right now, we can buy them for less than 90 cents on the dollar.
That gives our oil gains an extra boost. And if oil does break lower from here—something I see as highly unlikely—we're still getting some nice downside protection, thanks to those very same discounts. Either way, our 9% income stream will safely roll in.
Our "Crash 'n' Rally" Thesis Is Playing Out Perfectly
To get into the dividend deal we're preparing for here, we first need to zero in on our "crash 'n' rally" play on oil, which, if you've been reading my columns over the last couple years, you probably know by heart.
Here's how it played out in the wake of both the 2008 and 2020 crashes:
Demand for energy evaporated and prices crashed quickly (2008 and 2020).
Energy producers scrambled to cut costs, so they cut production aggressively.
The economy slowly recovered (2009 and late 2020), energy demand picked up, but supply lagged.
And lagged. And lagged. And energy prices rallied until supply eventually met demand (2009-2014 and 2020-present).
We're now into  step 4, and this is where our two "upside drivers" come in—because both are about to put the screws to already tight supplies, and that only means one thing for prices: gains.
The first is China's reopening, which came to pass after Xi's epic climbdown on COVID restrictions in January. Now we're seeing evidence that the Red Dragon's economy really is hitting its stride.
In January, for example, Chinese consumer confidence hit highs not seen since March 2021. And a measure of new export orders soared to the highest level since 2011.
These are the latest signs that the world's largest energy consumer is back. Yet on the oil markets, crickets …
China Rises—Oil Goes Nowhere (for now)

This can't last, especially when you consider our second upside driver—the fact that the Biden Administration has been using releases from the Strategic Petroleum Reserve (SPR) to artificially keep a lid on oil prices.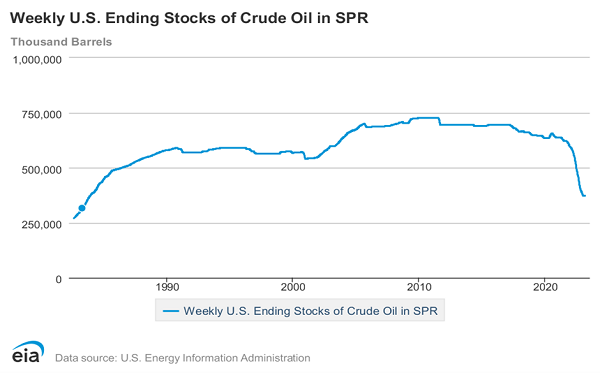 Since mid-2020, these reserves are down 43%! That oil will have to be replaced, and when it is, Uncle Sam's move into the oil market will drive up demand—putting more pressure on prices.
Combine the inevitable refill of the SPR with China's reopening and it's pretty obvious that oil is a coiled spring right now.
A good way to profit from this situation is through closed-end funds (CEFs) because by doing so we're giving ourselves two advantages buyers of oil stocks and ETFs can't match.
The first? High dividends. CEFs almost always pay more than regular stocks do, and the Kayne Anderson Energy Infrastructure Fund (KYN) is no exception. It sports an outsized 9% payout that it's maintained (and even grown) through the perilous early 2020s:
KYN's Growing 9% Payout

Then there's the discount, which, at 11.8%, gives us KYN's portfolio of "tollbooth" plays—pipeline operators and oil-services firms like Enterprise Products Partners (EPD), Energy Transfer LP (ET) and ONEOK (OKE)—for 88 cents on the dollar.
(Note too that even though KYN holds master limited partnerships, or MLPs, it kicks you a simple Form 1099, not the complicated K-1 package MLPs normally send, at tax time.)
Another dividend-powered oil play on our list is the MainStay Global Infrastructure Megatrends Fund (MEGI). This one is a good choice if you're looking for a more diversified play on crude.
In addition to oil and gas services and pipeline firms like ONEOK, Williams Companies (WMB), Enbridge (ENB) and EnaGas SA, MEGI holds stable utilities like the UK's National Grid and cellphone-tower "landlord" Crown Castle (CCI).
MEGI, too, comes to us at a big discount (12.5% in this case) and a 9% yield. The fund had the tough luck of launching in October 2021, before the 2022 dumpster fire and when oil was higher than it is today. That's weighed on its performance. But it has held that payout steady throughout—and that decline is why MEGI's deep discount exists today.
A "Twofer" 9% Dividend Play on Oil and Gas
Here's one more thing to consider: MEGI also gives us exposure to natural gas, which has been washed out after Europe scrambled to refill its tanks last summer, after cutting off Russian gas. The continent also got an unexpected assist from a warmer winter.
Right now, "natty"—the least offensive of the fossil fuels—is in the process of forming a bottom as China reopens and Europe sets off on a second scramble to secure tight supplies. That puts bargain-priced MEGI in a good spot to profit from a rebound in both oil and gas.
We're Not on Oil—Yet. Here's When Our Buying Spree Begins
The key thing to remember is that the bottoming of natgas is a process. And oil still needs to see higher demand—from Uncle Sam, China or anywhere else—to really soar.
So while now is a good time to start building a position, I expect we'll get one more shot at big bargains—in oil, gas and everything else—before markets make their next sustained move up.
When the time is right to go "all in," I'll let members of my Hidden Yields service know. And right now I'm inviting you to join this group with a special risk-free 60-day trial offer I'll give you when you click right here.
I'll also share my entire dividend-investing strategy with you and give you the opportunity to download a free Special Report naming my top 5 dividend stocks for 2023 (I'm calling for these 5 stocks do DOUBLE in the next 5 years or less, while their dividend payouts TRIPLE).
Click here to get the full package—and ensure you're ready to buy when my "all in" call on stocks (oil, gas and otherwise) comes in the next few weeks.