Hands up if you've been caught out by a snap dividend cut. Then you know the sickening feeling as investors dump the stock, tanking its price on the way out.
The result? A shriveled income stream and a crushed share price.
It's a story I fear we're going to hear a lot in 2023, with rising rates hitting stocks now, and a recession on the horizon. Folks who win will be those who know when to swing into—and out of—strong payers while shunning feeble dividends set to crumble.
To help you protect yourself, I've combed the market for dividends that could be on the chopping block. If you hold any of the five stocks I'll name below, sell yesterday.
Target's Inventory Bloat Could Force Payout Cuts
If you've been to a mall lately, you've likely noticed that stores have gone from next to no inventory to stuffed shelves. That's a kind of good news/bad news story: the good news is that it indicates that supply chains are finally healing.
The bad news? Those rebuilt supply chains are upchucking inventory ordered more than a year ago—when goods demand was soaring—onto store shelves. The result is a load of "stuff" that's surged to an all-time high:
"Bullwhip Effect" Inflates Inventories at the Worst Possible Time


That means we need to keep a watchful eye on all of our retail dividends—but a couple I'm paying particular attention to are Target (TGT) and Best Buy (BBY).
Target isn't high on most dividend investors' buy lists, with its ho-hum 2.8% yield. But the stock would certainly crater on any payout cut. And the company's inventory woes, which were well-covered in the press in 2022, aren't getting better. As of the end of October, its inventory sat on shelves for about 75 days, on average, before selling—a level not seen since before the pandemic:
Target's Inventory Stagnates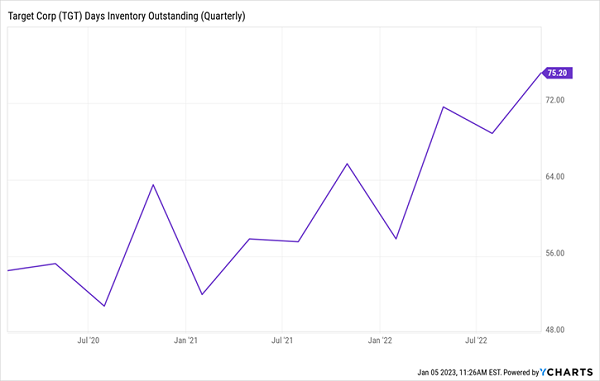 That's a lousy position to be in with a recession likely and soaring inflation and interest rates squeezing consumers. Not to mention competition for spending from services, such as travel and dining out, which are still booming as consumers go YOLO on the experiences they missed during the pandemic.
Worse, though, is the company's free cash flow (FCF) payout ratio, which is the percentage of FCF occupied by the dividend. As I write, this figure is in the negatives, meaning Target is paying a dividend while generating negative FCF. Not good.
It's making up the shortfall with debt: long-term debt soared from $13.7 billion to $16.4 billion in the 12 months leading up to the end of October. That's a tough burden to shoulder in today's rate environment. If you're still holding this one, sell now. It'll likely be on the mat for a long while yet.
Best Buy's 4.5% Payout Could Suffer With Tech and Retail
Which brings me to Best Buy. I've grown increasingly worried about the electronics retailer in the last few weeks because, even though the retail sector likely had a decent Christmas-shopping season, I worry it wasn't enough to significantly drop BBY's high inventory levels.
As of October 31, Best Buy's inventory was  sitting on shelves for about 74 days, a historically high level and around the same time it was taking to sell in October '21. But back then, sales times swiftly dropped to just 50 days, as lockdowns drove spending on goods and supply-chain snarls limited product availability.
I don't see a shift like that happening this time, especially with a possible recession on the horizon:
Best Buy Struggles to Sell to Battered Consumers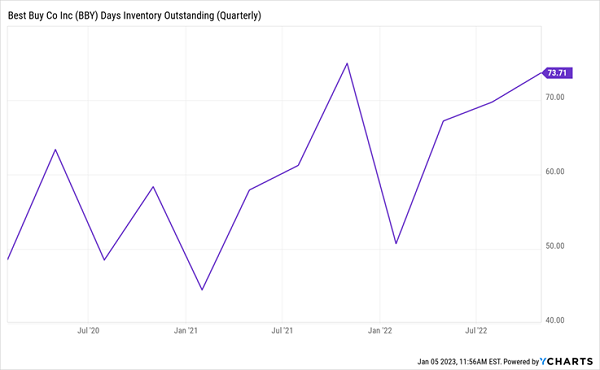 Investors have already picked up on Best Buy's sensitivity to the impact of rising rates, inflation and a possible recession. In response, they've sent the stock down some 24% in the last year. That's driven the dividend yield up to 4.5%.
Don't be taken in by that high yield, though, because the FCF supporting the dividend is under pressure. Right now, dividends account for 64% of the last 12 months of FCF, up sharply from 27% a year ago. That puts a dividend cut in play—especially with Best Buy facing the possibility of resorting to deep discounts to clear its stuffed warehouses.
A Slow-Motion Dividend Squeeze Could Hit These 3 Office REITs
Here in Sacramento, most State of California employees are still working from home—they're not coming back to the office. The state has buildings it leases and buildings it owns. Leases are an easy decision: they are being broken early or, at a minimum, not renewed.
It's no different elsewhere, and in the private sector, with office attendance stalled at just 48%, according to a 10-city average compiled by building-security firm Kastle Systems:
Source: Kastle.com
The bottom line is that now is a terrible time to be an office landlord. This fact alone makes office real estate investment trusts (REITs) a sell, despite their high dividends.
And dividends are high in the space, mainly because share prices have plunged. Consider Vornado Realty Trust (VNO), which yields 9.9% and is mainly concentrated in New York City, where it owns or has stakes in 67 office and retail properties.
With only 48% of New York office workers back in their cubicles, it will be many months (if not years!) until Vornado's retail tenants see foot traffic like they saw pre-pandemic.
Management did cut the quarterly dividend by 20% with the August 2020 payout, bringing the quarterly payout to $0.58 a share. That relieved some of the pressure on funds from operations (FFO, the best measure of REIT performance): on an annualized basis, the lower dividend amounts to 74% of the last 12 months of per-share funds from operations.
That's bearable, and Vornado's tenants are mostly signed to long-term leases. But occupancy rates are trending down, from a peak of 97.2% in 2018 to 92.2% as of the end of 2021. With work-from-home now permanent for many folks, it's hard to see that trend turning around. What's more, lease renewals track employee attendance, with a lag—and that fact alone could eventually force office REITs to sell buildings into a crowded market.
All of this means that any office REITs in your portfolio should be sold—including major names like Vornado, Boston Properties (BXP) and California-based Alexandria Real Estate Equities (ARE). I don't have anything against these companies themselves—I just fear their businesses are becoming obsolete.
This Incredible "Perfect Income Portfolio" Could 4X Your Income—Instantly
I've built a portfolio that yields 4 times more than the paltry dividends the typical S&P 500 stock dribbles out, and I can't wait to share it with you. This unique portfolio consists of a carefully crafted selection of stocks and funds that:
Pay you consistently, predictably and reliably.
Are absurdly undervalued, giving them a far better chance of soaring than the overvalued, popular names most folks buy.
Take just a few minutes every month to "manage."
Do NOT involve day trading, buying on margin or any other risky strategy.
My entire "Perfect Income Portfolio" is waiting for you. Click here to read all about it and get an exclusive Special Report naming all the stocks and funds inside. In just a few minutes, you could be lined up to collect its massive income stream—4 times more dividend cash than most investors get!