Brett Owens, Chief Investment Strategist
Updated: November 20, 2019
This week we're going to get a bit greedy (responsibly, of course) and discuss fast double-digit gains from safe dividend stocks. Many of you probably sat back and enjoyed Arbor Realty Trust's (ABR) "parabolic" move to the upside in recent weeks. Since we purchased Arbor for our Contrarian Income Report portfolio in July 2018, we've enjoyed epic 60% total returns!
This Tree Might Grow to the Sky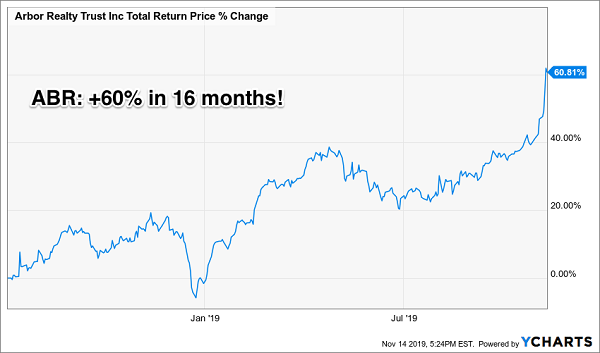 We paid $10.85 per share and have already collected $1.51 in dividends, about 14% of our initial capital—in 16 months!
Payouts alone have provided a solid return, but it's been the price gains that have really made this stock a winner.… Read more