Brett Owens, Chief Investment Strategist
Updated: October 3, 2016
What the heck are you supposed to do with your retirement portfolio between now and the November 8 election? Cash it out and put the greenbacks under your mattress?
If that's what you're thinking, you may be having flashbacks to 2012, when volatility spiked in the month leading up to voting day, as shown by rise in the CBOE S&P 500 Volatility Index (VIX), the so-called "fear indicator":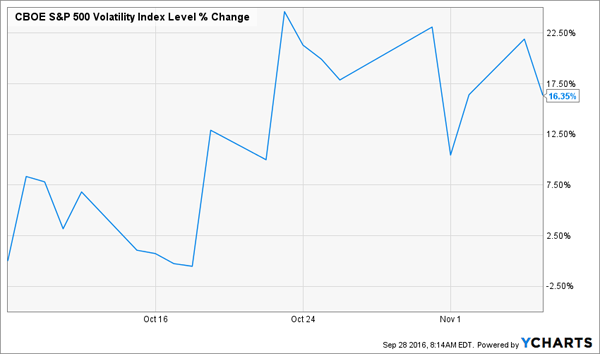 And of course, 2008 is still seared into everyone's mind, when the financial crisis was mauling the economy and stocks as Barack Obama and John McCain squared off.
Here's the good news: if your timeline is long, you have little to fear from the occupant of the White House, even in an unprecedented election like this one.… Read more