Please, take that finger off the Sell button.
This is the best buying opportunity since the bank failure panic in March. Vanilla investors are giving away perfectly good dividends.
Let's grab the bargains.
Why the panic? Well, the 10-year Treasury yield burst through the 4.3% ceiling I've been pointing to. This is why stocks sank. All lending and refinancing are based on the 10-year, so a higher rate suggests a slower economy ahead and lower corporate profits.
When the 10-year moonshots like it has over the past year, it breaks financial markets. Bonds drop because they trade opposite rates. Real estate investment trusts (REITs), meanwhile, get hammered for two reasons.
First, REITs trade like bonds. In the short term, when rates rise, REITs drop.
Second, REITs drop doubly because they regularly refinance their operations. As required by the IRS, these publicly traded landlords don't stash cash. They dish 90%+ of their income as dividends to (legally) sidestep income taxes.
Which is great for income investors like us. But it means that REITs are always looking for cash infusions. Investors dump REITs when rates rise, as they have relentlessly since the start of 2022:
Rates Rise, (Most) REITs Suffer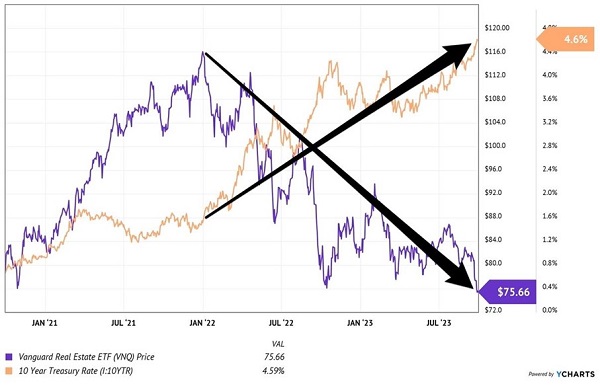 But here's the other slice of this good news sandwich. Rates have been going parabolically higher lately. Parabolic booms lead to plummets later.
When the 10-year cools down for a bit, bonds and REITs will rally.
So will business development companies (BDCs) like Barings BDC (BBDC). The stock trades for just 79% of its book value today. Yes, that's right—it's 21% off!
Barings is a bargain because of the skeletons in its closet. The company rebranded from Triangle Capital, a hallmark move of any operation trying to sever ties with its checkered past.
The name change was more than a cute public relations ploy, though. Barings also brought on a new external adviser and the firm overhauled its portfolio. The "new" company lends to well-established middle-market companies, nothing like its prior incarnation which flipped cash to any borrower with a pulse.
As small and big banks pull back on their lending, borrowers will increasingly look to BDCs to fill the void. We income investors look to BDCs for discounted dividends. Like REITs, these companies can avoid taxes if they pay most of their income to us.
Since the rebrand, Barings has been great to shareholders. Its dividend is up 160% over the past five years. This includes not one but two payout hikes in the past year!
The safest dividend is often the one that has recently been raised. It's hard to believe that Barings is this cheap, but hey, it's a panic and that's when bargains arise.
Barings is way too cheap today. Interest rates are not going to the moon.
When the investing herd realizes this, they'll bid Barings towards fair value—25% higher. In the meantime, we'll happily collect its 11.9% dividend.
Yup, we're buying now. We'll reserve our right to panic later—after the crowd has calmed down. We're contrarians!
Dividend deals like BBDC are staples of my 8% No Withdrawal Portfolio. The idea is that we're retiring on dividend income alone—without having to draw down income.
Payout boosters like BBDC fuel the No Withdrawal strategy. Each hike adds to our income. We never have to sell a share. Thus, we can retire worry free thanks to generous dividend income. Click here to learn more including my favorite dividend stocks to buy today.