You've probably heard that less than half of active funds beat their index, and a low-cost index fund is your best bet for long-term investing.
Well, today I want to show you why that is 100% wrong. I'll also reveal 15 funds paying dividends from 5.6% to 7%, while crushing their index, too.
First, the facts.
When it comes to mutual funds, it's true that the vast majority of them do not beat their indexes. It's also true that most funds of all types that invest in common stocks don't beat their index.
But there's more to investing than stocks. Much more.
While stocks get all the headlines, the bond market is much bigger, valued at $102.8 trillion, 37.6% bigger than the stock market. And for good reason: bonds, with their income, lower volatility and generally lower risks are a great asset for investors to use both to diversify their portfolios and protect themselves from big losses, like in 2008 and 2018.
There's just one problem with bonds: their yields are low, and with the Federal Reserve cutting interest rates, those yields are just getting lower. But there is a third way that brings us the best of stocks and bonds, and it's a great option for investors who want income, lower volatility and diversification.
I'm talking about preferred stocks.
Preferred Stocks Explained
When a company raises cash, it can do so through debt (bonds) or equity (stocks). When it issues shares, it can classify them separately from one another, with some shares having preference over other shares. This is where preferred shares come in.
One of the biggest advantages of preferred stocks is that they pay a regular dividend—even if the company itself does not pay dividends on its common stocks. Plus, preferred-stock dividends tend to be much higher, which is why the iShares Preferred & Income Securities ETF (PFF) pays a 5.9% dividend, versus the measly 1.9% you get from the S&P 500 SPDR ETF (SPY).
But don't buy PFF quite yet. While the dividend is good, the fund's return is pretty lame.
A Low Return Over the Long Haul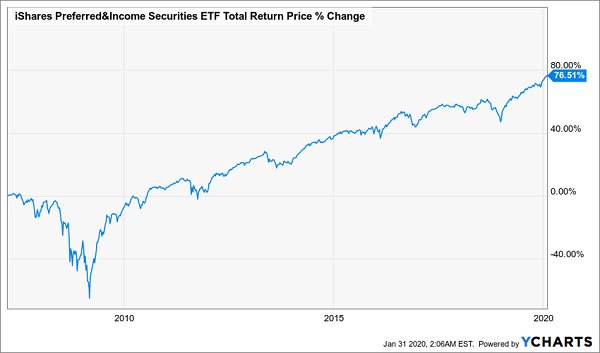 Since its inception over a decade ago, PFF has returned 76.5%, or just 4.5% annualized. That's because PFF is an index fund: a rules-based fund with no manager available to select the better-quality preferred stocks and avoid the worst ones.
But that's exactly what preferred stock-focused closed-end funds (CEFs) do, and they do it well.
The Active Edge
There are 15 preferred stock focused CEFs. All of them are actively managed, and all of them have beaten the index.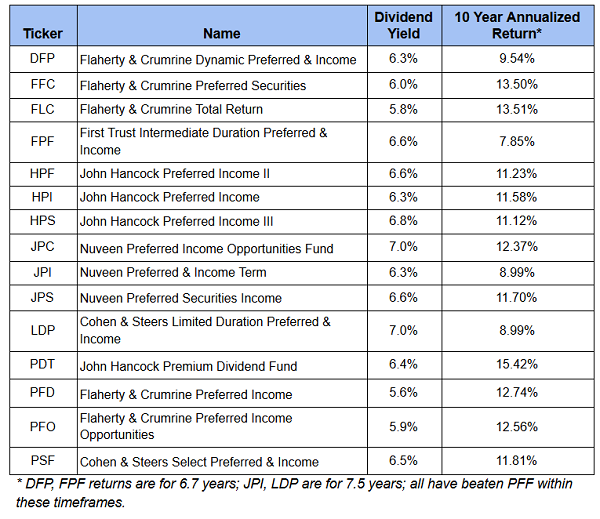 If you're a yield hunter, you've probably zeroed in on LDP, with its nice 7% dividend. While it's one of the lower-performing funds, it has crushed the index, making it worthy of your attention if you're looking to add preferred stocks to your portfolio now.
Soaring Past the Index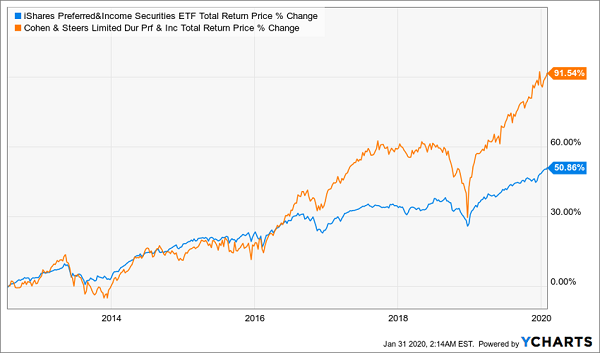 4 CEFs Perfect for 2020 (Yields Up to 10.3%) 
LDP is a solid fund, especially if you're on the hunt for income. But you'll kick your payouts up a (huge) notch with my 4 top CEFs for 2020. I just revised my list of top CEF picks a few weeks ago, but thanks to the market's recent volatility, we still have a great shot to buy in!
These 4 stout CEFs have 2 critical strengths that help them outperform in any market weather:
Massive dividends: I'm talking an 8.4% average yield here.
Big discounts: Nearly all the preferred-stock CEFs I showed you above trade at or above the value of their portfolios (called their net asset value, or NAV, in CEF-speak). But each of these 4 funds trades for far less. That's why I'm calling for outsized 20% price gains from each one in the next 12 months!

There's also a nice built-in hedge here, too, because if stocks do take a tumble, these 4 funds' big discounts mean they'll likely trade flat. Either way, we'll still collect their huge 8.4% payouts!
And that 8.4% yield is just the average: the 4th fund on my list yields an incredible 10.3% now, and its payout has skyrocketed 113% in the past decade!
A Rare 10.3% Dividend That Soars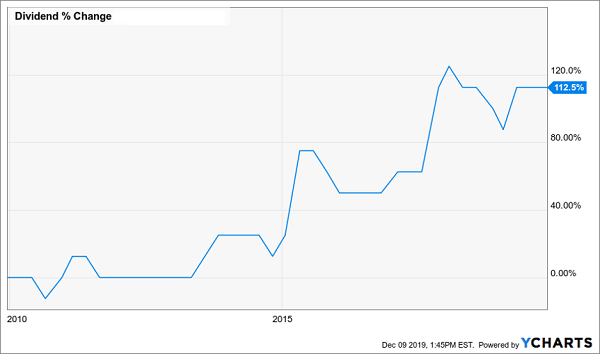 With a dividend like that, you're already beating the market's average yearly total return right out of the gate—in dividends alone! Of course, I'm still calling for 20%+ price upside here, too, to go along with that massive cash payout.
Full details on all 4 of these terrific income plays are waiting for you now. Don't miss this rare opportunity to score them at a bargain. I'll give you names, ticker symbols, dividend histories and everything I have on each of these 4 cash-rich CEFs right here.