So far, 2017 is shaping up to be a great year for US stocks, but there are plenty of funds that are doing much better than your typical passive index fund.
In fact, some funds are so hot that they've already shot up over 30% in 2017 and show little sign of slowing down.
Two big trends are at work here, and each has far-reaching implications, not only for these funds but for the economy and stock market as a whole. Both are also extremely important trends that few investors truly understand.
What am I talking about? The US dollar's weakness and the future of rising interest rates.
Emerging Market Overachievers
In 2015 and 2016, the US dollar was on a tear. In fact, the greenback was so strong that many economists worried that emerging countries, which often borrow money in US dollars, would struggle to pay their debts and could even go bankrupt.
That never happened, and now the US dollar is collapsing, which is making emerging markets' debt loads easier to handle while making these countries' companies more profitable. So far in 2017, the US dollar is down 5.6% against a basket of foreign currencies, which is partly why the Turkish Investment Fund (TKF), the Asia Tigers Fund (GRR) and the MS India Investment Fund (IIF) have returned over 30% each.
Asia Funds Are Killing It

Will the trend continue? Probably. There's little indication the US dollar is going to strengthen, and recent economic data, such as a disappointing jobs report, limited US inflation and strong GDP growth, suggests the dollar could even weaken, driving these funds' holdings even higher. (You can get my complete take on international markets in my May 30 article, "7%+ Yields Ahead: Your Smartest Contrarian Play for the Rest of 2017.")
Ceaseless Market Demand
The weak US dollar isn't the only trend driving emerging-market funds to meteoric heights. The Federal Reserve is now in the middle of a slow process of raising interest rates to pre-crisis norms. It's been almost a decade since we've seen the Fed raise rates to 3% or more, leading many economists to muse on how long it will take to get back to that level.
In the past, many would agree that we would get to those levels in a matter of a year, maybe two. Now many experts are pushing their estimations out to a span of decades, indicating that one interest rate hike per year, or a bit more, on average, is about all the Fed can feasibly do.
A fast pace of interest rate hikes is bad for leveraged equity funds, which borrow cash to buy stocks in the hope that the return will exceed the price of the loan. But slow interest rate hikes give sophisticated fund managers an opportunity to vary the amount of leverage they use in order to take advantage of fluctuations in the stock market.
This is partly why investors love the PIMCO Global StocksPLUS & Income Fund (PGP) and BlackRock Science and Technology Fund (BST), which are both up over 30% year to date—with PGP up a whopping 46% so far:
Massive Jumps for Complex Funds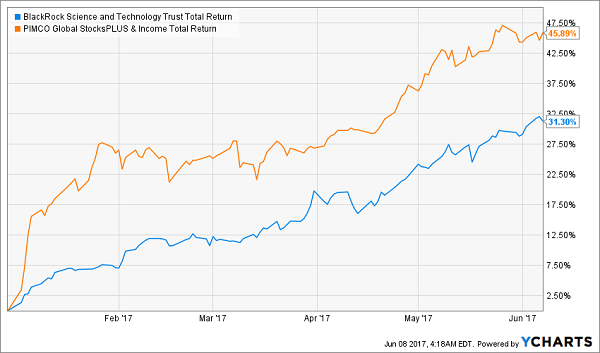 The complexity of these funds partly contributes to their big jumps, and big dividend payments help, too. PGP yields 9.4%, while BST's more modest 5.2% is still extremely impressive since this fund gives investors exposure to tech stocks like Alphabet (GOOGL) and Facebook (FB), which don't pay dividends at all. Management has also never cut the fund's payout and has a history of smartly using leverage to goose returns.
The 4 Best 7%+ Yields for Your Retirement Portfolio
Even though these 5 funds' strong runs may continue, that doesn't mean you should hold them for the long haul.
That's because they lack the stability and diversification you need to lock in steady 7%+ income—with nice gains on the side—to bankroll your golden years.
This is precisely why I just released a new FREE report revealing 4 funds with all these strengths. Plus they all trade at big discounts to net asset value—or what their underlying assets are worth.
Translation: They're nicely set up for big gains (on the order of 20% or more) in the next 12 months as those weird discount windows slam shut. And yes, that's on top of the gaudy 7%+ payouts you'll be pocketing here.
Oh, and before you ask, yes, these yields are safe: all 4 funds easily generate enough investment returns on their holdings to cover their massive payouts, and they give you far more diversification than if you just piled all your cash into a few emerging market funds—as appealing as they are right now.
I can't wait to show you the surprising secret behind these high, safe yields and give you everything else you need to know about these 4 little-known funds. Simply click here to get your copy of this eye-opening FREE report and kick-start your own growing 7%+ income stream now!