This market wipeout has one big silver lining for income investors like you and me: dividend yields are soaring—and today we're going to tap four of my favorite stocks for payouts all the way up to 8.9%.
First, though, to see just how incredible this buying opportunity is, look no further than the Vanguard REIT ETF (VNQ), the benchmark ETF for real estate investment trusts (REITs).
If you logged into your investment account now and simply bought VNQ, you'd kick-start a nice 4.8% income stream. The ETF has only shelled out a payout that big on two other occasions—and only very briefly—in the last 10 years.
A Rare Third Shot at Massive Cash Payouts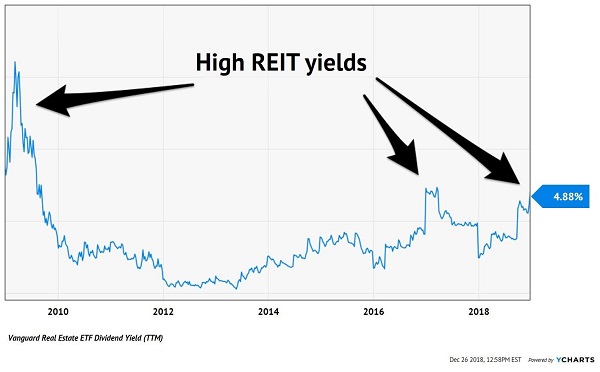 As you can see, VNQ's yield typically spends very little time above 4.5%—and I expect its stay there to be cut short this time, too, as the herd catches a whiff of this gaudy payout and drives the share price up (and the yield down).
How do I know?
Because that's exactly what happened a decade ago; savvy folks who pounced in July 2009, the last time VNQ's yield was over 4.5%, banked a fat 226% gain—with nearly half of that gain in cash, thanks to VNQ's healthy dividends:
Powerful Buy Signal Delivers 226% Gain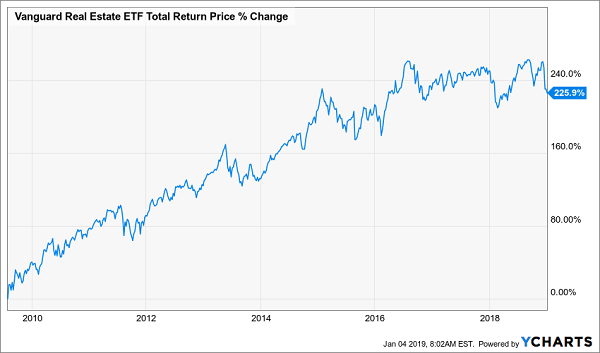 And with VNQ's yield sitting above 4.5% again, history is about to repeat.
We need to act now.
But we can do way better than simply buying this overhyped ETF. Instead, we'll set ourselves up for bigger gains, higher yields and faster-growing payouts by going one step further and snapping up REITs individually.
I've got three top buys waiting for you just below. I'll also give you a bargain-basement closed-end fund (CEF) that combines the best REITs in the business to hand you an incredible 8.9% dividend—paid monthly, to boot.
So let's dive in, starting with my first two picks.
35% Payout Growth From 2 Superstar REITs
Crown Castle International (CCI) and Equinix (EQIX) are worth picking up as a set because they're both standing square in the path of the biggest tech megatrends you can name—tectonic shifts like artificial intelligence and the rollout of ultra-fast 5G cellular networks.
Equinix owns data centers (basically warehouses of computer hardware leased to corporations) in 52 cities across five continents; Crown Castle has 40,000 cell towers and 65,000 miles of fiber-optic cable stretched across the US.
If you've skipped ahead and checked the yields on these two, you're probably wondering why I'm bothering to mention them in an article about high-yield REITs. (EQIX pays 2.6% and CCI yields 4.3%, both well short of VNQ's payout).
But these lower yields are there for a great reason: these companies are serial payout hikers, and investors keep bidding up their prices with each dividend raise. That soaring price action keeps the yield—which you calculate by dividing the annualized dividend payout into the current share price—static.
And when I say they're serial dividend hikers, I'm not kidding around. CCI and EQIX have boosted their payouts by more than a third in just the last four years (with EQIX tossing in a nice special dividend, too):
Megatrend-Powered Dividend Growth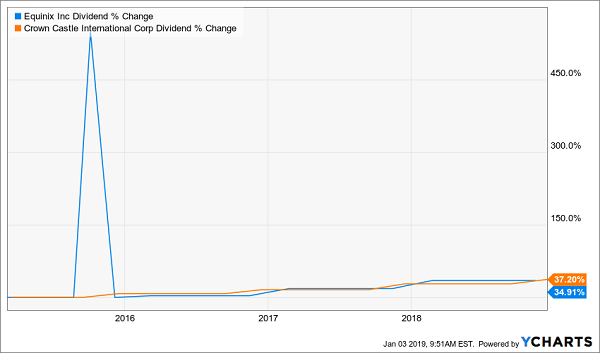 The bottom line is that if you'd bought these two in 2014, the yield on your original investment would have already jumped to 4.1% for Equinix and a gaudy 5.6% for Crown Castle.
And these two dividends will keep growing (and driving up these REITs' share prices) for decades. Equinix pays an ultra-safe 45% of funds from operations (FFO, a better measure of REIT performance than earnings) as dividends, while Crown Castle pays a miniscule 25% of the midpoint of its forecast 2019 FFO.
So go ahead and grab these two now, while the selloff has them trading at the lowest prices we've seen in months.
REIT Pick No. 3: A Recession-Proof 6% Payout
Now let's add a trust that's shown its mettle in the latest pullback: Physicians Realty Trust (DOC).
Let's face it, pretty well everything is down since the market tantrum started in late September, but DOC has still smoked the S&P 500, giving shareholders much-needed ballast while slipping just enough to give us a nice, cheap entry point:
Your Prescription for Market Mayhem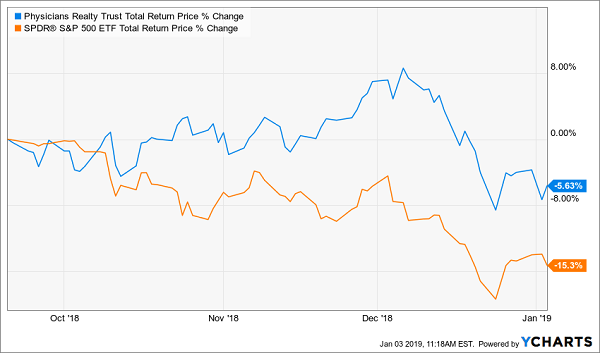 DOC boasts a portfolio of 249 medical-office buildings across 30 states, 97% of which are rented.
Its diversification doesn't stop there: the REIT gives you an extra layer of safety by spreading its properties across a long tenant list, with no single occupant chipping in more than 6% of annualized base rent.
Which brings me to the dividend, which clocks in at an outsized 6%. And there's plenty of room for growth here, too, because DOC's FFO is on a tear, skyrocketing 27% since the first quarter of 2016.
And I'm sure I don't have to tell you that healthcare spending is exploding. That alone will push up demand for DOC's properties and rental rates (and by extension FFO and dividends) even more:
Meantime, this payout is safe, at 84% of trailing-12-month FFO, easily manageable for a steady Eddie like DOC.
And get this: its relatively minor decline in the latest downturn means you can buy at just 14.4-times FFO. That's an amazing deal, given the REIT's safety and its upside potential, in both the share price and the dividend.
Now let's wrap up with …
REIT Pick No. 4: A One-Stop Shop for a Monthly 8.9% Dividend
The best way to squeeze the highest payouts from REITs is to buy them through a CEF like the Cohen & Steers Total Return Realty Fund (RFI).
A big bonus of CEFs is that they often trade at a discount to their NAV, or net asset value. This really just means you can grab the shares for less than the combined value of the stocks in the fund's portfolio.
This is basically free money! In RFI's case, you can buy its holdings (which include Equinix and Crown Castle, by the way) for 7.5% off—or 92.5 cents on the dollar.
And since RFI has traded at a 3.5% markdown, on average, in the last year (and broke into premium territory as recently as last April), we've got some nice "baked-in" upside here as that discount floats back to a normal level.
One of the things I like most about RFI is the management team: the three-person trio running the show boasts 72 years of experience between them, and they've demolished VNQ since the 2009 market bottom:
Big Gains and a 9% Dividend in One Buy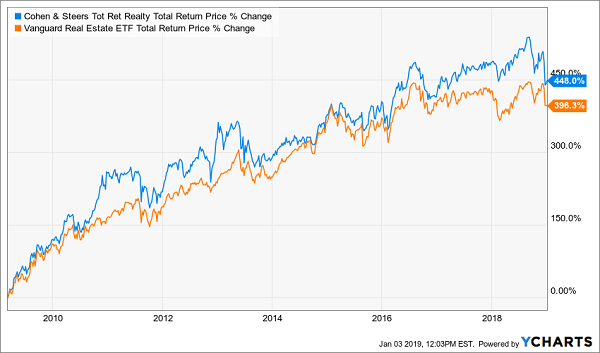 Nonetheless, thanks to the selloff-triggered drop in the fund's market price, RFI's yield now stands at an amazing 8.9%.
The kicker is that this outsized payout comes your way monthly, which lines up perfectly with your bills if you're leaning on your portfolio for income. And if you're reinvesting your payouts, monthly dividends let you do so faster, giving your profits a nice extra boost.
Revealed: My No. 1 REIT Pick for 2019
My favorite REIT for 2019 boasts an eye-popping 7.5% yield now, thanks to the massive spike in REIT yields I just told you about.
So even if my No. 1 pick were to simply move sideways this year, you'd still bag an easy 7.5% in cash alone, crushing the 7% average gain the market regularly turns in.
But I expect it to do far better than that: now trading at a totally bizarre discount to cash flow, this unsung cash machine is set for 25%—or more—price upside in the coming year!
My top pick is a well-connected commercial real-estate lender that does all the work for us—building a secure, diversified loan portfolio featuring offices, retail space, hotels and multi-family units.
Management then collects the monthly payments, deposits the checks and sends most of the profits our way as dividends!
This REIT's mammoth 7.5% payout is easily covered by FFO, and its loan growth is skyrocketing, setting us up for serious dividend hikes, too!
Triple-Digit Loan Growth Today Tees Up Big Dividend Growth Tomorrow

I'm ready to share the name of my top REIT with you now when you click here. And that's not all … I'll also give you a second bonus pick! This little-known company's management team is begging us to take cash off their hands, paying an incredible 7% dividend that's growing like a weed, setting us up for massive income growth and double-digit price upside before the year is out!
All you have to do is go right here to get the full story, including the names, tickers and buy-under prices on these 2 incredible 7%+ paying REITs now.