There are plenty of stocks out there, right now, with payouts growing fast—heck, some of them give shareholders a "raise" every three months.
You won't find these "Dividend Accelerators" among the big names of the Dow.
Many are real estate investment trusts (REITs)—"landlords" of everything from apartments to warehouses. And they're not just dividend-growth machines; most throw off higher current yields than the typical S&P stock, too.
And I mean much higher: right now, the REIT benchmark Vanguard Real Estate ETF (VNQ) yields 4.1%. The typical S&P 500 name? A sorry 1.6%.
You can thank the Feds for that: they give REITs a pass on corporate taxes as long as they pay 90% of their income as dividends. The resulting savings—and the fact that this hoard must be passed to us—drive those big dividends, and often lightning-quick dividend growth, too.
So if you like a fat yield and a dividend that soars every year (and sometimes quarterly), REIT-land is the place for you.
And there's more. Look, I know we've talked about the "Dividend Magnet" again and again here on Contrarian Outlook. But there's a good reason why: a rising dividend is the No. 1 driver of share prices. Take a look at this:
American Tower: Quarterly Raises Power a Strong "Dividend Magnet"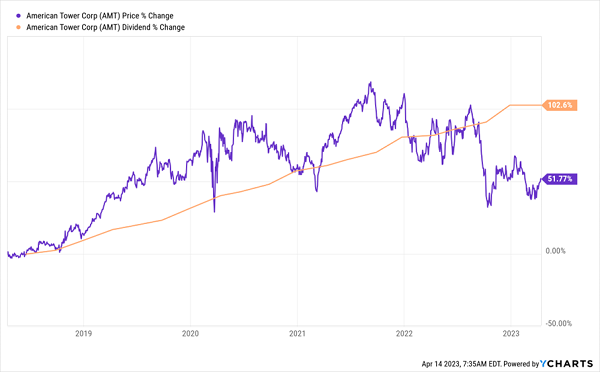 That's the share price of cell-tower REIT American Tower (AMT) over the last five years. You can see the smooth orange line of monthly payout hikes driving the share price higher—until the payout levels off at the right side (more on that in a moment).
That tight correlation is why AMT was one of our first picks after we launched my Hidden Yields dividend-growth advisory. We bought in November 2018 and rode this helium-powered payout to a 57% total return by the time we sold in March '22.
Why on earth would you sell a stock like that?
Short answer is we were worried management overpaid for data-center REIT CoreSite. Sure enough, the dividend trend shifted late last year, when AMT swapped its quarterly hikes for yearly ones.
It shouldn't have been a big deal—but shareholders hated the idea of giving up their quarterly "pay raises." End result: even though AMT hiked its first quarterly payout by 6%—and the payout is up 11% from our sell date in March '22—AMT's plunging stock price snatched that back and more.
Shifting With the "Dividend Winds" Saved Us From a Storm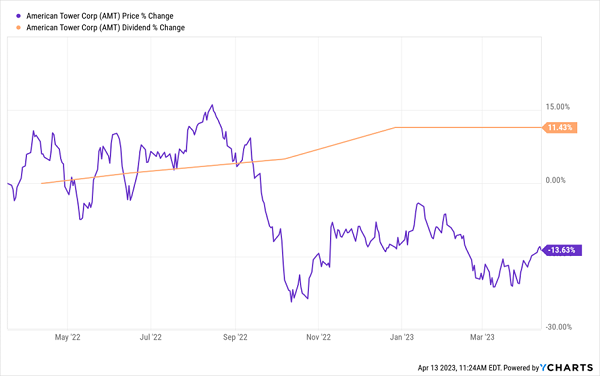 It's a good example of why dividend trends are the key to banking long-term gains (and avoiding losses) in stock investing.
So where does that put us today?
We're still looking toward REITs—particularly industrial REITs—for high, fast-growing payouts, as stabilizing interest rates and a still-strong economy make their borrowing costs more predictable and let them keep raising the rent. The kicker is the onshoring trend, as US manufacturers pull out of China, Russia and other economic quagmires and bring them home.
The biggest of the bunch is Prologis (PLD), which has a staggering 1.2 billion square feet of manufacturing and warehouse space across the country.
To be sure, PLD doesn't start us off with the 4%+ yield on AMT these days, with just a 2.8% payout. But it more than makes up for that with a payout that's not only growing every year but accelerating.
Check out the two outsized payout hikes on the right side of this chart, plus the near point-for-point rise in the share price, along with the payout, in the last 10 years:
PLD's Dividend Magnet Keeps Getting Stronger

Note also how every time Prologis' stock falls behind its dividend growth—as it has now—it immediately springs back. That's our price upside here.
Prologis' secret weapon is its "fortress" balance sheet. Right now it has just $24 billion of long-term debt, which amounts to just 21% of its market cap and 27% of assets.
That kind of financial strength is rare among REITs. And if you weren't convinced that big companies have an edge over you and me when it comes to borrowing cash, get this: right now, PLD pays a weighted average interest rate of just 2.5% on its debt. Plus it has no major debt maturing until 2026
Which brings us back to the onshoring trend, which is keeping PLD's warehouses fully booked, at 98% occupancy. And the REIT's steady rent hikes, thanks to a lack of warehouse space in the US, are expected to boost cash flow by 9.5% this year.
All of this makes the stock's pullback in the last 16 months an extra-long buying opportunity that will likely come to an end—or at least be quite a bit less attractive—with the next dividend hike.
Win Back Your '22 Losses—and MORE—With These 5 "Dividend Magnets"
All of my market indicators are telling me one thing: after a dismal 2022, it's finally time to go on offense again!
And I've uncovered 5 stocks I expect to lead the way, with powerful "Dividend Magnets" poised to drive massive dividend hikes—and price gains—for years. Now is the time to buy them.
Click here and I'll tell you why now is the best time to buy I've seen in two years. Plus I'll show you how to download an exclusive Special Report revealing all 5 of these "Dividend Magnet" picks, including their names, tickers, yields, dividend-growth histories and more.