Let's discuss 13 funds that offer substantial, retirement-fueling payouts, as well as diversification that will serve you well in most market conditions.
The second-longest bull market in history is long in the tooth, and Wall Street has baked in more than its fair share of the corporate tax cuts likely coming to the U.S. at some point. Diversification and dividends are the proverbial tortoise versus the high-growth hare – so it will pay to turtle up, especially if this go-go market goes sour next year.
You could dive into individual blue chips with long-standing payouts, but even some of the market's most conservative, defensive names have swelled to outrageous valuations, putting them at risk for a reckoning should the bears take the wheel.
The answer, then, for those who want to get defensive is funds, but it can be difficult to secure quality yields in this space. At the moment, less than 4% of non-leveraged equity ETFs yield more than 5%, according to ETFdb data. High-yielding funds holding bonds and other assets aren't much more common.
What does that mean? For one, it means you need to be hyper-selective when jumping into high-yield ETFs, which means weeding out a lot of alluring but dangerous prospects. It also means you need to explore outside of ETFs, too, including closed-end funds – less-ballyhooed but potent funds that, like ETFs, trade on an exchange, but sport differences such as being able to use leverage to juice their payouts and returns.
Today, I want to show you a baker's dozen of high-yield ETFs and CEFs that you can use to build wealth in 2018 and beyond.
PowerShares KBW Premium Yield Equity REIT Portfolio (KBWY)
Dividend Yield: 7.1%
Expenses: 0.35%
Real estate investment trusts (REITs) are a favorite hunting ground for income chasers, as their tax-advantaged structure requires them to distribute most of their profits as dividends to shareholders. But you won't get much from many mainstream REIT ETFs. The SPDR Dow Jones REIT ETF (RWR), for instance, yields less than 4%, while the Schwab US REIT ETF (SCHH) is south of 3%!
If you're going to invest in an income-friendly asset … it should probably deliver income!
The PowerShares KBW Premium Yield Equity REIT Portfolio (KBWY) mostly invests in small- and mid-sized REITs that deliver both higher yields and higher growth potential.
That yield has helped make a difference, lifting KBWY to roughly 20 percentage points of outperformance vs. RWR and SCHH over the past five years.
KBWY: Small REITs, Huge Upside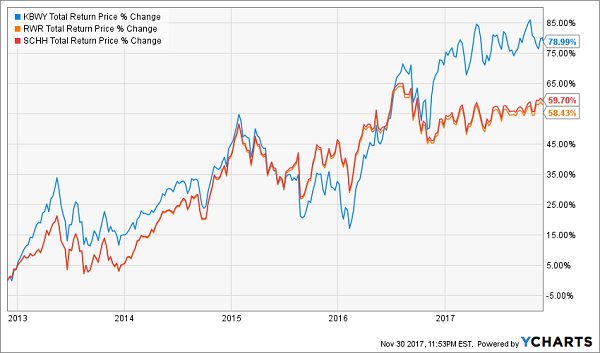 VanEck Vectors Emerging Markets High Yield Bond ETF (HYEM)
SEC Yield: 5.9%
Expenses: 0.4% (Includes fee waiver)
On its face, the VanEck Vectors Emerging Markets High Yield Bond ETF (HYEM) would seem to be a disaster just waiting to happen. After all, we're talking about high-yield bonds – aka "junk" – from several developing countries that feature high geopolitical, currency and other risks.
But there is strength in numbers. HYEM holds 390 different debt issues, and does so across a couple dozen countries, including Russia, Brazil, Argentina and China – the only country whose debt makes up a double-digit percentage (12.9%) of the fund's assets. That tamps down on the chances that a collapse in any one country will rupture the entire fund.
Also, roughly two-thirds of HYEM's investments are in BB-rated bonds – the highest grade of junk debt – with another 30% in B. That means the ETF only has a small allocation to truly speculative, uber-high-risk sovereign debt. Moreover, an effective duration of less than four years helps put a lid on interest-rate risk.
Despite these safeguards, VanEck's EM-bond fund doles out a considerable SEC yield of close to 6%, making it one of the more attractive income ETFs out there.
MFS Intermediate Income Fund (MIN)
Dividend Yield: 9.2%
Expenses: 0.64%
At more than 9%, there's nothing "intermediate" about the yield on the MFS Intermediate Income Fund (MIN) – a closed-end fund dedicated to investment-grade debt.
This fund primarily is split between U.S. government debt (46%) and investment-grade corporate debt (46%), with the rest of its holdings sprinkled among emerging-market bonds, collaterized debt obligations and other debt.
Obviously, the government bonds are rated highly – the U.S. has one of the best debt grades on the planet. However, the corporate part of the portfolio is actually heaviest in BBB- and A-rated bonds, which represent the lower half of the investment-grade corporate ladder. And like HYEM, MIN features a fairly low average maturity, of just over four years.
MFS Intermediate Income is a wildly durable fund, and clearly high-yielding, but it's also cheap for an actively managed fund at just 0.64% — a number that's half some of its peers. It'll never suddenly pop for 20% or 30% in a given year, but it should deliver easy, reliable returns over the long-term.
Live Off Dividends Forever With This "Ultimate" Retirement Portfolio
Closed-end funds like MIN can act as the cornerstone of a retirement portfolio – exactly why I've packed 10 CEFs into my 8%-yielding "No Withdrawal" retirement portfolio.
You need a steady stream of substantial income to ensure you can pay the bills and stay afloat when you've stopped collecting a paycheck. But if you want to get through retirement without ever touching your nest egg, you need more than just giant dividends – you need dividend growth to beat back inflation, and you need capital appreciation to keep building your investments.
Pundits love shilling for OK-yielding blue chips like Coca-Cola and Kellogg, but ultimately, they won't get it done. They're not bad companies, per se, but their dividend growth is slowing, and you can only expect low-single-digit total returns from them every year. That math doesn't add up! Those 3% to 4% returns on a nest egg of half a million dollars will only generate $20,000 in annual income from dividends – at the high end!
My "No Withdrawal" portfolio ensures that you won't have to settle during the most important years of your life. I've put together an all-star portfolio that allows you to collect an 8% yield, while growing your nest egg – an important aspect of retirement investing that most other strategies leave out.
I've spent most of the past few months digging into the high-dividend world, and I've had to weed out several yield traps that looked great on their surface, but potentially disastrous at a closer look. The result is an "ultimate" dividend portfolio that provides you with …
No-doubt 6%, 7% even 8% yields – and in a couple of cases, double-digit dividends!
The potential for 7% to 15% in annual capital gains
Robust dividend growth that will keep up with (and beat) inflation
This all-star cluster of stocks features a bundle of closed-end funds with strong management that can deliver robust total returns – not to mention other high-income assets such as preferred stocks and REITs. All told, this portfolio yields more than 8%!
Better still, this portfolio will let you live off dividend income alone without ever touching your nest egg. That means never having to worry about how you'll pay your monthly bills, and never having to worry about wrecking your retirement account if disaster strikes.
Don't scrape by on meager blue-chip returns and Social Security checks. You've worked too hard to settle when it matters most. Instead, invest intelligently and collect big, dependable dividend checks that will let you see the world and live in comfort for the rest of your post-career life.
Let me show you the path to the retirement you deserve. Click here and I'll provide you with THREE special reports that show you how to build this "No Withdrawal" portfolio. You'll get the names, tickers, buy prices and full analysis of their wealth-building potential – and it's absolutely FREE!