If you're as nervous about the 2022 edition of the stock market as I am, we should take this holiday week to review reliable REIT dividends.
REITs (real estate investment trusts) are stocks that dish 90% of their profits as payouts. This makes them ideal income plays for retirees. Rather than buying shares and "hoping" they'll go up, we can lock in quarterly (or even monthly!) dividends—real cold cash!—with REITs.
For example, my favorite REIT for 2022 yields 4.9%. This equates to $4,900 per year on a $100K position, a great start to the year. Plus, we have the opportunity for price gains—for a total return of 10% or so.
In a market where liquidity is drying up fast, sign me up for safe dividends plus additional profits. The asset price "fuel" that our Federal Reserve has provided since March 2020 is disappearing. Fed Chairman Jay Powell is being forced by inflation numbers to reduce the massive cash the Fed has been providing the financial markets.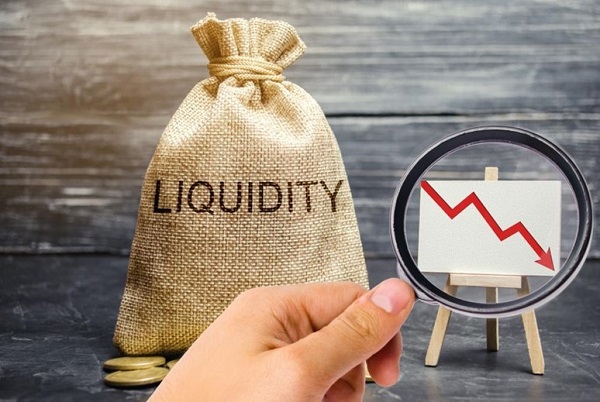 The stock market has been rallying for 21 months thanks to the Fed's juicing asset prices through trillions of dollars in bond purchases.
(Note: "Bond buying" is a polite way of saying "money printing." The bonds were using cash that Chairman Jay Powell created out of thin air.)
Powell was able to create this cash by stashing it on Fed books as IOUs, boosting the central bank's balance sheet by a cool $4.5 trillion—more than a 100% increase since the start of 2020. The new money searched for return and drove up the prices of many assets, from real estate to stocks to crypto!
Trillions in New Money


Source: FederalReserve.gov
The growth of the Fed's balance sheet has already begun to slow as Jay tries to taper his way out of the inflationary doghouse by slowing the pace of money printing. Going from $120 billion in new cash per month to (soon) zero will be bad for speculative assets, but bullish for reliable REIT dividends. This "flight to safety" will likely feature our favorite landlords. So, let's earmark them ahead of a frightened '22 investing herd.
Apartment REITs: Look for "The Donut Effect"
"The Donut Effect"—and its associated dividends—were the apartment REIT story of 2021. Economic researchers Arjun Ramani and Nicholas Bloom named this trend for people moving to the suburbs as well as smaller cities.
If you're working from home, why cram into a shoe box? A larger living space makes sense, which is why alternatives to big cities have boomed.
The warmer the location, the better, too. Smart REITs like Preferred Apartment Communities (APTS) have feasted on this migration. APTS has  100 properties across 13 states. Most of them are in the Sun Belt, locales that benefit in a "work from anywhere" America.
Though the big rent gains and easy returns are probably behind us, APTS and similar REITs still look promising. Here's a sweet donut-powered stable to keep an eye on in '22 (ranked by current yield):
(Congrats to my Dividend Swing Trader subscribers who have enjoyed 66% total returns—119% annualized gains—from our 2021 APTS trade! Stay tuned to DST, and I'll let you know when it's time to book our profits.)
Industrial REITs: Buy the Best Cash Flows
I've always liked Industrial REITs thanks to the strength of their cash flows. Take W.P. Carey (WPC), which leases out business space to individual tenants. Its portfolio is diversified across 1,264 properties, with its largest tenant (U-Haul) making up just 3.2% of its total portfolio.
Nearly all of WPC's leases include contractual rent increases. And 60% of them are linked to the consumer price index (CPI), which is a nice hedge for those of us concerned about inflation.
WPC's leases are long ones, too. The average length (weighted by value) is 10.6 years. If you're worried about a recession in '22, this is the lease portfolio for you.
Occupancy, meanwhile, never seems to dip. This is no accident. In the words of CEO Jason Fox, WPC is a picky landlord that only extends leases to companies in industries that can withstand "dislocations in the market." Its underwriting team just aced its second dislocation test.
During its first major test, the firm's occupancy rate held strong through 2008 at 98.5% and merely dipped to 96.6% in the aftermath (2010). Through 2020 the firm was even more bulletproof, with occupancy at 98.5%!
Occupancy (% Square Feet) High During Drama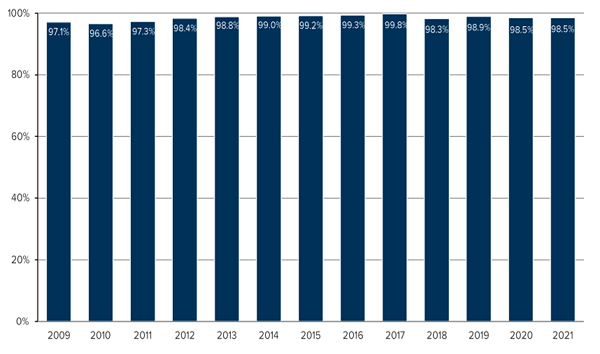 Kudos to my Contrarian Income Report subscribers who banked 28% total returns from WPC over the past year. We've received four dividend raises over this time and the stock still pays 5.2%—not bad considering its '21 run up.
Secure industrial landlords like WPC are tough to beat in this environment. If you're worried about an economic slowdown in '22, these dividends are about as recession-proof as they come. Here are a few more industrial REITs to keep an eye on (again ranked by their dividends):
Healthcare REITs: Avoid for Now (Except for My Favorite)
Our shopping list of potential healthcare REITs is considerably shorter—with just two names!
Medical Properties Trust (MPW) is a perennial favorite, and my top idea for 2022. MPW provides capital for hospitals, which was difficult to come by until Ed Aldag founded MPW in 2002.
MPW doesn't run hospitals, it finances them. It provides the capital to proven operators to improve their facilities, upgrade technology, hire more staff and expand their complexes.
MPW is special because its ever-rising dividend acts as a "magnet" that pulls its share price higher. The stock yields 4.9% today but that isn't the end of MPW's total return story.
Over time, MPW's stock price rises with its dividend. Thanks to 4% to 5% yearly payout increases, we have an additional 4% to 5% of price upside "baked in." Which means we can expect to earn 8.9% to 9.9% per year from MPW.
For this reason, I'd rather own MPW than Omega Healthcare Investors (OHI) and Physicians Realty Trust (DOC), which froze their payouts years ago. Their return ceilings are limited to their current yields. No thanks—we contrarians prefer multiple ways to win.
(Then again, a low ceiling is better than a shifting floor. Sabra Health Care (SBRA) and Healthpeak Properties (PEAK) are relatively fresh off dividend cuts. Yikes!)
Best REITS for 2022: Pandemic-Proof Income
You're probably noticing a theme by now. The best REITs are "all-weather assets" that deliver income whether it's a bull or bear market.
And the truth is, with the Fed stopping its printing presses, the markets could go either way in 2022. So, what specifically should we do with our money?
My secure dividend approach delivers maximum returns and yields with minimum risk, in any environment. Click here for more details, including my favorite post-COVID payers for 2022.