Market gyrations don't matter when you can generate $69,137 over the next 12 months on a capital base of just $350,000. The secret? Monthly cash flow that adds up to 20% average annual returns regardless of what stocks do.
It's an income investors' dream – banking regular payments without having to worry about a pullback for the pricey (and increasingly wobbly) stock market.
"Buy and hope" investors are, understandably, terrified today. They've bought their shares – and now all they can do is hope the market regains its footing.
We income investors prefer to calculate rather than gamble. It's why we demand dividends. After all, without cash flow, what is a stock really worth besides what someone will possibly pay us for it tomorrow?
But this pullback could very well continue. After all, this current bull market will be nine years old next month. And suddenly it appears to be aging in dog years.
Which makes right now a good time to talk about my two favorite strategies for generating current cash flow from the stock market. Because whether stocks go up, down or meander sideways, I always want my money to be working for me – and paying me regularly (preferably monthly!)
Monthly Cash Flow Play #1: High Current Yields
Our Contrarian Income Report portfolio pays 8% as I write. And our seven "best buys" boast an amazing 9.5% current yield.
This is 4X the payout of the broader market. It means a $350,000 portfolio will pay you between $28,000 and $33,250.
That's a lot better than the S&P 500, which would insult us income investors with its measly $5,950 annual check. But even $33,250 is likely less than your local coffee barista or friendly bartender earns per year.
And with all due respect to our industry friends, we don't envy their day jobs. But if we don't have enough capital to retire on, then we either need to pickup a "side hustle" or follow one of these two high yield trails:
"Chase" higher yields of 10% or more.
Bad idea. I can get you a safe diversified dividend portfolio paying 8% today. I can even recommend seven stocks that are so cheap that their yields are a bit inflated (9.5%). But most double-digit dividends are high for a reason, and should be avoided today.
Which means, if you actually need to earn yields of 10% or more on your income, you must consider our second option.
"Accelerate" blue chip dividends from 2% to 20%.
This is a special system I've developed that allows you to collect "instant dividends" worth 5X, 10X and even 20X more than the yields listed to "first-level investors" on most financial websites. Let me explain.
Monthly Cash Flow Play #2: My "Dividend Accelerator" for 20% Yields
The beauty of the Dividend Accelerator is that you can collect "instant income" on every trade. This means you can make exponentially higher returns than what's possible from just traditional dividends.
The ideal stock to sell cash-secured puts against is a dividend grower. Its payout provides a natural lift to its share price. And remember, we don't really care if a stock goes up – we generally only ask that it trades sideways or better.
Let's take refiner Valero (VLO). Shares yield 3.4% today. But we regularly generate up to 10 times as much cash simply by selling puts that are trading below Valero's current share price.
That's exactly what my subscribers and I have done three times as Valero's stock price inevitably gets pulled up towards its payout curve:
In November 2016, we collected $153 per contract for 25% annualized gains.
In May 2017, we banked $129 per contract for 20% yearly returns.
And in July 2017, we added another $97 per contract for 36% annualized returns.
Contracts are for lots of 100 shares. Folks who sold 5 or 10 contracts at a time were able to scale their income accordingly. A 10-pack sold on the November trade, for example, would have generated $1,530 in "instant income" versus just $153:
Accelerating VLO's 3.4% Dividend To a 25%+ Cash Yield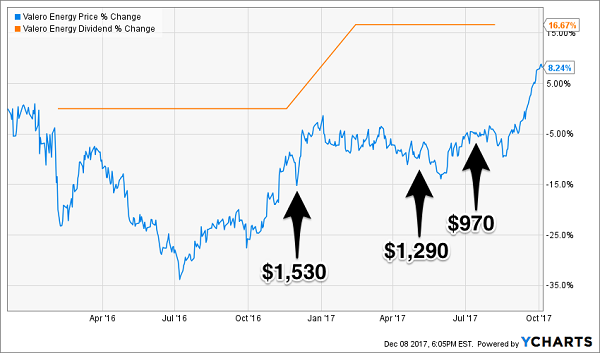 And by the way, this cash gets deposited into your account instantly. No need to wait for dividend day, or even for the contract to expire. You sell the contract, and you get the cash flow right now.
How to Cruise to 32% Cash Yields
Since August, my subscribers and I have also turned Royal Caribbean Cruises (RCL) into a 20%+ dividend payer without actually buying the stock. RCL trades for just 11-times cash flow (cheap), and yields 2%.
Why do we like RCL? Its rising payout lifts its share price higher. In fact, RCL the stock has had trouble keeping pace with its soaring dividend:
This Poor Stock Can't "Keep Up" with 400% Dividend Growth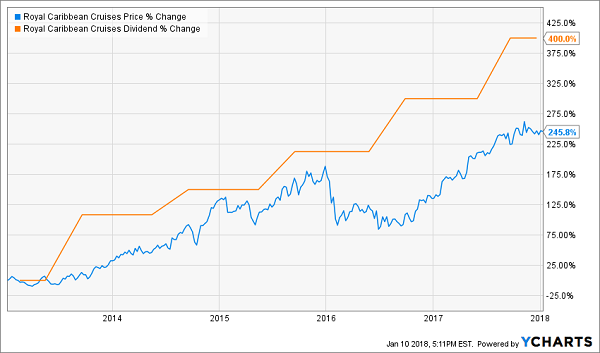 But we don't grind out 2% per year when we can bank 20% to 43% yearly returns, in cash. With lower risk to boot!
In the last six months, we've accelerated RCL's dividend three times – for an average annualized return of 32%!
We Accelerated RCL's 2% Dividend to 32%

You'll notice our shorter trades have larger annualized returns. That's common when selling put contracts – their price "decay" speeds up (goes to zero faster) as they approach their expiration date. Which is why we tend to sell options with only weeks left to live.
How To Bank Your First 20% Dividend Tomorrow
I know many investors who "want to learn" how to do this. They know that others are doing well with options, but they're not sure how to go from buying and selling stocks and funds to buying and selling options.
Here's a secret – they're almost exactly the same. And you probably have the ability to do it already from your online brokerage account.
Plus, now is the time to insulate your portfolio from a potential pullback. Stop buying and hoping – and start generating monthly cash flow (with lower risk to boot!) via dividend acceleration.
Ready to start collecting secure 20% cash yields today? I hope so, because I'm sending out my next trade alert tomorrow morning – and I want to make sure you receive it. Click here for the details on my 20% "Cash Yield" Dividend Accelerator system – and I'll hook you up with a risk-free trial.