Inflation is up, stocks are soaring (Omicron be damned!) and bargains are thin on the ground.
Well, not all stocks are soaring—one sector has fallen behind, and it's set us up for some nice "snap back" upside in 2022, with big dividends (yielding up to 7.6%!) on the side. We'll talk tickers in a moment. First, let's take a 50,000-foot view of the sector we're going to dive into and work our way down from there.
That would be real estate, specifically publicly traded real estate investment trusts (REITs), which have been left in the dust in the pandemic- (and Federal Reserve–) powered market of 2020/2021. Check out the performance of the REIT sector index fund, the Vanguard Real Estate ETF (VNQ), in blue below, compared to index funds representing the tech-heavy NASDAQ (in orange) and S&P 500 (in purple).
The Surprising Straggler

That lag makes zero sense—and is on borrowed time, frankly—because the bear case on REITs during lockdowns (people won't be going out to these companies' malls, offices and other properties because they can't) doesn't apply anymore—people are desperate to get out of their houses, and we've seen activity in many metropolitan areas meet, and even exceed, pre-COVID-19 levels.
But REITs are still in the doghouse.
That sets the stage for a boom in REITs in 2022, not only because people are going back out, but also because of another trend that, at least in financial circles, is more relevant than the pandemic: inflation.
Inflation: 2021's Biggest Story

With consumer prices rising quickly, powered in part by the Fed's corporate bond buying and ultra-low interest rates, there is more money to go into real estate. We've already seen this in the housing market, with the Case Shiller Composite 20 Home Price Index (a measurement of house prices in the 20 largest cities in America) surpassing the government's measurement of inflation more broadly.
Home Prices Yank Inflation Higher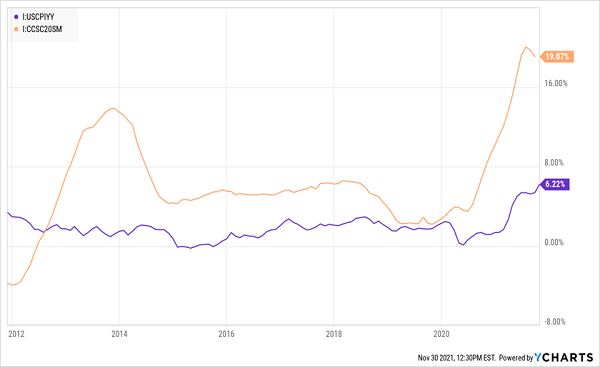 That's a pretty obvious disconnect, with real estate values soaring and real estate stocks dragging behind the market—and it's yet another reason to expect a bounce in the near future.
You could easily play this trend with an index fund like VNQ, pocket its 2.2% yield and go home happy. But why bother when there are funds—a special type of fund called a closed-end fund (CEF), specifically—with big yields (sometimes 7% and higher) that also outperform the benchmark ETF?
One of the most attractive features of CEFs is that they trade at prices that are often wildly different than—and often below—the value of their underlying portfolios. This indicator is called the discount (or premium) to net asset value (NAV), and it can instantly tell us if we're getting a deal or if we risk overpaying.
Here are three high-yielding REIT CEFs trading at attractive discounts to NAV today:
REIT CEF #1: A "Goldilocks" Fund Yielding 5.5%
Our first pick gives us the long-term performance we want: it's crushed the benchmark over the long haul, yet hasn't run too hot since the start of the pandemic, with a 23.6% return in that span. That's the kind of "Goldilocks" setup that says management knows what they're doing, but we're still getting a deal, as investors have overlooked the fund in the market bounce.
Pick No. 1 Puts Up Big Long-Term Returns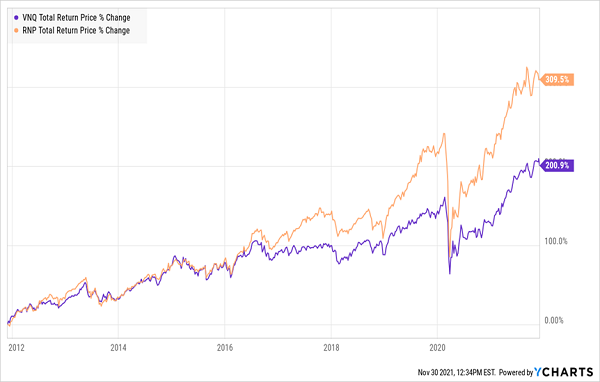 This CEF is the 5.5%-yielding Cohen & Steers REIT and Preferred Income Fund (RNP), holder of top-quality REITs like cell-tower owner American Tower Corp (AMT) and warehouse landlord Prologis (PLD), which are profiting from our ever-increasing use of technology and the rise of e-commerce, respectively. RNP also holds mall owner Simon Property Group (SPG), which is a smart play on the reopening, which will continue next year, even if it gets hampered somewhat by new virus variants.
Our final upside kicker here is that the fund trades at a slight (1.9%) discount to NAV, which is a nice entry point for a fund that's traded at premiums in the last year.
REIT CEF No. 2: A Bargain-Priced Heavyweight With a 5.8% Payout
If you'd like a bigger discount than RNP offers, I get it, and I have just the fund for you: another Cohen & Steers offering called the Cohen & Steers Quality Income Realty Fund (RQI), which has a slightly more generous 2.6% discount. Like RNP, RQI has traded at a premium several times in its past and, much more importantly, has a monstrous historical return.
RQI's Triple-Digit Run Is Set to Continue

In addition to this 350% total return in the past decade, RQI delivers a dividend yielding 5.8% that hasn't been cut in five years. And like RNP, it also focuses on large cap REITs. Major portfolio holdings include American Tower, leading self-storage firm Public Storage (PSA) and apartment landlord UDR Inc. (UDR).
REIT CEF No. 3: A 7.6% Yielder That Gives You Most of Your Gains in Cash
Finally, consider the Aberdeen Global Premier Properties Fund (AWP), a 6.2%-discounted REIT CEF with a massive 7.6% dividend. As the name suggests, AWP has investments around the world, but solid US-focused REITs are still a big part of its portfolio, with data-center owner Equinix (EQIX), residential REIT AvalonBay Communities (AVB) and warehouse owner Duke Realty (DRE) anchoring its REIT lineup.
AWP Gives You Most of Your Gain in Cash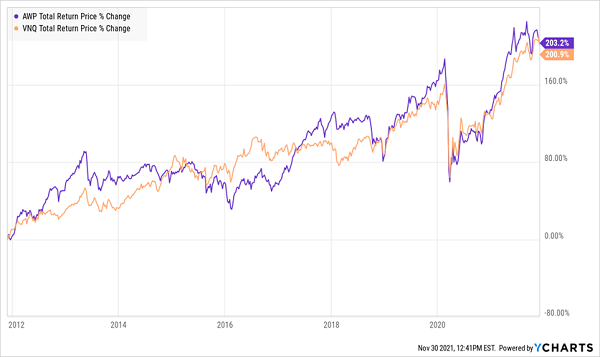 AWP's total return over the last decade, at 203%, is pretty much what the broader market has delivered, but the big advantage is that investors got more of their return in cash thanks to the CEF's big dividend. Plus, AWP's global diversification gives you an added measure of safety.
Throw in the possibility of AWP's big discount disappearing next year and you get a great shot at sailing past the REIT index with this fund.
Discover My 5 Top CEF Buys for 2022 (Big Cash Dividends Up to 7.8% Ahead)
My 2 top real estate CEFs for 2022 zero in on the corners of the REIT market that will be most in demand as the coming year plays out, including top-notch picks in infrastructure, healthcare, warehouse, data-center and cell-tower REITs.
AND these 2 funds pay massive dividends of 7.2% and 7.8%, respectively! I fully expect them to lead all REIT CEFs in 2022. Simply put, the stars are aligning for them, and their savvy management teams are perfectly suited to sift out REIT bargains in the uncertain markets we find ourselves in.
They're part of the 5-CEF "mini-portfolio" I want to share with you now. It includes other CEFs holding the best pharma stocks, corporate bonds, ultra-stable municipal bonds and even the best tech stocks to profit from the surging artificial intelligence trend.
CEFs Offer Unbeatable Safety
Here's something else most people don't realize about CEFs: they have an incredible safety record! Get this: of the 324 CEFs that are a decade old or older, only 13 have lost money in the last 10 years. 
That's a 96% win rate!
There's another twist: of the 13 CEFs that did lose money, all but 3 were in the energy sector. Dump those 10 laggards and these CEFs' win rate jumps to an incredible 99%!
Get My Top 5 CEFs (Yields Up to 7.8%) Now
This 5-fund CEF "mini-portfolio" is waiting for you—and this is the perfect time to buy. Click here and I'll give you my complete research on these 5 income powerhouses, including their names, tickers, best-buy prices, current yields and discounts.