Last week, I gave you a peek under the hood of my "8% No-Withdrawal Retirement Portfolio." I also showed you a ridiculously cheap fund with a 9% dividend yield you can get in on now.
Today I'll reveal another off-the-radar investment that forms the second pillar of this "crash-proof" portfolio.
I'll also name a popular dividend ETF boasting a tempting 4.5% yield. That may sound great … but it's actually a trap waiting to spring!
More on that in a moment.
First, the sector I'm going to draw your attention to is a corner of the market you must be in if you want to get the safe 8%+ dividend yields you'll need to retire on dividends alone.
Why 8%? Because that's enough to hand you a solid $40,000 every year on a $500,000 nest egg.
And make no mistake, with all the noise coming out of Washington, plus the market's unnerving habit of smashing records daily, a dividends-only approach is vital if you want to safeguard your golden years from the next collapse.
Because when you've got a sturdy $40k rolling in to cover your bills, you can ignore the market's daily ups and downs, Trump's tweets or whatever Janet Yellen has up her sleeve!
I won't keep you guessing any longer.
I'm talking about real estate investment trusts (REITs), which should be woven deep into your portfolio's foundation for one reason: their outsized dividend yields! (I'll name 2 specific REITs ripe for buying now toward the end of this article.)
Right now, the benchmark Vanguard REIT ETF (VNQ) pays a 4.5% yield, near levels not seen since the summer of '09. Compare that to your typical S&P 500 miser: 1.9%—practically a 150-year low!
A Bumper Crop of REIT Cash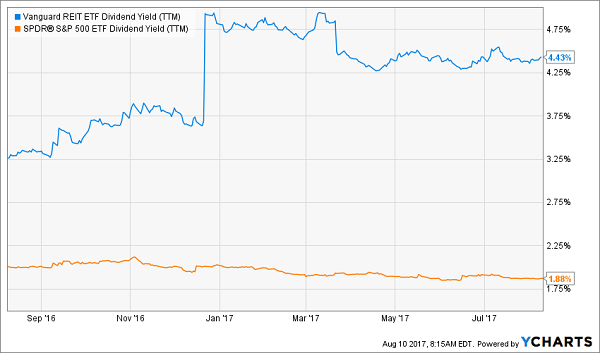 I like to think of REITs as owning rental property but better—instead of unclogging toilets and chasing down deadbeat tenants, your only job is to bank the rent checks!
And now is the time to buy, because unlike the rest of the market, REITs are cheap. VNQ has traded mostly flat year to date, compared to a 10% gain for the S&P 500.
Our REIT Opportunity in 1 Chart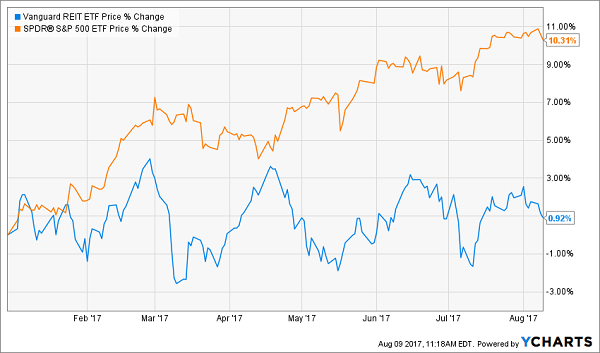 Now stick with me, because we're going to indulge our contrarian streak even more by not doing what most "first-level" investors would immediately do after seeing a chart like this: run out and buy VNQ.
To start, even though its 4.5% payout looks great, it's only about half of what we'd need to fuel our 8% yield—and keep our no-withdrawal strategy chugging along.
But that's not the main reason why I'm worried about VNQ. I'm far more concerned about the ticking time bomb planted in its portfolio. See if you can spot it: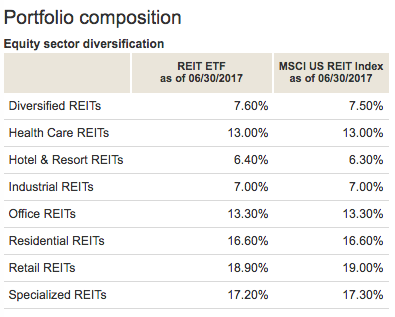 Source: Vanguard
The problem is in the second line from the bottom: 18.9% of VNQ's holdings are retail REITs—its largest allocation, and the worst REITs you could own right now.
That 18.9% is sitting right in the path of Amazon.com (AMZN), which is eating big retailers like Macy's (M), L Brands (LB) and Guess (GES) alive! If these chains are in permanent trouble (I'd argue they are), that's a big problem for their landlords.
I don't know about you, but I wouldn't want to bet a penny of my retirement cash against Amazon "disrupter-in-chief" Jeff Bezos. That's why I've set the retail REIT exposure in my "8% No-Withdrawal Retirement Portfolio" at 0%.
Instead, canny contrarians that we are, we're going to go straight for two of VNQ's smallest allocations, neither of which fight Amazon or any Internet trends:
Here are 2 REITs—one from each of these sectors—that deserve a place on your buy list now.
This REIT Is Amazon's BFF
The reason I'm bullish on industrial REITs—particularly warehouse operators—is simple: they actually benefit from Amazon.
That's because online shopping has nearly doubled in sales in the last four years … but there's still plenty of room to run, because online purchases amount to a piddling 8.5% of the total retail pie, according to the Commerce Department.
You don't have to have a business degree to see that this adds up to skyrocketing demand for warehouse space, and STAG Industrial (STAG) is in the sweet spot. 
With 342 buildings across 32 states, STAG boasts some of the top logistics companies—the backbone of the online-shopping boom—in its roster of 296 tenants, including FedEx (FDX), XPO Logistics (XPO) and DHL.
And STAG is growing like a weed: in just the last quarter, it bought 21 buildings, adding 4.6 million square feet of space! If you're worried management is getting ahead of itself here, don't be: these buildings are already 95% occupied, so they'll start chipping in cash flow right away.
Here's something else you'll love: STAG pays dividends monthly. And its $0.16 monthly dividend (5.2% yield) is backstopped by its reasonable (for a REIT) payout ratio of 85% of trailing-twelve-month FFO. The stock is also a bargain, trading at just 16.4 times FFO.
Profit From Healthcare Headaches
Healthcare properties are cheap today, thanks to Medicare and Medicaid worries. But these landlords are riding a demographic bull market, with 10,000 baby boomers hitting 65 every day.
Demand for places like skilled nursing facilities and hospitals keeps rising. So while there may be headline worries about payer sources (like Medicare and Medicaid), at the end of the day, somebody is going to foot the bill for the aging US population.
Which means, as REIT investors, we can ignore the stock-price gyrations and take advantage of bargains in this part of the REIT world.
Enter Ventas (VTR), with 1,300 healthcare properties across the US.
VTR sports a lower yield than STAG, at 4.7%, but buy today and you'll snap that gap shut fast, thanks to the REIT's relentless dividend growth: the payout has jumped 386% since VTR started sending cash out to investors in 2000.
That's lit a fire under the share price as income-starved folks piled in.
A High Yield … And Dividend Growth, Too

And yes, Ventas is right in the demographic flight path, with more than half of its properties devoted to senior care. But what's often overlooked is the nice diversification it gives you within the healthcare sector, too. Take a look:

Source: Ventas June 2017 investor presentation
There's plenty of room for more growth, as collectively REITs own less than 15% of US healthcare properties— a number that clocks in well below other REIT sectors.
And as you'd expect from a company with locked-in growth from an aging population, VTR's dividend is safe, accounting for just under 74% of normalized FFO.
Which brings me back to the constant fretting over healthcare, which you can thank for handing you this rock-solid payout for just 15.5 times FFO, a good price for a market leader like Ventas.
Kick-start your own SAFE 8% income stream NOW…
STAG and Ventas are solid buys now … but neither REIT made the cut for my NEW 8% retirement portfolio.
There's one simple reason for that: despite their potential, they still yield "just" 5%!
So if you wanted to grab our $40,000 income stream from these 2 names, you'd have to invest close to $800,000! And I know I don't have to tell you how dangerous it is to put that much cash into just 2 stocks—no matter how well run they are.
Instead, look to the 6 rock-solid cash machines in my NEW 8% income portfolio. They include one REIT that hands you a SAFE 8.0% yield today—and that actually jumps to 8.4% when you consider that we're going to see 4 more dividend increases over the next year!
You read that right: this 8% income wonder raises its payout every quarter. Its latest hike—a 4% boost over last year's payout—marks the firm's 20th consecutive dividend increase.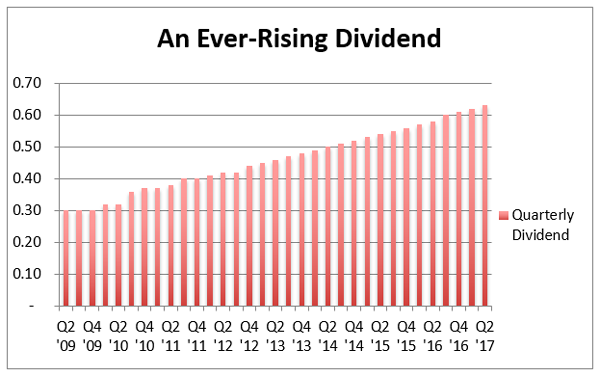 It's a healthcare REIT that's dialed into the same demographic trend as Ventas, but with a much higher current yield and far stronger dividend growth!
That makes this a no-brainer call, especially when you realize it's cheap: trading for less than 10-times FFO.
But that won't last long: this unsung company's valuation and stock price are set to bolt 20% higher in the next 12 months as the herd realizes its mistake and stampedes back into the REIT sector.
That means the time to jump on this 8.4% income wonder is NOW!
Living on dividends alone is every investor's dream, and this is your chance to achieve it. Don't miss out.
All you have to do is CLICK HERE and I'll share the names, tickers, buy-up-to prices and my complete research on my favorite REIT and ALL the 8% income plays in this unique portfolio.