"Hey Kevin, I think I'm going to look at doing one of those top 20 dividend picks for 2020 pieces. Cheesy, I know, but 'tis the season."
My always-supportive publisher knew how to rattle my cage, however:
"Funny, I just saw one of those 'Wall Street favorite' pieces cross my desk. Had one of your old favorites included…"
Our old flame Medical Properties Trust's (MPW) inclusion caught Kevin's eye. Classic Wall Street. Way to call the stock you should have bought in 2015 as the best buy for 2020!
Now don't get me wrong, this is a well-run company with a timeless business model. Hospitals, always in demand, didn't always have a convenient way to fund their own construction and renovation. Their financing headaches eased a bit when entrepreneur Ed Aldag founded MPW in 2003.
Ed still runs the company today, and his investors have done quite well "betting on Ed" and his hospital landlording. Much of their profits have come in cash, thanks to MPW's real estate investment trust (REIT) structure. REITs get a tax break in exchange for paying out the majority of their profits as dividends, so their yields tend to be higher than the market at large.
Over the last decade, MPW has usually paid at least 5%, and showered shareholders with as much as 9%. On top of this, the company has hiked its dividend six times. In a world where the average S&P 500 pays less than 2% and many deliver a mere token dividend hike each year, what's not to like about MPW?
5% to 9% Yields with Regular Dividend Increases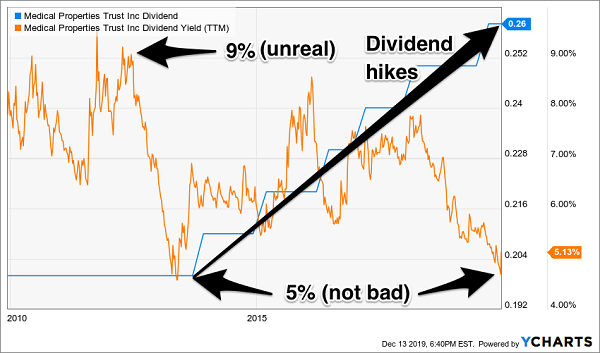 However, I'm not sure 2020 is the best year to load up on MPW. And really, it's simple to see why. Historically, MPW's yield has tended to mirror its price.
When MPW pays a lot (like 9%), it's a screaming buy. And when it pays a little (like 5%, which is miserly by its admittedly high standards), you're better off waiting for a pullback:
High Yields Signal Low Prices

MPW caught my contrarian attention back in November 2015. We added it to our Contrarian Income Report portfolio, and the stock spent the next three-and-a-half years making our subscribers happy and nervous. Shares moved so high, so fast, that I kept hearing from readers who wanted to "take the (fast) money and run!"
Why We Let Our Winners Run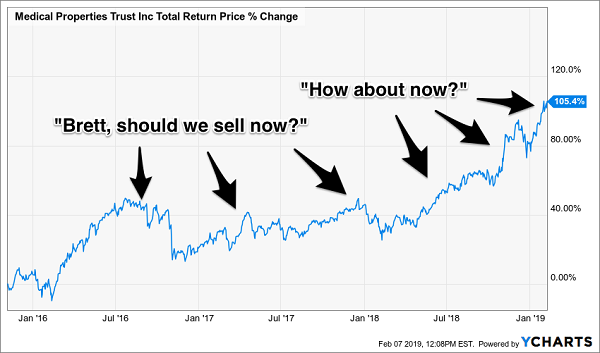 I finally gave the OK and official sell order earlier this year when MPW's yield dropped into the 5% range. (And our CIR subscribers pocketed neat 105% gains, including many generous quarterly dividends.) We bought a high relative yield heading into 2016, rode the wave, and booked profits when MPW's dividend had retraced all the way back to its typical low water mark.
As always, we wish Wall Street suits the best for 2020. But they are four years late on this call.
"Like MPW in 2016"—My 2020 Dividend Play with 105% Upside
I could a timelier dividend play with 105% upside potential in your email inbox Friday morning. I'm wrapping up our latest Hidden Yields as we speak.
Unfortunately, if you're reading this, it's probably because you're not yet a subscriber to HY!
If fast 105% gains are not a problem for you, then I'd like to invite you to take my dividend growth focused service for a spin. The service is a double- triple-digit return machine, as we recently banked profits of 157.1% in just 2 years, 65.3% in 15 months and 68.8% in less than 3 years! Please take Hidden Yields for a risk-free test drive today so that I can send you my best idea this Friday along with seven more dividend payers primed to return a fast 40% to 50% in 2020.