"Junk" bonds have never paid so little. Which makes them pointless. We're here for the yields, not the credit quality!
Fortunately we can improve our dividends and our safety by being smarter. We are going to simply sell the popular 4%+ bonds and replace them with better 8%+ yielding equivalents.
First, the dogs. Anyone who owns either of the two most popular high-yield bond ETFs is a sad income investor today. Their yields are at all-time lows. The SPDR Bloomberg Barclays High Yield Bond ETF (JNK), for example, pays only 4.3%:
JNK's Current Yield is Junk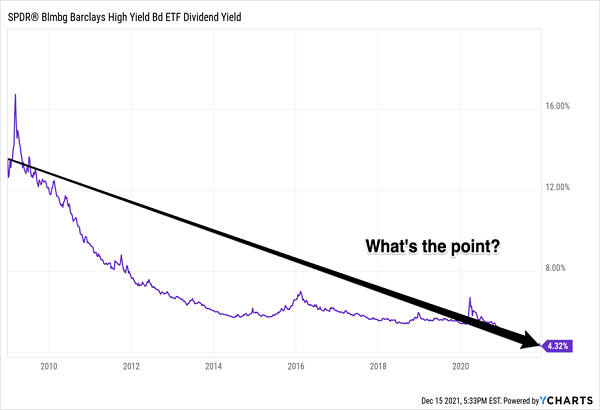 And it gets worse, because this trailing yield looks better than the year ahead. JNK's SEC Yield, a more accurate estimate of what the fund will actually dish out over the next year, is just 4.1%.
Junk-box brethren iShares iBoxx High Yield Corporate Bond ETF (HYG) is even worse. Its SEC Yield clocks in at a measly 4%.
Put a million bucks in this 4% portfolio, and we're netting just $40,000 in dividends annually. And we must admit to our friends and families that we're "all in" on junk!
We'll leave JNK and HYG to the "first-level" bond rookies. You and I should instead take the elevator up to floor two.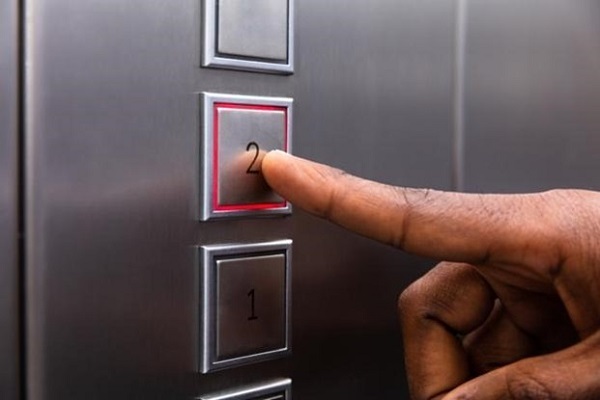 Here we'll hire the "bond god" Jeffrey Gundlach to handpick our fixed-income portfolio. And, best of all, he'll work for us for free!
I'll explain his comp deal in a moment. First, let's appreciate the bond god's access. Gundlach and his team at DoubleLine get dished better bond deals than you and me. The bonds he buys simply pay more, and as a result, his closed-end funds (CEFs) pay up to 8.3%.
DoubleLine is crunching the numbers on credit quality, so that you and I don't have to. They are also watching the Federal Reserve and adjusting their portfolio's duration, or sensitivity to interest rate hikes.
Net-net they are worth every penny. But if we buy DoubleLine's funds at the right time, we needn't pay a penny at all!
Here's why. As I write, DoubleLine's Income Solutions Fund (DSL) trades for just 93 cents on the dollar. This is a feature unique to CEFs—they have smaller market caps than bond ETFs, so their prices can swing wildly. And they have fixed amounts of shares, which means discounts (and premiums) are possible.
As contrarians, we demand discounts. And it doesn't get much better than a 7% discount with DSL.
The fund's 8.3% yield means that a million bucks nets $83,000 per year in dividend income. This, by the way, is paid out monthly—which lines up nicely with our every-30-day expenses. And we have a margin of safety, being able to buy the bond god's brilliance for just 93 cents on the dollar.
Publisher's Note: Brett's colleague Michael Foster, editor of our CEF Insider service, stays glued to anything and everything to do with CEFs. And in his latest issue, which comes out tomorrow, he's going to recommend a fund with an 8% dividend! AND you'll get a chance to grab this fund at a 7.8% discount, too!
This smaller CEF is totally off the radar, but with the upside and income it offers I don't expect that to last. Click here to get first-mover advantage on this 8%-paying CEF when it's named tomorrow morning and take CEF Insider for a no-risk test drive for 60 days.
A quick final note: You'll also get a Special Report naming Michael's 5 other top CEFs for 2022, too (average yield: 7.4%!). Don't miss out.
—Kevin Wallen, Publisher, CEF Insider and Contrarian Outlook