If you've been reading my CEF Insider service or my weekly articles on Contrarian Outlook, you know I don't go near a closed-end fund unless it hands us two things:
A fat, sustainable dividend
A big discount to net asset value (NAV, or the value of its underlying assets)
Today I'm going to show you 4 CEFs that give us these two things in spades, with safe dividend yields up to 8.2% and ridiculous discounts either at or near double digits! (If you're unfamiliar with CEFs, click here for a quick overview of these exciting high-yield investments).
So if you're looking to bag solid dividends up to 8.2% at a nice discount (and who isn't?), read on!
Watch List Pick No. 1: Invest With Buffett for 17% Off
One thing instantly pops out about the Boulder Growth and Income Fund (BIF): it has one of the biggest discounts to NAV in the CEF space, at 16.5%, so you're paying 83.5 cents on the dollar!
That's a steal for the terrific assets you get: BIF's biggest investment is in Warren Buffett's Berkshire Hathaway (BRK.A), which accounts for 30% of the portfolio. BIF also holds JP Morgan Chase (JPM), Yum Brands (YUM), Wells Fargo (WFC) and Wal-Mart (WMT).
This fund's laser-focus on value has sparked serious growth in its NAV this year:
BIF's Bargain Hunt Pays Off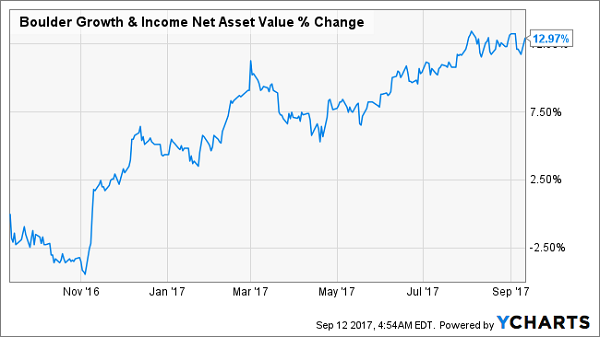 Those gains are on top of its dividend. At 4.2%, BIF is the lowest-yielding fund we'll look at today, but that low yield also means the payout is extremely sustainable, with a strong chance of serious dividend growth.
If you want a fund to buy and hold forever, BIF is a very strong candidate.
Watch List Pick No. 2: A 7.1% Dividend and a "VIP Pass"
When most folks dip a toe in the CEF space, they zero in on management fees.
That's understandable. The explosion of low-fee ETFs has trained investors to prioritize low fees ahead of everything else.
But CEFs are different. As I wrote in "The One Thing You Must Know About Fund Fees," I don't mind paying fees if they get us top-flight management that earns its keep. Well-connected financial pros also get us backstage access to assets most investors can't buy.
Near the top of my list: debt-focused CEFs run by high-quality companies like BlackRock. That's because the big fund-management firms often get access to debt instruments that even many multimillionaires are too small to get a shot at.
Yet through CEFs, everyday folks can invest in them alongside the big players.
One BlackRock fund that's high on our CEF Insider Watch List: the BlackRock Debt Strategies Fund (DSU). It yields a high 7.1% that's extremely sustainable thanks to the fund's 9.3% discount to NAV, which makes its yield on NAV a much more manageable 6.5%.
Can you get that yield in today's corporate debt market? You bet.
Corporate Yields Stabilizing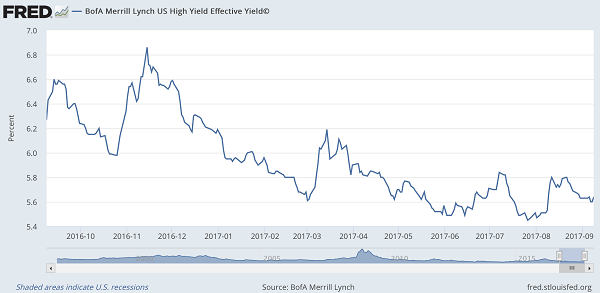 Right now, the average high-yield bond yields 5.6% after falling steeply through late 2016 and early 2017.
But take a look at the chart above and see how the yield has been stabilizing between 5.4% and 5.8%. That break in the decline in yields has given bond funds a chance to earn income from their bonds at a more sustainable and reliable rate.
Keep in mind that BlackRock is choosy about the bonds it buys and uses leverage, so getting a 6.5% return in the market when the average is 5.6% is really easy for them. Plus BlackRock will always be a first "port of call" for large corporations looking to issue more debt. If we own DSU, we're literally holding a stake in the firm Fortune 500 companies call when they need a loan.
Be IBM's banker? Don't mind if we do!
Watch List Pick No. 3: Global Exposure and a 7.6% Payout
Regular CEF Insider readers know that I got excited about foreign assets earlier this year, and I recommended two foreign-focused funds that have returned over 15% in about 4 months and are still rising.
However, I recommended staying on the sidelines when it came to emerging-market debt. That's because the increase in this debt has mainly been a function of the weaker US dollar, without anything major causing the foreign bonds to rise on their own.
Now the US dollar has fallen to a point where it's time to take a closer look at one of the best developing-nation debt funds out there, the Western Asset Emerging Markets Debt Fund (EMD), which yields a nice 7.6%.
Earlier in 2017, the fund was rising at about the same rate as the US dollar was dropping, since a weaker dollar makes emerging-market loans more valuable. However, the decline in the dollar accelerated in July, and the greenback has remained at those lower levels since—yet EMD's NAV returns have barely ticked upward:
The Right Time to Jump In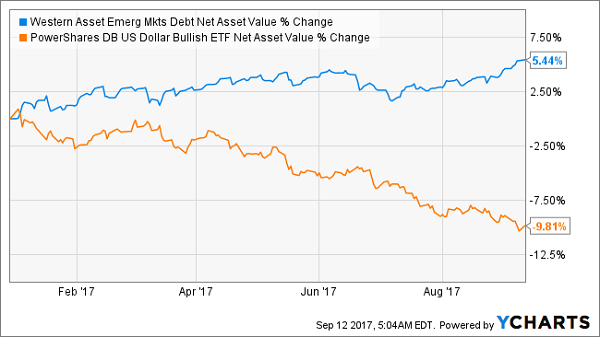 This tells us the market hasn't priced in the upside we should have already seen from the falling US dollar. What's more, the weaker currency is making EMD's juicy 7.6% yield even more sustainable. For income and strong total returns, this fund is begging to be bought now.
Watch List Pick No. 4: A Global Equity Star

Foreign stock funds have been surging in popularity thanks to a sudden uptick in returns after nearly a decade of declines. That's why the Voya Global Advantage and Premium Opportunities Fund (IGA) is a particularly attractive fund on our CEF Insider Watch List.
Not only does it boast an 8.2% dividend, but its NAV has surged year to date. However, I haven't recommended it yet because throughout most of 2017 its price has gone up much more than its NAV—and the gap between the two is wider than ever:
The Market Loves IGA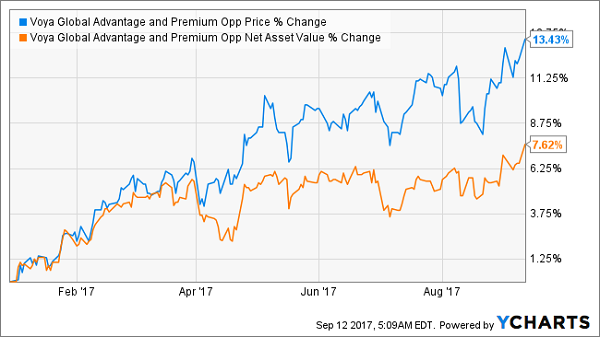 The risk here is that IGA could see its price slide if the market suddenly goes into risk-off mode, which is why buying into the fund gradually over the next few months may be the best way to get in.
The payoff? Thanks to the strength of global equities and the continued weakness of the greenback, the dividend on this fund is particularly safe, despite its high 8.2% yield, so you're setting yourself up for a hefty income stream for years to come.
Available NOW: VIP Access to all 34 CEFs on My Watch List
I'm now ready to share with you all 34 high-yield CEFs in my Watch List, but that's just the start.
I'm also throwing open the doors to the 11 off-the-radar picks in CEF Insider's main portfolio! These 11 funds really are the best of the best—poised for fast double-digit gains and throwing off SAFE yields up to 9.5% right now.
All you have to do is CLICK HERE to road test CEF Insider and get immediate access to this incredible portfolio with no risk and no obligation whatsoever.
That's not all.
Your no-risk trial also comes with my latest FREE Special Report, which reveals my 4 "Best Buy" CEFs now.
These powerhouse funds boast 7.4% CASH payouts, on average—4 TIMES MORE than your typical S&P 500 stock! AND I'm expecting strong dividend growth here, too, so you'll be pocketing 10% or more in short order.
And yes, they all trade at ridiculous discounts to NAV. When these weird markdowns snap shut, they'll catapult us to 20%+ price gains!
Add it all up and you're looking at a nearly 30% total return in the next 12 months here, with a big chunk of that in CASH.
Your Special Report, the entire CEF Insider portfolio and the 30+ high-yield CEFs on my Watch List are all waiting for you now.
But I must warn you: we can only let 500 people take advantage of this rare offer to try CEF Insider—nearly 400 have already snapped up trial memberships. With thousands of investors likely reading this now, I expect those remaining spots to go FAST!
Don't wait. CLICK HERE to get instant access to my Watch List, the CEF Insider portfolio and the complete service with no risk whatsoever!