Many retirement experts pitch real estate as the best way to bank monthly income. But do you really want to chase down rent checks and fix broken light bulbs?
I don't. And I imagine, since you're reading this, that you prefer your passive income to actually be passive as well.
Fortunately there's an easier, and better, way to invest in real estate without actually playing the role of landlord. From the convenience of our brokerage accounts, we can buy real estate investment trusts (REITs) and collect truly passive income of 7%, 8% or better.
How to Collect 7%+ Rent Checks Without Playing Landlord
REITs trade like stocks, which means buying them is as easy as punching in a ticker symbol. They tend to yield more than your average equity, because they are required to pay most of their earnings to shareholders as dividends (in order to maintain their REIT status).
And like stocks, savvy picking comes at a premium. Choose wisely, and you can build a portfolio of recession-proof real estate that funds all of your retirement income needs. You can even get rich off the appreciation!
Take Omega Healthcare Investors (OHI), a leading landlord for skilled nursing facilities. OHI has smartly built the number one portfolio in its fragmented market. Meanwhile, its investors have smartly watched their position appreciate more than 1,600% over the past 15 years!
The Right Landlord Can Make You Rich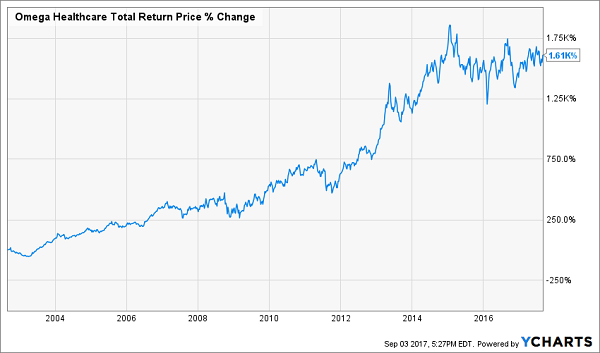 But investors who choose their REITs poorly can lose a lot of money quickly. Just ask anyone who held retail REITs this year. The high quality firms were able to maintain (or even increase) their dividends as the Internet ate many of their tenants alive – but the market didn't seem to care:
The Wrong Landlord Can Hurt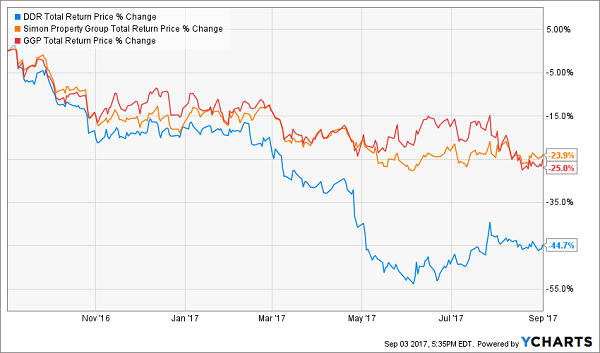 If real estate is all about location, then REIT picking is all about the sector. Choose wisely and you can bank big dividends without much drama. There may be unprecedented disruption in the business world, but certain types of properties are going to keep on renting no matter what happens to the stock market or broader economy.
The Best REITs to Buy Today
Healthcare landlords like OHI are still riding a demographic bull market. According to social security eligibility, 3.6 million baby boomers are now reaching full retirement age every single year. That's 10,000 boomers every day, or 416 every hour or one every 9 seconds.
And this trend will continue every single day for the next 15 years.
The Bull Market in 65+ Healthcare Will Continue for Decades


Older adults spend 5-times as much on healthcare as other adults. They visit physicians offices 2.5-times more than other adults.
I'm also bullish on distribution centers and warehouses thanks to the boom in Internet shopping and e-commerce. While the Great Recession flattened many business models, warehouse demand has enjoyed a non-stop boom since 2000 thanks to online shopping:
E-Commerce Sales Booming in America

Think about it – more packages are being delivered to your house today than ever before. Each package starts in a warehouse somewhere.
Finally hotel landlords have nice business models. They own the facility, but let someone do the heavy lifting of actually running it.
Lodging REITs are actually quite cheap today, for two reasons:
Lodging is historically cyclical (which means it suffers during recessions), and
Some first-level investors fear competition for hotels from home rental services like Airbnb.
Macroeconomics aside, the reason you shouldn't fear the first concern is that lodging REITs are already priced for a recession. Many trade for less than 10-times FFO (funds from operations) – which is like a stock trading for less than 10-times earnings or cash flows. Cheap.
The Airbnb-threat can be avoided with careful stock picking. For example, my favorite lodging REIT has hotels out in the suburbs or near airports. These locations are well insulated from the Airbnbs of the world, which are more popular near city centers and resort areas.
There isn't much competition from vacation rentals for a Residence Inn next to a business park, and business travelers want convenience and a dependable brand. Yet investors incorrectly perceive a competitive threat, putting all stocks in the sector on sale. There's value (and high, secure income) in lodging if you choose carefully.
Buy These Recession Proof REITs: 2 Plays With 7.6%+ Yields and 25% Upside
One of my top REIT buys right now recently raised its dividend again by 4% over last quarter's payout. This marks the 20th consecutive quarterly dividend hike for the firm:
Dividend Hikes Every Quarter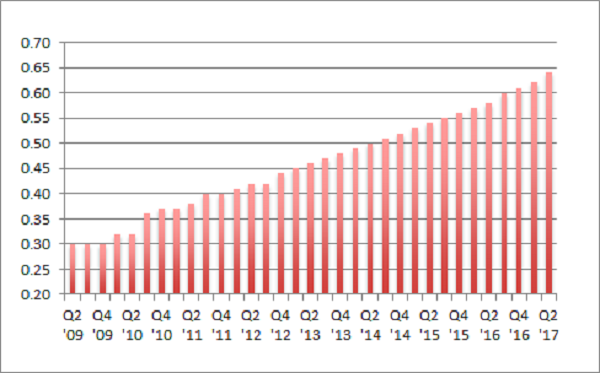 It pays an 8.1% yield today – but that's actually an 8.5% forward yield when you consider we're going to see four more dividend increases over the next year. And the stock is trading for less than 10-times funds from operations (FFO). Pretty cheap.
However I expect its valuation and stock price will rise by 20% over the next 12 months as more money comes stampeding into its REIT sector – which makes right now the best time to buy and secure an 8.5% forward yield.
Same for another REIT favorite of mine, a 7.6% payer backed by an unstoppable demographic trend that will deliver growing dividends for the next 30 years.
The firm's investors have enjoyed 86% total returns over the last five years (with much of that coming back as cash dividends.) And right now is actually a better time than ever to buy because its growing base of assets is generating higher and higher cash flows, powering an accelerating dividend:
An Accelerating Dividend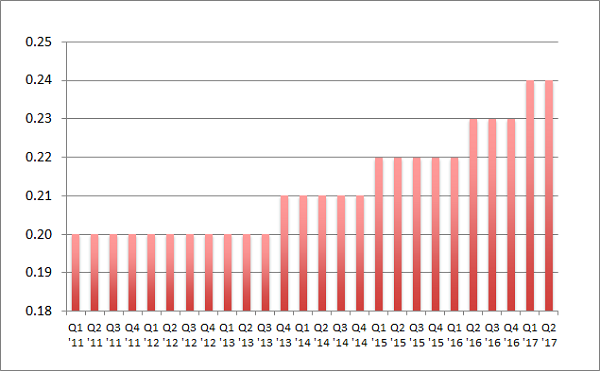 This stock should be owned by any serious dividend investor for three simple reasons:
It's recession-proof,
It yields a fat (and secure) 7.6%, and
Its dividend increases are actually accelerating.
These two REITs are both "best buys" in my 8% No Withdrawal Portfolio – an 8% dividend paying portfolio that lets retirees live on secure payouts alone. And they can even enjoy price upside to boot, thanks to the bargain prices they're buying at.
Now, as active recommendations for my premium subscribers, it wouldn't be fair to reveal their names here.
But I would like to send you a free copy of my latest special report, Recession Proof REITs: 2 Plays With 7.6%+ Yields and 25% Upside, with all the details.
It includes the names, tickers and exact buy advice on how to start profiting right now.