Almost every investor has a built-in bias that causes them to miss out on significant gains. It's 100% predictable, easy for us to profit from and is running rampant in the markets today.
In just a few paragraphs, I'll show you 2 funds that are perfectly positioned to profit from it, with one yielding an incredible 11.4%.
Before I get to that, let me explain.
The flaw in human nature I'm talking about is called recency bias. Don't let the wordy name fool you: it just refers to the tendency people have to assume something will happen again, just because it happened in the recent past.
And these days, I'm hearing a sense of panic from investors because stocks are up 140% in the last decade. That triple-digit gain has triggered their recency bias, and they reflexively believe another 2008/09–style meltdown is at hand.
The problem with this logic? The actual numbers.
When we look at stocks over the last decade, we see that the market's compound annualized growth rate is actually modest—in fact, it's pretty much in line with the historic norm. And if we look at the last 20 years, we see that the annualized growth rate for stocks is actually historically low:
Reality Beats Perception

The reason for this is clear: after the excesses of the dot-com bubble and its early 2000s correction, and after the excesses of the housing boom and its 2008–09 correction, stocks have actually had a humble growth rate over a long timeframe. And this means the extreme gains of recent years (like the S&P 500's 23% rise in 2017) are just a bullish correction of an unusual bearish anomaly (the burst bubbles of 2001 and 2008).
This totally overlooked perspective is crucial as we look at the markets today.
The truth is, there are good gains to be had in stocks right now because—despite the herd's overpowering recency bias—the actual numbers tell us that stocks are far from enduring a crash like we saw in response to the excesses of the dot-com and subprime bubbles.
Jobless claims are falling, profits are up 25% from a year ago (the biggest gain in a decade), and stock valuations are actually in line with the historic norm: right now, the S&P 500's forward P/E is about 17—identical to its long-term historic average.
This is partly due to the market's flat trajectory in 2018, but it's also because of that big earnings gain.
The bottom line? Now is a good time to buy stocks for a modest and sustainable return.
Note that I say "modest." The days of 20%+ total returns in a year may be behind us—but that doesn't mean we can't get an easy 10% or so if we invest in the stock market wisely. We just have to be a little more selective.
So how can we ensure those double-digit gains? One way is with closed-end funds (CEFs).
Because of their unique structure—where these funds' market prices deviate from the actual value of their holdings (the net asset value, or NAV, of the portfolio)—CEFs can be massively underpriced to their "true" worth.
And there are many bargain-priced CEFs out there today holding cash-rich companies with surging share prices. Here are a couple you should consider.
The Liberty All-Star Equity Fund (USA) trades at a 6.9% discount to NAV while paying an incredible 11.4% dividend yield. This fund is full of mega-cap US stocks and tech darlings such as Alphabet (GOOG), Visa (V), Bank of America (BAC) and Starbucks (SBUX). Buying this fund is like getting the best of the Nasdaq 100 and S&P 500, along with a massive income stream—all at a big discount.
A Strong Showing for USA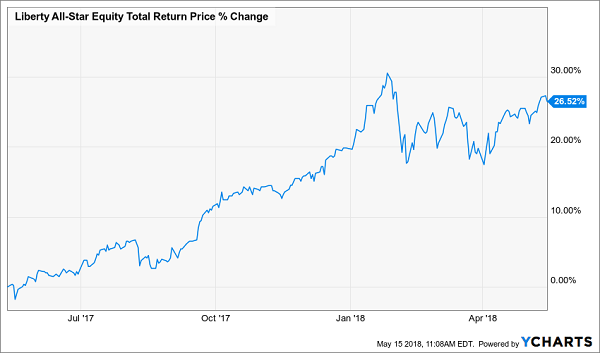 Another option is the BlackRock Enhanced Equity Fund (BDJ), which is a bit more finance-focused. Its top holdings are JPMorgan Chase & Co. (JPM), BAC and Citigroup (C). BDJ also trades at a big discount—8.5%, in this case. The dividend is smaller but is still massive compared to those of most ETFs: BDJ pays out a 6.4% annual yield while also offering a 7.3% annualized return over the last decade.
BDJ Sees Steady Gains Before a Recent Pause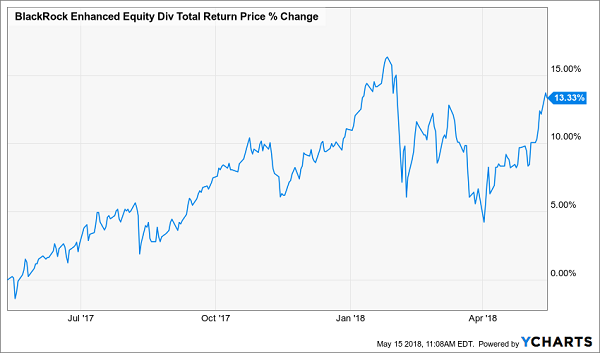 Both of these funds are big outperformers in post-correction recovery markets; BDJ traded at a 10% premium to its NAV in the market recovery of late 2009. A return to that level would hand us a 20% gain from its current price, on top of its generous income stream.
Ride This "Surprise" 9% Dividend to Massive Gains
And there's one more trend most investors are ignoring as the market arcs higher: a rise in the number of special dividends as corporate cash piles grow.
Because these happy "dividend surprises" do more than just drop an unexpected cash payout into your lap—they drive share prices through the roof, too.
Which brings me to another closed-end fund I see as a perfect buy now. If you look it up on a screener like CEFConnect.com, you'll see a table like this:
"Regular" Dividend Masks True Payout


Funny thing is, this fund pays out a one-time special dividend every year without fail—and when you add this "bonus" payout to this fund's regular dividend, you get a "true" yield of over 9%!
Take a look:
A "Secret" Dividend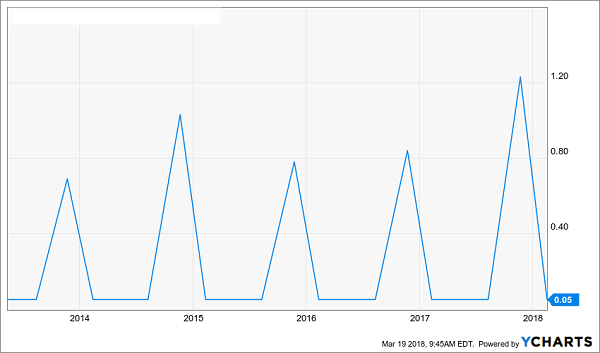 But because most fund screeners don't track the fund's "real" dividend, the investing public has no idea it even exists! That lack of knowledge—and this fund's ridiculous 15% discount to NAV—perfectly set up our buy window.
And that's not all. Because every single year, this fund's special-dividend announcement takes first-level investors by complete surprise—even though it shouldn't. Check out how the price pops higher with each new "special":
A Profit Pattern You Can Set Your Watch To

The pattern is unmistakable. And with another special dividend announcement just a few months away, the time to buy is now.
Don't miss this opportunity for explosive gains and income. Click here and I'll give you the name, ticker symbol and my complete research on this incredible 9% yielder (and my 4 other top CEF picks for 2018) right now.