Make no mistake: now is the perfect time to set ourselves up for 7%+ dividends, along with serious upside—I'm talking total returns well into the triple digits!
The key is my easy "dividend barometer" strategy. I'll show you exactly how it works—and two stocks it's flagged for big payout growth and price gains—shortly.
Your Ticket to "Rate-Proof" Gains in 2020
First, we need to talk about Federal Reserve chief Jerome Powell, who says he'll hold interest rates steady next year. That's despite President Trump, who's been Twitter-bashing the poor fellow on the regular for not slashing rates to the bone.
If the smart money (betting through the Fed futures market) is right, The Fed chief will win this battle. Traders don't see rates budging in the next 12 months:

Source: CME Group
Of course, you and I both know that trying to guess what the Fed will do in the long run is the ultimate game of Whack-a-Mole.
So today we're going to leave Powell to his dilemma and take a "heads-you-win, tails-you-win" approach to building our nest egg (and income stream).
We'll do it by focusing on a group of stocks that outperforms no matter what rates do. I'm talking about companies that pay a steady dividend and regularly drop big (and ideally accelerating) payout hikes on shareholders. 
Everyone loves to get a dividend, of course. But dividend hikes never get the credit they deserve. Because a growing dividend pays off in two ways:
It increases the yield on your initial capital—more on this shortly—and …
It's the No. 1 driver of share prices.
I know that second point sounds silly; most folks see dividend hikes and share-price gains as separate things. But they're more connected than you probably think. And we can use the timing and size of payout raises to profitably "time" our buys and sells. Let me show you how.
How My "Dividend Barometer" Powered Us to A Fast 43.5% Win
This is where our "dividend barometer" comes in. It couldn't be simpler to use, and it works no matter what happens with the Fed!
Regional bank West Bancorp (WTBA), a one-time pick in my Hidden Yields advisory, is the poster child for this approach.
I know I don't have to tell you that from March 2009, when the market bottomed after the financial crisis, to December 2015, rates were locked at zero—a level we're unlikely to see these days, even if the president goes on a days-long Twitter tirade.
Rates at zero should have been a profit graveyard for a lender like WTBA. But management didn't get the memo! Instead, it kept pumping up the bank's dividend, driving a combined 220% hike in that time. As you can see below, the share price matched these increases point for point.
The correlation is extremely tight—and unmistakable.
Low Rates? WTBA Doesn't Care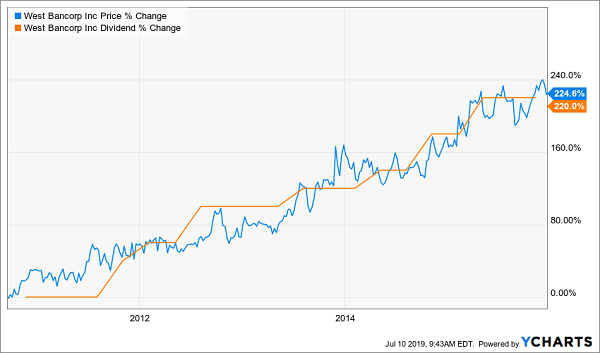 That dead-obvious pattern was enough for me. With rates on the rise and West's dividend hikes accelerating, I made the stock a buy in my Hidden Yields advisory on June 17, 2016.
As if on cue, WTBA soared for a 43.5% total return by the time we sold on May 18, 2018—a little less than two years later. Seven months after that, Powell made his famous "pivot," indicating that future rate hikes were now on ice.
But the real reason for the sale had nothing to do with rates at all. It was all about our "dividend barometer":
WTBA's Share Price Redlines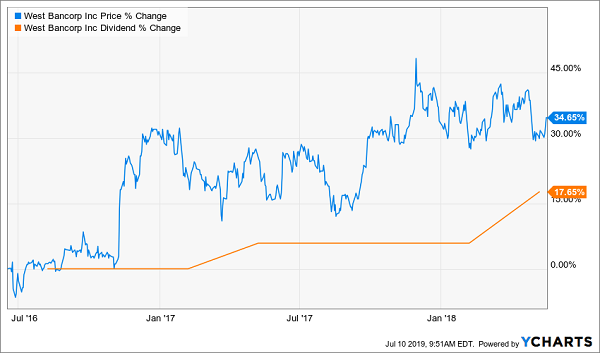 As I wrote in the May 2018 issue of Hidden Yields: "The stock's price [blue line in the chart above] has run ahead of its payout [orange line above], which has helped our returns to date but puts a damper on future potential."
What happened after our sale? WTBA's next dividend hike was ho-hum, and the stock fell—at a time when the market jumped 16%!
WTBA Deflates After Our Sell Call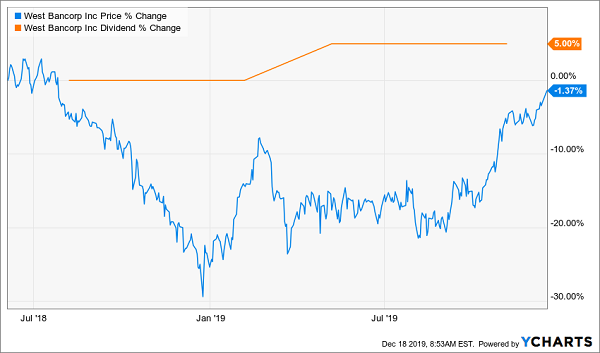 But enough with the past. Let's move on to two examples my "dividend barometer" is flagging for higher payouts (and share prices) in 2020 and beyond. Further on, I'll give you "first-mover" access on my 7 best dividend-growth picks now.
"Dividend Barometer" Play No. 1: Alexandria Real Estate Equities (ARE)
Alexandria is a real estate investment trust (REIT) that owns labs and other research spaces for the life-science, technology and agriculture industries—all of which are set for steady growth, thanks to megatrends like an aging population, exploding use of data analytics and the need for more food.
That's showing up in the company's results: in the third quarter, Alexandria's revenue surged 14%, while adjusted per-share funds from operations (FFO, the best measure of REIT performance) rose 5%. The best part: the REIT's buildings have almost zero unrented space: it ended the quarter with stellar 96.6% occupancy.
Shareholders are cashing in through a dividend that's surged 186% in the past decade. And management loves to hike the payout, regularly doing so twice a year.
And, just like with West Bancorp, Alexandria's shares have risen steadily along with the dividend. But unlike with West, they haven't quite reeled the payout in. That points to more upside as that gap closes:
Your Upside in 1 Chart

Finally, Alexandria investors enjoy two other "dividend safety nets": one is the fact that its current leases have a long time to run, with an average remaining term of 8.3 years. (Its top 20 tenants locked in for longer—an average of 11.8 years.)
The other is Alexandria's safe payout ratio—at just 60% of FFO, there's plenty of room for more hikes; 90% ratios are usually safe in REIT-land, thanks to these trusts' steady cash flows.
"Dividend Barometer" Stock No. 2: Ryman Hospitality Properties (RHP)
The other stock my "dividend barometer" is spotlighting is hotel REIT Ryman Hospitality Properties (RHP), payer of a nice 4.2% dividend that's jumped 64% in the last five years.
In other words, if you'd bought in 2014, you'd already be yielding 7.3% on your original purchase, thanks to Ryman's steady payout growth, which, yes, has pulled its share price up with it:
Ryman's Dividend Drives Its Share Price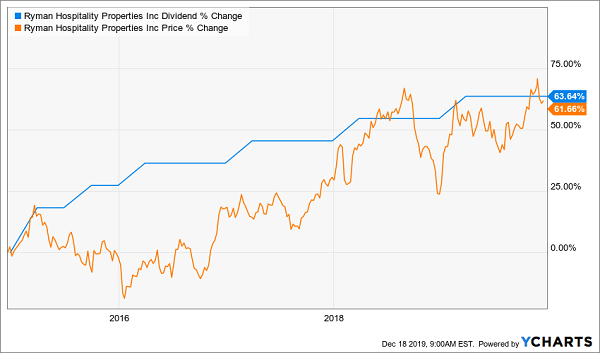 Like Alexandria, Ryman is benefiting from the strong economy, and in particular its focus on business travel: Ryman's hotels are in conference hotspots like Nashville, Orlando and Washington, DC.
Ryman's dividend already has solid backup: in the first quarter, adjusted FFO jumped 22.9%, and the company's dividend payout ratio is even lower than that of NSA: just 54% of the last 12 months of adjusted per-share FFO.
That leaves Ryman with plenty of fuel to keep its dividend—and by extension its share price—moving higher. And I expect its next hike soon: the REIT usually announces dividend raises in February.
Yours Now: My Dividend Barometer's Next 7 Breakthrough Picks
Here's the best news: I just released a new Special Report that reveals the next 7 picks from my powerful "Dividend Barometer."
These 7 low-key "hidden yield stocks"—so named for their totally disrespected (and surging) payouts—are perfect for today's market, with its political uncertainty and cloudy rate outlook.
And thanks to their bargain valuations and accelerating dividends, these 7 rock-solid businesses are well-positioned for even bigger upside than Alexandria or Ryman: I'm talking about an opportunity for you to DOUBLE your nest egg in short order here!
I can't wait to give you this Special Report, which gives you an unrivaled collection of bargain-priced dividend-growth picks to choose from—especially now, with this bubbly market leaving us with few great deals to pick from.
Don't miss out! Click here to grab my new Special Report and get instant access to my 7 very best dividend-growth stocks for 2020.