The once unthinkable has happened: AT&T (T), a Dividend Aristocrat that increased payouts for 30 years, said it will cut its payout nearly in half.
The move is especially infuriating because, as recently as April, we were hearing a lot about why the company would likely hike its payout in 2021, and management had stood by the dividend.
That's now out the window—and the market's not happy.
Dividend Cut Sends AT&T on a Wild Ride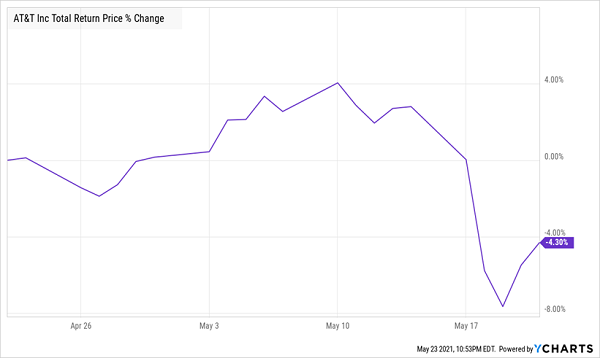 It just goes to show you that even companies among the vaunted Dividend Aristocrats fall from grace from time to time. We all remember back in 2017, when another sacred cow, General Electric (GE), slashed its payout in half, as well.
Large companies eventually find limits to their growth, and when that happens, something must give. For firms that have made a name for themselves by paying high dividends, that can result in a cut that causes a big selloff and a lot of misery.
Here's the good news: you can have growth and dividends. Instead of picking aging Dividend Aristocrats, you can buy closed-end funds (CEFs) that hold hundreds of high-quality companies.
The nice thing about CEFs is that they don't limit us income investors to stocks that pay dividends! With CEFs, you can have a fund holding a company that pays no dividend at all, like Google (GOOGL) or Amazon.com (AMZN), but thanks to the fund's portfolio management, you can pull in a big payout anyway: as I write this, the typical CEF yields around 7%, and some, as we'll see below, pay north of 9%.
Let me show you just three of these funds, all with top-notch holdings and strong track records.
CEF Pick No. 1: This Fund Squeezes a Growing 5.4% Dividend Out of Google
We'll start with the AllianzGI Equity & Convertible Income Fund (NIE), whose biggest holding is Google; its next biggest positions are Facebook (FB), Microsoft (MSFT), Apple (AAPL) and Amazon (AMZN). These are all companies that have posted strong growth, and NIE's management has smartly held on to them, particularly in the last year, when tech went on a tear due to COVID-19 lockdowns:
Tech Gains Drive a Strong Long-Term Return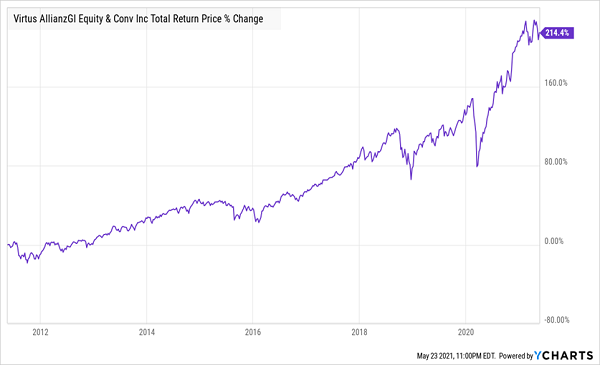 NIE's yield is actually small relative to other CEFs, at just 5.4%, but the fund has raised its dividend by over 30% in the last decade and, given its recent returns, is likely to increase the payout again pretty soon. Plus, NIE is currently trading at a 9.4% discount to NAV, meaning you're getting its great portfolio for less than you would if you bought the shares on the open market.
CEF Pick No. 2: A 6.8% Dividend Riding the Energy Boom
After NIE, consider the John Hancock Tax Advantaged Dividend Fund (HTD), a savvy fund that has a history of pivoting to where profits are to be made. It's heavily in utilities right now, which are in an uptrend that's likely to continue in 2021 as economies reopen and utilities start serving more energy to more buildings in urban and suburban areas around the country.
The fund's holdings have helped it drive a fast double-digit total return in 2021:
Starting 2021 on the Right Foot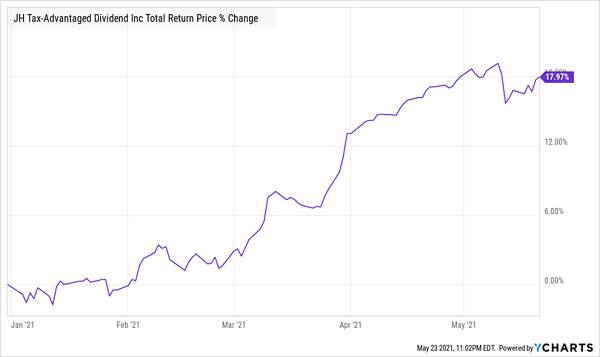 HTD's 6.8% yield is a great payout, and its profits mean that this is a sustainable income stream you can rely on.
CEF Pick No. 3: A 35-Year-Old Fund With a 9.8% Payout
Finally, the Liberty All-Star Equity Fund (USA) dates back to 1986 and has an incredible story to tell: since then, it's delivered a total return of 2,750% (including dividends), with almost all of that coming in cash, thanks to its rich payout: it currently yields a whopping 9.8%
USA Delivers Over the Long Haul

And just in the last five years, USA has returned 172%, compared to the market's 120%. We don't normally expect that kind of performance from a high dividend payer like this (AT&T investors certainly didn't get it!). But there you are.
That big return means that USA is easily earning enough to sustain its payout. And as with NIE, it's handing us that dividend with a portfolio of tech high-flyers—PayPal (PYPL), Adobe (ADBE), and Salesforce.com (CRM) are top holdings—but it's also diversified into many other sectors, such as pharmaceuticals and banking.
In other words, the fund is turning paper gains into cash dividends while providing access to a well-rounded portfolio of dynamic, productive companies. These are two advantages aging Dividend Aristocrats can never match.
These 5 Funds Are Incredible Bargains Now (7.3% Dividends, 20%+ Upside Ahead)
These are all great funds with strong track records, no doubt about it. But they're just not cheap enough to tempt us at this point, and one of these funds, USA, actually trades at a 4% premium to net asset value (NAV, or the value of the stocks it holds).
So let's keep them on our watch list for now.
Meantime, I've got 5 other CEFs for you that trade at totally bizarre discounts now—even in this overbought market. In fact, their discounts are so out of line with their historical averages that I'm calling for 20%+ price upside from these five funds in the next 12 months!
Not only that, you'll also grab a nice 7.3% average dividend (with one of these funds paying a gaudy 8.5%!) to go along with your upside, too.
Taken together, you could be looking at a 27% total return in the next 12 months here, with dividends included!
Don't miss out on these 5 bargain dividend payers. Go right here and I'll share my complete research on all five of them with you now: names, tickers, complete dividend histories and everything else you need to know.