Four months ago, I wrote to you that the stock market was about to rally. Why? Individual and professional investors were both terrified – a great sign for us who relish running against the herd.
Since then the S&P 500 has rallied 12.2%, while the three dividend stocks I mentioned rallied 18.2%, 29.2%, and 42%! Once again, it paid to think contrary…
The "Surprise" Spring Rally We Called on February 10th
Have stocks run too far too fast? The broader market is once again within spitting distance of its all time highs. Plus, investors have to be bullish now… right?
Wrong – they're still terrified. Check out the latest survey from the American Association of Individual Investors (AAII) – only 27.8% of respondents are bullish:
Only 27.8% Bulls
That number is nearly identical to the pessimistic 27.6% reading I shared with you in February. It's below the long-term average of 38.7% bulls.
As much as I love betting against masses of individual investors, there is one group I like to bet with even more – corporate insiders. After all, when managers buy their own company's stock for their personal accounts, you know they are only doing so because they believe the price is going up.
And when they buy after a price run up, their tipoff is even more powerful. "Yes, this stock has risen – but it's still a bargain!"
This summer we can invest alongside these insiders while the market likely defies many bearish expectations. The stocks I'm about to highlight all pay above-average dividends that they are growing meaningfully (5% or more year-over-year).
This Summer's Insiders' Dividend Favorites
Over the last 12 months, management at Macquarie Infrastructure (MIC) have purchased 933,415 shares – more than 1% of all outstanding. The past five years have been a good time to be a toll bridge owner, as the firm has increased its dividend by 500% while delivering a 298% total return to investors:
Infrastructure Pays Big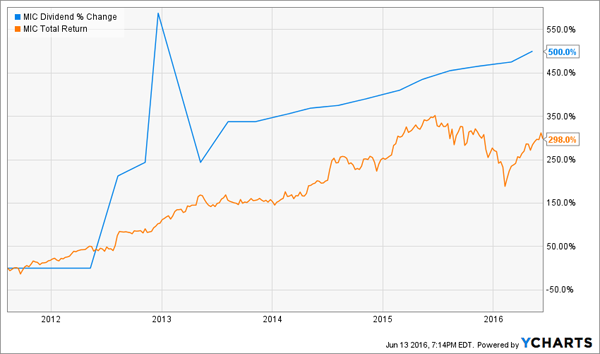 America's infrastructure is crumbling after decades of neglect and underinvestment (and the developed world at large isn't much better). The American Society of Civil Engineers graded the current state of roads, ports, power plants and water treatment a "D+" in aggregate.
MIC is a "one-click" way to turn your portfolio into a virtual toll road and purchase the companies tasked with providing much needed upgrades to the backbone of the global economy. Shares yield a handsome 6.6% today. (And as you may know my other one-click infrastructure favorite is trading at a big discount, too.)
Capital One Financial (COF) trades for just 74% of book value – usually a true measure for banks, which are constantly marking their assets to market. As we've discussed before that these stocks are "no brainer" purchases if you believe the value of their holdings.
Thirty-four insiders, who likely have a beat on these values, do. They have purchased 667,657 shares for their personal accounts over the past 12 months, which is impressive when you consider that 91.7% of Capital One's shares are held by institutions – it means management purchased 1.7% of the rest for their own personal accounts in the last year!
They like the discount to book value and the dividend growth (700% over the last 5 years.)  The dividend has risen in tandem with the payout ratio, which is still a modest 26.2% that leaves room for another double from here:
What Payout's In Your Wallet?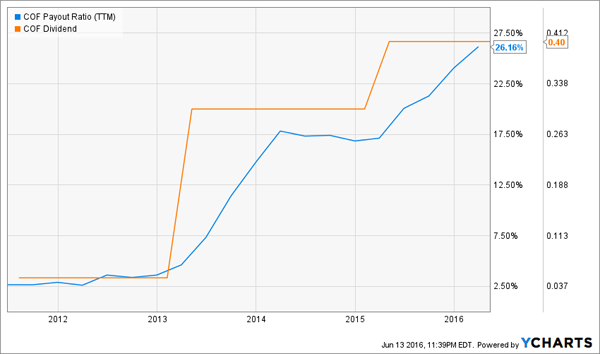 Timberland purveyor Weyerhauser (WY) has also been on a tear since the great recession, growing its payout by an amazing 1,580% since 2010. Shares yield 4.1% today.
The lumber product firm makes investors nervous with the percentage of profits it pays out to shareholders, which are currently more than its stated earnings. But the company is earning more in free cash flow (FCF) than it's showing the tax man in paper profits. Plus, insiders are buying, picking up more than 1.5 million shares over the last year – or 1.4% of shares held outside the big money.
And my favorite dividend insider buy today is actually not a stock but a fund. Its management team obviously believes in itself because they're purchasing shares for their personal accounts like crazy. Over the past 12 months, insiders backed up the truck for 400,000 shares.
And why wouldn't they buy this secure income gem? Shares yield an incredible 10.4% today AND trade at a 7% discount to the fund's net asset value (NAV). It's simply one of the best income buys on the board today. Click here and I'll share the details along with its name and ticker – plus two more buys with similar pedigree.