After months of grinding higher, stocks have taken a bit of a breather. And one obscure corner of the market went lower still.
I know I don't have to tell you that when that happens, contrarians like us are set up for some nice gains, so long as we don't let emotion cloud our judgment.
And there are indeed some nice gains on tap with 3 cheap funds I'll tell you about shortly. They're all closed-end funds, a special kind of investment that throws off eye-popping dividend yields (one of the 3 CEFs I'll show you yields a hefty 9.3% now!).
And thanks to the selloff, they're firmly in bargain territory—although they're already starting to snap back. So we don't have a lot of time here.
Let's dive straight into these 3 cash machines. Further on, I'll show you another fund that looks great (how does an 8.7% dividend yield sound?) but is actually a value trap waiting to snap!
Bargain Pick #1: A Cheap Fund Gets Cheaper
The Dividend and Income Fund (DNI) is notorious for being one of the cheapest CEFs out there.
What do I mean by "cheap"? Well, DNI, like many CEFs, often trades for less than the value of its underlying investments (its net asset value, or NAV). And right now, that markdown stands at an absurd 17.8%.
In other words, you're only paying 82.2 cents for every dollar of assets DNI holds!
And what does the fund hold? It specializes in stocks, including household names like Apple (AAPL), Wal-Mart (WMT) and Dow Chemical (DOW), which are all among its top 15 holdings.
Investors who bought into this fund at the start of 2017, when the market was taking another short breather, were up over 5% in a little over a month and 10% before this latest selloff:
DNI Steps Back—We Step In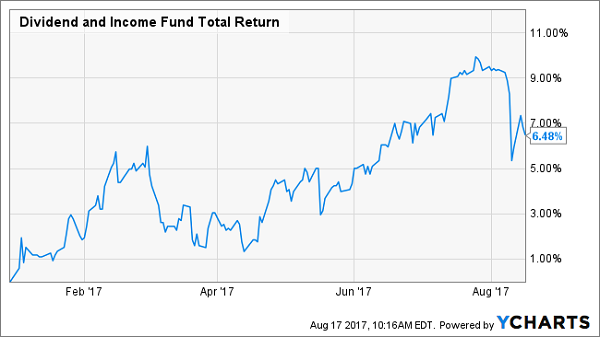 Of course, a lot of those profits have disappeared following this latest selloff—which means we're getting a rare second chance to buy.
What's more, the fund's 17.8% discount is far lower than its 10.7% average. That sets us up for immediate 8.5% upside as soon as the fund reverts to its historic norm.
Oh, and let's not forget about DNI's dividend. This fund pays a 4.9% yield to investors. Good luck getting that by buying Apple, Dow and Wal-Mart directly!
Bargain Pick #2: Jump on This 9.8% Yield While It Lasts
The Gabelli Convertible & Income Fund (GCV) is a stellar fund for many reasons.
For one, it's run by legendary value investor Mario Gabelli. (My colleague Brett Owens recently spotlighted another Gabelli fund with a 5.9% yield. You can check out his article here.)
As for GCV, the fund has certainly bolstered Gabelli's already strong reputation with its tremendous performance in the past; in fact, the fund was up an eye-popping 20% year to date before this latest selloff!
GCV's Buy Window Swings Open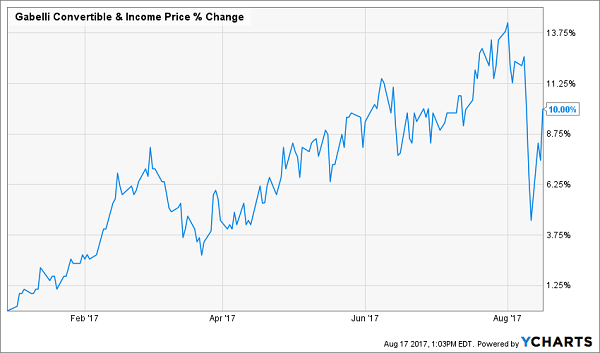 One of the reasons for GCV's run-up was its high, consistent dividend yield. Of course, all that buying brought the fund's yield down slightly, but the selloff has brought it back up and then some—all the way to 9.3%!
How does GCV pay investors so much?
It uses a mixture of convertible bonds and high-quality dividend stocks to create a sustainable income stream for investors. The fund has kept its regular payouts stable since 2011, thanks to its diversification across bonds and stocks, meaning that 9.3% payout isn't going down anytime soon.
Bargain Pick #3: A Discount We May Never See Again
The Western Asset High Income Fund II (HIX) is a wonderful high-yield bond fund with a long history of strong performance—on average, it's delivered an 8% annualized return over the last 10 years.
Go back further and you'll see that the fund has tripled in value since its IPO in the late 1990s!
This Fund Can't Stop Climbing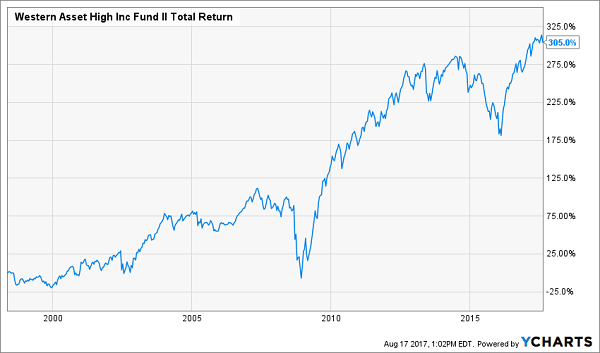 HIX gives investors a killer return while yielding 8.2%! That high yield and consistent performance make it a no-brainer buy at any time, but now that it's trading at a 7.4% discount to NAV, it's particularly compelling.
That's because the fund usually trades at par with its NAV, meaning it's unusual for it to trade for less than its assets are really worth. If you bag HIX now and wait for its discount to evaporate, you'll be looking at 7.8% capital gains on top of your 8.2% dividend stream.
Don't Be Fooled By This 8.7% Yield
You might be tempted to jump head first into the PIMCO Strategic Income Fund (RCS) for a few reasons.
For one, it's paying a whopping 8.7% dividend yield. Also, it has a strong 10-year total return—11.8% on average per year for the last decade. Finally, it's down big recently after a strong rise:
The Trap Is Set…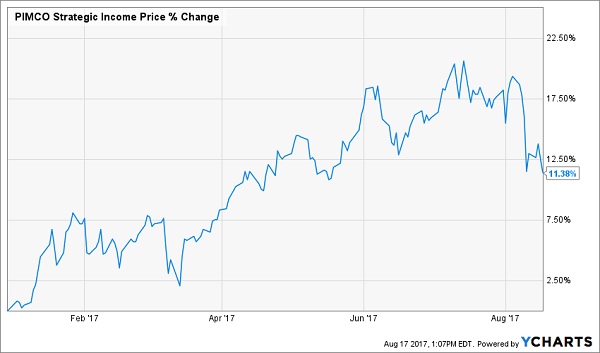 Too bad it's likely headed lower still. Here's why.
First, note that the fund's price is still up about 11% year to date as a result of constant demand from investors. But the fund's real performance, which you can measure by looking at how its NAV has performed in 2017, is dreadful. RCS's NAV is up just 1.2% year-to-date, which means the market is getting way ahead of itself here.
You can tell investors have overbid this fund by looking at its premium. RCS is now trading for 28% more than its NAV, meaning you'll pay $1 to get just 72 cents of assets. Why overpay when there are plenty of funds offering the same assets at a discount?
There's more: RCS's dividend is in trouble. The fund isn't earning its payout consistently, and its premium price means it'll be harder for management to sustain the dividend. The fund cut the payout by 10% in February, but another cut is inevitable unless we see a massive selloff in the fund. Consider that 8.7% dividend yield a warning of future declines.
Put These 7.6% Yields on Your Buy List Yesterday!
Luckily, there are a lot of buying options are out there. And a great place to start is with my 4 favorite CEFs on the market today.
I just rolled these 4 funds out to readers of my CEF Insider service—and now I want to show them to you in a new FREE Special Report that's waiting for you here.
Like the 3 CEFs above, these 4 names have been caught in the selloff, but their particularly unusual discounts sets them up for even more upside as the CEF market finds its footing in the next few weeks.
In fact, we're banking on easy 20%+ price GAINS over the next 12 months here. Plus, if you make these 4 CEF buys, you'll also get an outsized 7.6% income stream!
Add it all up and you're looking at a nearly 30% GAIN, with a big chunk of that in CASH.
The time to buy is NOW, before the herd realizes what it's missing and piles back in, causing our discount to vanish!
Don't wait. Go right here and I'll share the names, tickers, buy-up-to prices and my complete research on these incredible income (and capital gain) machines.