2017 was an amazing year for closed-end funds (CEFs)—and 2018 is setting up to be just as strong, if not stronger.
So if you're on the hunt for big dividends and upside this year (and who isn't?), this is a perfect time to take a closer look at high-yielding CEFs.
That goes double for the 10 unloved CEFs I'll show you in a moment.
In fact, I'll go as far as to say this: I predict these 10 funds will be this year's biggest comeback story, after investors mostly threw them over the side in 2017.
More on those in a moment.
First, before we look ahead to 2018, it helps to have a good sense of where we're coming from—so let's glance back at the year that was in CEFs and see what it can tell us about the future.
(A quick aside: if you're unfamiliar with CEFs, click here for a full primer, including the complete story on how these often-misunderstood funds regularly deliver safe 8%+ dividends.)
CEFs Finally Arrived in 2017
If I had to summarize last year in CEFs in one word, it would be this: confidence.
I saw more confidence pour into the CEF market in 2017 than at any point since the Great Recession of 2007–09. And that confidence is overdue; many CEFs have beaten the S&P 500 for years, and many more have what it takes to beat the market for years to come—including the group of funds I'll show you a little further on.
But it was only in 2017 that investors finally woke up to what CEFs can really do.
That's why CEFs rose an impressive 15.9% throughout 2017, and all asset classes tracked by our CEF Insider service ended the year up solidly: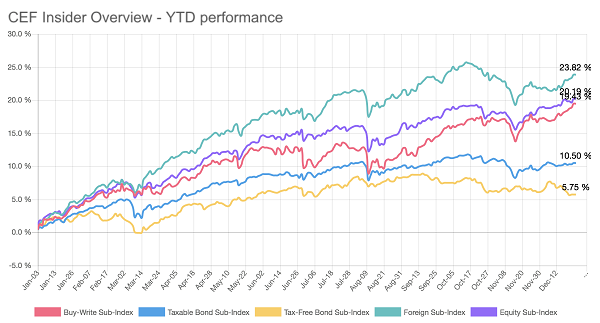 Of CEF Insider's indexes, the Foreign Sub-Index was the best performer, rising nearly 24% by the end of the year. Foreign funds' breakout performance began early in 2017 and carried on during summer and beyond—even though many Wall Streeters were busy betting against foreign stocks (a bet that backfired by the end of the year).
It's no surprise that the biggest CEF winners in 2017 were almost all foreign funds. The best fund of the year in terms of total performance was New Germany Fund (GF), which soared over 50% by the end of 2017 (and, as I told you when I gave you my complete analysis of this fund on December 28, still has gains ahead).
Following GF, the next-best-performing funds specialized in India, China, Chile and other parts of Asia. Take a look at their gains in the table below, both by market price and by the increase in their net asset value (NAV, or what their underlying assets are worth):
Global CEFs Were Big Winners in '17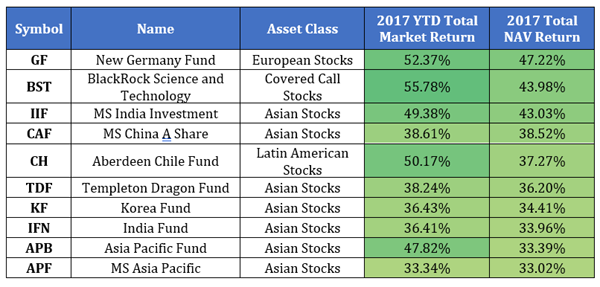 Only one of the top 10 CEFs by total return wasn't a foreign equity fund: the unstoppable Blackrock Science and Technology Fund (BST), an extremely well managed tech-focused CEF I first showed you back in June.
Note how these funds did really well when we look at total market returns (that is, their price gains and their dividend payouts)? Unfortunately, these funds' NAVs haven't grown by as much on a similar basis, which means that each fund's discount has gotten smaller throughout 2017.
CEFs tend to be on sale—right now, the average market price is 4.7% less than any given CEF's NAV—but sale prices aren't as good now as they were at the start of 2017, when average discounts were over 5.6%. So 2017 was the year when investors got more confident in CEFs, which means discounts have gotten smaller, too.
Looking Ahead to '18
But not all CEFs saw their discounts narrow in 2017—and this is where we start to turn away from last year and pivot to where the CEF market is headed this year.
Take a look at the 10 CEFs in the table below, all of which saw their NAVs go up more than their market prices in 2017. Some even saw their market prices fall while their NAVs went up.
The 10 CEFs to Watch in 2018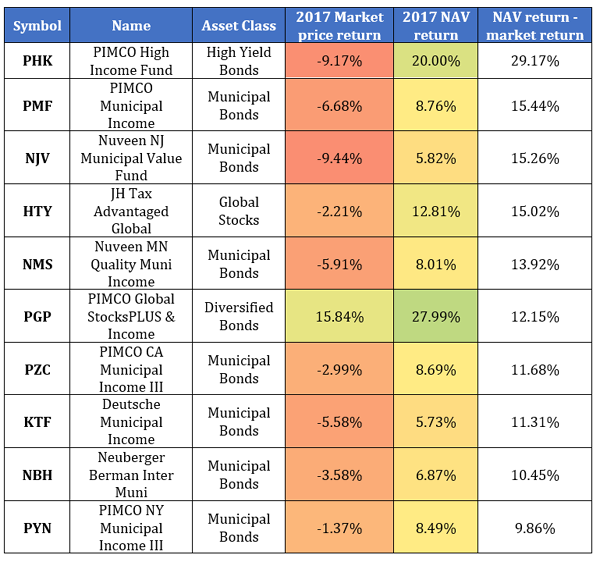 This is an interesting list because it's so unified and entirely different from 2017's top-performing funds. All but the John Hancock Tax-Advantaged Global Fund (HTY) are bond funds, and all have had solid gains in 2017.
Clearly, the market's enthusiasm for foreign equity funds isn't met with an enthusiasm for domestic bond funds. In particular, municipal bonds had an awful 2017 because of fears that changes to the tax code will make municipal bonds less desirable.
Now that we know what the tax changes look like, we also know that municipal bonds aren't going to suffer as a result. That means muni funds might be particularly oversold, and 2018 is setting up to be the year when they catch up—just like 2017 was the year foreign funds caught up.
The 4 Best CEFs for 2018 (10% Yields and 20% Upside Ahead)
My proprietary 5-point CEF-picking system just released its 4 best picks for 2018—including one fund that hands you an incredible 10% dividend yield!
And before you ask, yes, this payout is safe, easily covered by the gains and income this off-the-radar fund's portfolio is generating.
In fact, this cash machine is one of the lowest-risk investments I've ever seen. Here's why:
Let's say you buy $100,000 worth of this rock-solid pick today. When 2019 dawns 12 months from now, you'll be sitting on a nice $10,000 in dividends alone.
Sure, the income is great, but it also gives you some extra insurance because it means you'll have already recouped 10% of your original buy in cash! And in 10 years, those outsized dividends will have handed you your complete investment back in full.
That's to say nothing of the gains you'll get from this blockbuster fund and the 3 other picks my proven system just released. I've got the complete list for you in a free Special Report you can read now by clicking here.
And now that we've covered the dividend angle, let's talk gains: thanks to each of these funds' outsized discounts to NAV, I've got each one pegged for easy 20% price upside in 2018—including our incredible 10% yielder!
That means our hypothetical investor above would already have a nice $30,000 in gains and income on this one fund alone as New Year's 2019 rolls in!
There's more, though.
Unbeatable "Crash Insurance"
As I just said, I don't expect the market to fall out of bed in 2018—quite the opposite.
But the best news is that you won't have to worry either way with these 4 funds because they cushion your nest egg by spreading it across many different asset classes, including US stocks, foreign stocks, real estate and bonds.
That keeps your money safe while you collect the 8.1% average dividend yield these 4 funds pay out. And don't forget, their big discounts to NAV have each one of these 4 CEFs primed for 20% price upside in 2018.
I do have one word of warning, though.
You see, all 4 of these funds have been caught up in the wave of optimism about CEFs, so their discounts are starting to narrow. There's still time to get in, but your window to buy these 4 CEFs at a deep discount closes a little more with each passing day.
Don't miss out. Click here to get the full story—names, tickers, buy-under prices and my complete research—on all 4 of these off-the-radar cash machines now.