Certain stocks are beating the S&P while paying dividends three to seven times the market's average. Thanks to gradual improvements in the economy and higher interest rates, these stocks have trounced the S&P 500 in 2016, and should continue to do so.
Business development corporations (BDCs) have bounced back spiritedly from their early 2016 slump, buoyed by their steady and significant payouts. The best performers of the group have outperformed by a wide margin year-to-date—specifically Main Street Capital (MAIN), Goldman Sachs BDC (GSBD), and Triangle Capital (TCAP).
Big Payers With Better Returns
GSBD is managed by Goldman Sachs (GS), and has access to daddy's massive investment bank's rolodex. But analyst expectations are only particularly rosy for MAIN heading into BDC earnings season (which starts in May).
Analysts Like MAIN, Unsure on GSBD & TCAP

What is a BDC?
What's driving this bullishness? To understand that, we must first consider what a BDC is.
In 1940, the U.S. Congress passed the Investment Company Act, which created a new form of lending firm with tax benefits. The goal was to help non-accredited investors pool together funds to lend to smaller firms. In recent years, that has meant investors can get exposure by buying BDC shares—which provide "one-click" diversification as these firms invest in dozens or hundreds of companies.
While venture capitalists and private equity firms like Blackstone (BX) invest in startups by buying shares, BDCs instead primarily lend to startups. They do this for two reasons. First, there is less risk involved in the senior loans that most BDCs extend. Second, these loans pay high yields.
The Investment Company Act requires BDCs pay out at least 90% of that income to shareholders. Most do so in the form of dividends, which is why their yields trounce the broader market's.

On top of consistent dividends (which are paid monthly in the case of TCAP and MAIN, quarterly for GSBD), these firms will also pay special dividends when they receive a windfall from an investment. For example, Main Street paid out two special dividends of 27.5 cents in 2015, bringing its annual yield to 8.6% for the year. And management just declared its latest special dividend – also for 27.5 cents – yesterday. That will be paid out in June.
How BDCs Pay You
If that seems too high to be true, it isn't. Remember, most of the company's net investment income (NII) must be paid to shareholders, or else the company loses its special tax-advantaged status. MAIN's trailing twelve month NII is $2.25, meaning its $2.16 regular dividend payments in 2015 represented just 95.8% of the company's total investment income—a healthy margin over the 90% minimum requirement.
The best BDCs manage their payouts according to their NII, and adjust payments when NII changes significantly. That can mean dividends go up or down. In the case of MAIN, that has meant dividend increases of 44% since 2007: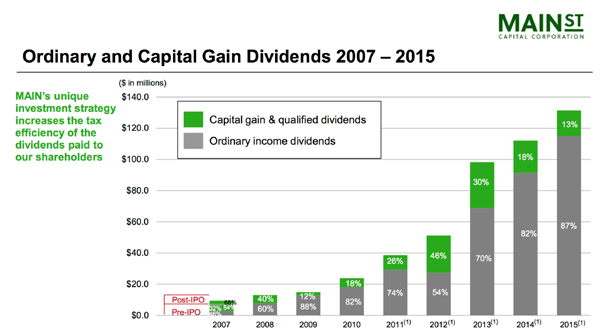 In the case of some other BDCs, like Prospect Capital (PSEC), Medley Capital Corporation (MCC) and Fifth Street Finance (FSC), that can mean dividend cuts. In early 2015, PSEC cut its dividend from 11.06 cents to 8.33 cents, which is partly why the stock has plummeted over 11% since then.
Mitigating the Risks
With BDCs, your biggest risk is the security of your dividend stream. When interest rates eventually rise, BDCs will be able to make new loans at higher interest rates—but their borrowing costs will go up too. This will benefit some firms, and hurt others.
In this volatile space, navigate carefully and choose the BDC that best fits your risk profile and income goals. While MAIN, GSBD, and TCAP are all attractive, I actually prefer another trio of high yielders that's benefiting from one of the biggest demographic shifts in American history.
They're paying 6.6%, 7% and 8.9% dividends and have booked double-digit price gains already this year. Click here for all the details, including the names and tickers of all three.