Tax season can be a cringe-inducing affair for most investors, who have to fill out their 1040s, 1099s and K-1s with Uncle Sam hovering above, looking for his cut. But for investors who have bought into one of the five high-yielding funds I want to share with you today, this time of year is a friendly reminder of the greatness of municipal bonds and their fat, tax-free yields.
Most investors have money stashed away in bonds of some sort. Often, those bonds will be U.S. Treasury bills (debt issued by the federal government), though frequently, investors will have some exposure to corporate bonds (debt issued by companies). While both of these are good, secure sources of income, they have one downfall: federal taxable rates of up to 39.6%, and in the case of corporate bonds, state taxation, too!
Not municipal bonds. Munis – which is debt issued by smaller areas of government, such as states, counties and cities – are almost always free from federal taxation, and if you live in the state where a muni was issued, you get a double bonus of tax-free income at the federal and state level!
You can see just how big of a deal this is when you look at what's called "tax equivalent yield." In short, this is how much headline yield a normally taxable bond would have to offer to equal the yield on a municipal bond.
How Munis' Tax-Free Income Adds Up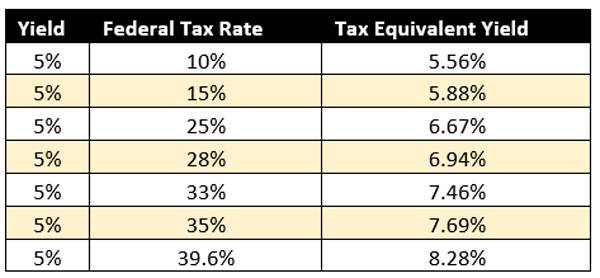 That's right: If you earn enough, you'd need a tax equivalent yield of more than 8% to earn the same amount of income after taxes that you would on just 5% from a municipal bond!
And now is the time to buy. John Miller, co-head of fixed income at Nuveen Asset Management, recently told Barron's that "The psychology of the market is much improved (since late last year)," while McDonnell Investment Management strategist James Grabovac pointed out that yields are up more than 25% from this point last year.
That's why today, I want to point you toward five closed-end funds (CEFs) – similar to mutual funds in that they hold several assets, but they trade on an exchange via a fixed number of shares – that invest in municipal bonds. CEFs are a popular way of investing in munis, in large part because they can utilize leverage to juice as much as yield as possible out of these tax-free dynamos.
Invesco Quality Municipal Income Fund (IQI)
Distribution Rate: 5.72%
Discount to NAV: -7.88%
Baseline Expense: 0.92%
The Invesco Quality Municipal Income Fund (IQI) aims to deliver safe municipal bond yields by targeting investment-grade debt, though it can invest up to 20% in junk and unrated securities. Still, IQI lives up to its name, boasting high credit quality – 72% of its bonds are rated A or higher, while 16% of its bonds are in the still-investment-grade BBB range. That leaves just 12% of IQI's bonds that reside in the junk or unrated categories.
Moreover, IQI has one of the more even spreads when it comes to maturity, with 30% in the 20- to 30-year range, 22% in the 10- to 15-year range and 18% in the 15- to 20-year range.
All told, IQI offers balance, strong yield of 5.7% and a big discount to its net asset value (NAV) of nearly 8% right now.
Invesco's IQI: A Strong All-Around Muni CEF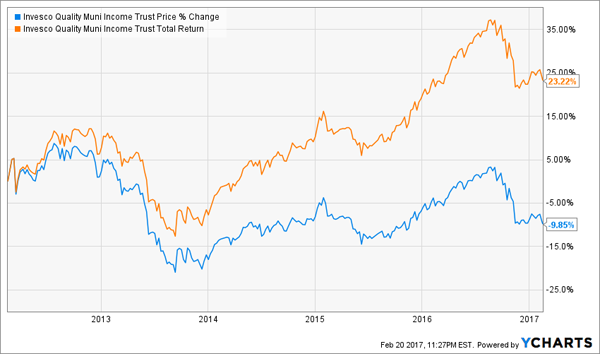 Nuveen Municipal Credit Income Fund (NZF)
Distribution Rate: 6.28%
Discount to NAV: 7.02%
Baseline Expense: 1.02%
Last year, Nuveen consolidated the assets of several funds, and one of the beneficiaries was the Nuveen Enhanced Municipal Credit Opportunities Fund (NZF). Previously named the Nuveen Dividend Advantage Municipal Fund 3, NZF absorbed the assets of Premium Income Municipal Fund 4, Dividend Advantage Municipal Fund 2 and Municipal Advantage Fund.
The NZF isn't as quality-focused as IQI, and instead is dedicated to "underrated or undervalued" municipal bonds, with an investment strategy that allows the fund to invest up to 55% of its assets in bonds rated BBB or below. But don't worry: This is far from a junk muni fund. More than half of NZF's bonds are rated A or above, and 23% are in the BBB category, thus only about a quarter of this CEF's assets are invested in junk or unrated debt.
Despite the overall lower credit quality, NZF has been a resilient fund. But what should make investors particularly giddy is its 6.3% yield – or a roughly 10.4% tax equivalent yield for the highest tax bracket!
Nuveen's NZF Couples Respectable Performance With Boffo Yield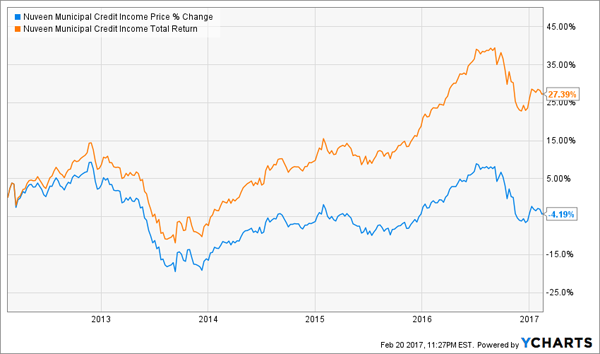 Invesco Municipal Investment Grade Trust (VGM)
Distribution Rate: 5.88%
Discount to NAV: 5.94%
Baseline Expense: 0.99%
The Invesco Municipal Investment Grade Trust (VGM) is similar to the IQI in that it has a heavy focus on higher-graded debt. Nearly 70% of its bonds are A-rated or higher, 15% are in BBB, and the rest are junk or unrated issues.
The differences are in the details.
For one, VGM sits a little bit farther down on the maturity spectrum, with about 40% of its assets in bonds with 20- to 30-year maturities. Also, VGM has a slightly bigger bent toward Texan munis (14.1% to 11.8% for IQI), but less invested in California debt (11.1% to 14.5% for IQI).
However, like IQI, VGM offers a great discount to NAV, and the slightly longer maturity of its bonds helps fuel a yield that's an eyelash away from 6%.
Invesco's VGM Doles Out Serious Income With Little Credit Risk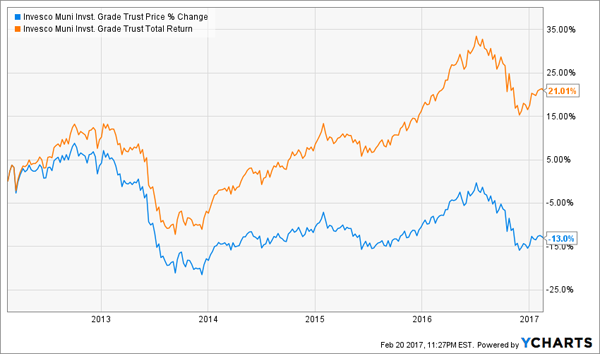 BlackRock Municipal Income Fund (BFK)
Distribution Rate: 6.07%
Discount to NAV: 0.64%
Baseline Expense: 1.02%
BlackRock Municipal Income Fund (BFK) offers a high-credit-quality approach that actually does top out above the 6% yield threshold. That's in large part because BFK focuses heavily on the far end of the maturity spectrum. Just more than half of its munis are 20 to 30 years in length, and a healthy 13% are longer than 30 years.
But excellent credit quality helps offset the risk here, with just about 75% of the fund in bonds rated A or better, and nearly 17% of the fund meeting BBB standards. That leaves less than 10% of the fund in junk or unrated territory, which should give investors the warm fuzzies.
Also noteworthy is an 11.6% exposure to New York municipal bonds – a high level of investment compared to the other funds I'm highlighting here.
BFK Churns Out Monster Muni Returns Thanks to Its 6% Yield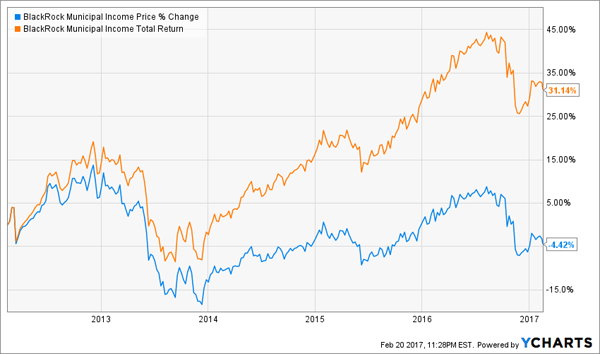 Nuveen AMT-Free Quality Municipal Income Fund (NEA)
Distribution Rate: 5.63%
Discount to NAV: 9.02%
Baseline Expense: 1.02%
The Nuveen AMT-Free Quality Municipal Income Fund (NEA) came to life in 2002, but received a big boost in assets on Sept. 12, 2016, when the assets of three Nuveen funds – Premium Income Municipal, Performance Plus Municipal and Municipal Market Opportunity – were merged into what was previously named the AMT-Free Municipal Income Fund.
What makes NEA stand out is the fact the "AMT-Free" part of the moniker. While municipal bonds typically are exempt from federal income taxes, investors subject to the Alternative Minimum Tax (AMT) could pay federal taxes of up to 28% on munis.
Many muni CEFs invest in municipal bonds that are exempt from both regular federal income taxes and the AMT. However, Nuveen's NEA invests specifically in these types of munis, so 100% of its income is exempt from both.
Thus, Nuveen's NEA is a no-brainer strategy if you're in this niche of the taxation world.
Nuveen's NEA Is as Tax-Free as Can Be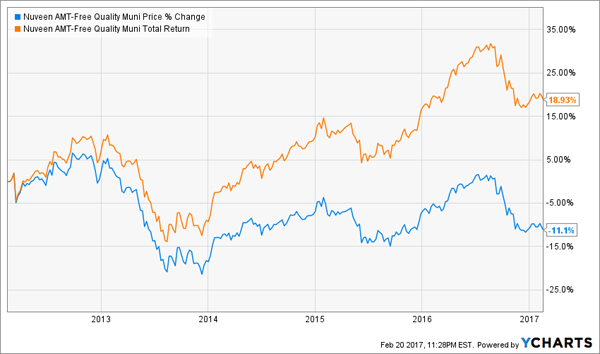 Live Off Dividends Forever With This "Ultimate" Retirement Portfolio
If you want to retire comfortably, you need big dividends. The steady drumbeat of income is what helps pays the bills and keeps you afloat when you've stopped collecting a paycheck.
But if you want to get through retirement without ever touching your nest egg, you need more than just giant dividends – you need dividend growth to beat back inflation, and you need capital appreciation to keep building your nest egg. The "triple threat" stocks in my "8% No Withdrawal" retirement portfolio will deliver exactly that!
How many times have you seen a pundit shill for OK-yielding blue chips like Coca-Cola or Kellogg? They're not bad companies, but they leave you with just 3% to 4% in dividends, paltry payout hikes and little in the way of growth potential.
You and I both know that math doesn't add up. Those 3% to 4% returns on a nest egg of half a million dollars will only generate $20,000 in annual income from dividends at the high end!
You've worked your tail off for decades. So you deserve more out of your retirement.
My "No Withdrawal" portfolio ensures that you won't have to settle during the most important years of your life. I've put together an all-star portfolio that allows you to collect an 8% yield, while growing your nest egg – an important aspect of retirement investing that most other strategies leave out.
I've spent most of the past few months digging into the high-dividend world, and I've had to weed out several yield traps that looked great on their surface, but potentially disastrous at a closer look. The result is an "ultimate" dividend portfolio that provides you with …
No-doubt 6%, 7% even 8% yields – and in a couple of cases, double-digit dividends!
The potential for 7% to 15% in annual capital gains
Robust dividend growth that will keep up with (and beat) inflation
This all-star cluster of stocks features the very best of several high-income assets, from preferred stocks to REITs to closed-end funds and more, that combine for a yield of more than 8%.
This portfolio will let you live off dividend income alone without ever touching your nest egg. That means never having to worry about how you'll pay your monthly bills, and never having to worry about wrecking your retirement account if disaster strikes.
Don't scrape by on meager blue-chip returns and Social Security checks. You've worked too hard to settle when it matters most. Instead, invest intelligently and collect big, dependable dividend checks that will let you see the world and live in comfort for the rest of your post-career life.
Let me show you the path to the retirement you deserve. Click here and I'll provide you with THREE special reports that show you how to build this "No Withdrawal" portfolio. You'll get the names, tickers, buy prices and full analysis of their wealth-building potential – and it's absolutely FREE!