"We remain on track to deliver on our best in class 12% to 15% annual distribution per unit growth expectations…"
Translation: We're going to hike our dividend by 12% to 15% per year.
Kirk, you have my full attention. Please continue.
"Through at least 2026…"
Kirk, we're talking three more years of 12% to 15% dividend growth?! We're in.
Our man is the chief financial officer (CFO) of NextEra Energy (NEE). NEE is the largest developer of renewable energy in North America. It's one of the fastest dividend growers in the utility space.
NEE is one of those great dividend stocks that is rarely cheap because everyone knows it's awesome. Its yield is just 2.5% today but our man Kirk points out why we shouldn't sleep on this headline number. Ten percent raises are likely for the next couple of years.
Double-digit yearly dividend raises from a safe utility. Does it get any better than that?
Believe it or not, yes! One of the few energy dividends growing faster than NEE's is NEP's. NextEra Energy Partners (NEP) is the "yieldco" spun off from NEE back in 2014. Since then, the spinoff has done nothing but dish serious dividends—at a higher and higher rate!
Annualized Dividends Paid Per Share

Yieldcos were a big thing in the mid 2010s. It felt like every utility was spinning off assets into a yieldco with the promise of, well, a higher yield.
The parent company raised quick capital from the IPO. And income-hungry investors were treated to a big, reliable dividend. In most cases, bigger and better than the payout dished by the parent.
Renewable energy is the angle. NEP operates clean energy projects on long-term contracts with stable cash flows. Yup, wind farms, solar farms and even natural gas assets—though NEP will soon be selling its natural gas pipelines to focus solely on renewables.
Which means NEP has ample credit to go shopping for more renewable energy assets as opportunities arise.
CFO Kirk Crews hinted recently that a bunch of buying was not needed to hit the NEP's double-digit dividend growth targets. But with a potential recession around the corner, it is always good to have a stack of cash—or access to it. That gives us confidence in Kirk.
Meantime, the magnet says NEP has plenty of upside. This 5.5% payer just rewarded us with our most recent dividend raise:
NEP Raises Its Dividend Every Quarter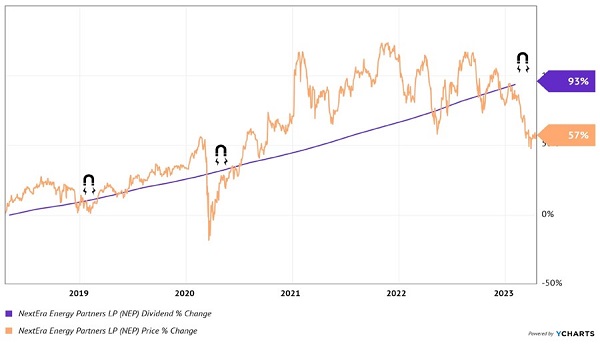 Did you miss it? No problem. NEP's next payout hike is now less than three months away.
Which means the stock's 5.5% headline yield is actually understated. Over the next 12 months, NEP will pay even more. It always does, thanks to these quarterly raises.
NEP's Last Five Dividend Payments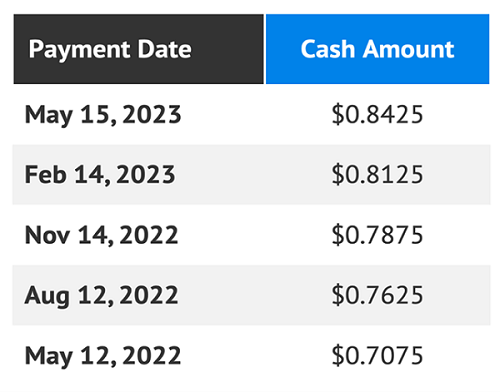 Kirk says his Q4 dividend will be between $0.91 and $0.935—which is already about 10% higher than Monday's payout. Rock on, Kirk!
NEP's yield rarely rises much above 5.5%. How could this be with a dividend rising so fast?
Well, NEP's "dividend magnet" is likely to pull its share price higher at the rate its payout is climbing.
Just wait until this recession hits and the Federal Reserve starts cutting rates again! Investors will be scrambling for yield (again!) and dividend magnets like NEP are going to soar.
As contrarians, we must beat the rush. Let's play offense and load up on these five "high upside" dividends today.