No one likes digging through pages of regulatory filings, but they can often yield valuable information.
For example, institutional investors with at least $100 million of assets must file a 13F form with the Securities and Exchange Commission once a quarter. Think of this as a quarterly scorecard or a window into the holdings of some of the most successful and often secretive investors in the market.
Should you follow suit and piggy-back some of these trades? Well, it's certainly cheaper than the $1 million minimum buy-in it often takes to invest with the most successful hedge funds, if you're even invited.
However, there are two important caveats with 13F's: First, the data can be stale. Holdings at the end of the second quarter aren't often reported until mid-August, which is an eternity in some investing circles. In addition, a lot of these investors keep their cards close to the vest, so you can't be entirely sure the purchase is a vote of confidence in the dividend.
The following two stocks have been gleaned from the pages of recent 13F filings and offer readers the opportunity to invest alongside some of the most successful managers on Wall Street.
Top Investment Manager Stock No. 1: New Leader Can Resuscitate Growth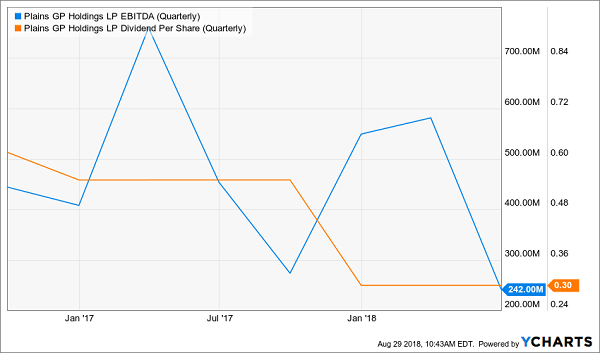 Plains Group (PAGP) is the general partner for energy midstream operator, Plains All-American Pipeline (PAA). The company's underlying assets transport and store crude oil and natural gas across North America. While commodity prices can be volatile from one-quarter to the next, 93% of Plains' business is fee-based, providing more stability.
Plains Group was recently listed as a new position of Keith Meister's Corvex Management. Meister was previously the chief executive officer of Icahn Enterprises (IEP), a vehicle of noted activist investor, Carl Icahn.
Meister and Corvex have yet to show any activist intentions with the company, which is already going through a transition. Plains Group yields 4.6%, in part because of a 45% cut in its quarterly distribution last year. Willie Chiang, COO of the company, is also stepping up to become chief executive officer later this year. He is replacing Greg Armstrong, who was at the helm of Plains for more than two decades.
In the meantime the company's investment thesis is two-fold: grow its midstream business in the Permian Basin and reduce debt on the balance sheet. Management made progress on both fronts in the second quarter and boosted its earnings before interest, taxes, depreciation and amortization (EBITDA) guidance by 4% earlier this month.
Plains is seeing higher growth in its supply and logistics division and has cut debt by over $1 billion in the past four quarters. Management expects 179% coverage of the dividend this year and is targeting another double-digit increase in adjusted EBITDA in 2019. The company still has progress to make in the coming quarters, but could soon begin rebuilding its dividend.
Top Investment Manager Stock No. 2: Propane Dividend Could Still Burn Investors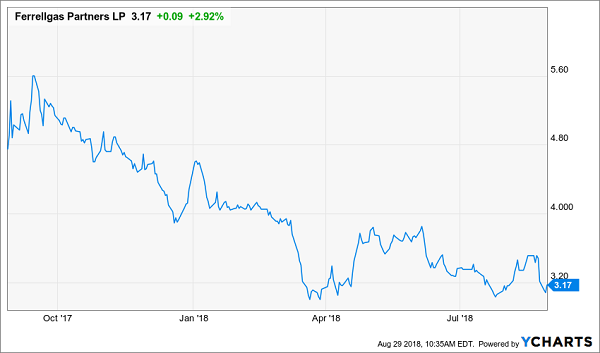 Ferrellgas Partners (FGP) could certainly be seen as a contrarian pick, as the master limited partnership has been as volatile as the propane the company sells under the popular Blue Rhino brand. The shares trade in the low-single digits, sport a 13% dividend yield and recently showed up as a new holding of Leon Cooperman's Omega Advisors.
Whatever potential value Cooperman and Omega see in Ferrellgas, it likely isn't in the lofty dividend yield. Similar to Plains Group, the company slashed its payout in late 2016, but even the current payout of $0.10 a quarter could be in peril.
Earlier this month, management declared the next distribution to be paid in September, which carried an ominous warning. Ferrellgas isn't generating enough cash to cover the fixed charges of its $2 billion mountain of debt. Because of these covenants in the bonds, the company has said it may not be able to pay its dividend beginning in December.
Bondholders always receive their interest payments before stockholders get paid dividends. This is especially the case of Ferrellgas, whose balance sheet is "upside down" and has negative shareholder equity.
Following Carl Icahn or your other favorite investors into new stocks is a popular strategy. But buyer beware— the reliability of the dividend yield may be secondary to these top managers. They are often placing bets in the midst of a diversified portfolio and willing to wait several quarters, if not years to see a positive return.
If, however, you're nearing retirement, or have already retired and are living off income from your investments, there are better bargains to be had for secure 7% to 8% yields with upside and monthly payouts to boot.
Like These Plays: The 8 Best 8% Dividends with Big Upside to Buy Today
The biggest investment managers and Wall Street brokers say you can't have both the income and safety of bonds and the upside of stocks. You either have to pay hefty fees or be "lucky" enough for the privilege to be invited to invest with them.
They're wrong. They don't realize that the nine bond funds in our Contrarian Income Report portfolio have delivered average annualized returns of 23.9% (including dividends)!
Our three top picks today are poised to continue the tradition. These funds are a cornerstone of our 8% "no withdrawal" retirement strategy, which lets retirees rely entirely on dividend income and leave their principal 100% intact.
Well that's not exactly right. Their principal is more than 100% intact thanks to price gains! Which means principal is actually 110% intact after year 1, and so on.
To do this, we seek out closed-end funds that:
Pay 8% or better…
Have well-funded distributions…
Trade at meaningful discounts to their NAV…
And know how to make their shareholders money.
And we talk to management, because online research isn't enough. We also track insider buying to make sure these guys have real skin in the game.
Today we like three "blue chip" closed-end funds in particular. And wait 'til you see their yields! These "slam dunk" income plays pay 8%+ dividends!
Plus, they trade at 10-15% discounts to their net asset value (NAV) today. Which means they're perfect for your retirement portfolio because your downside risk is minimal. Even if the market takes a tumble, these top-notch funds will simply trade flat… and we'll still collect those fat dividends!
If you're an investor who strives to live off dividends alone, while slowly but safely increasing the value of your nest egg, these are the ideal holdings for you. Click here and we'll explain more about our no withdrawal approach – along with details on our three favorite closed-end funds for 8%+ yields.