This time last year, my most opportunistic subscribers took advantage of a rocky September and October—and secured annualized returns up to 117% with safe dividend plays.
We have a similar setup this year, with the September swoon "refreshing" stocks-at-large and paving the way for some spectacular moves higher. Is your portfolio ready to capture these unfolding riches?
And no, I'm not talking about crypto. We don't need to trade Bitcoin, Ether or any "coins" with a dog's face to meet our profit targets.
We'll get to today's hottest "dividend trades" in a moment. First, let's understand why this strategy worked so well last year (and is likely to work again now).
Historically, for whatever reason, stocks have made most of their gains between November 1 and May 1. Hence the phrase "sell in May and go away."
In October 2020, the stock market was wrapping up its second correction of the year. (Many years do not have even one correction, but 2020—of course!—had two.)
Vanilla investors were fearful, thinking "here we go again." But my Dividend Swing Trader subscribers and I? Licking our chops.
Selling pressure was quietly subsiding. Anyone who knew where to look could see this from the number of new highs versus new lows. The situation was moving from "awful" to just "bad"—which often means a move higher is coming.
Investor sentiment, meanwhile, was buried in the basement. It was a contrarian's dream! We took advantage of it by loading up our DST portfolio with some fat dividend payers ready to rip higher.
Our portfolio was conveniently 50% cash, thanks to our ability to foreshadow the September swoon. Then, we sat on our hands for a few more weeks as the market corrected and waited for our entry moment:
September 2020 Flashback: Sitting on Hands (and Cash) as Market Swooned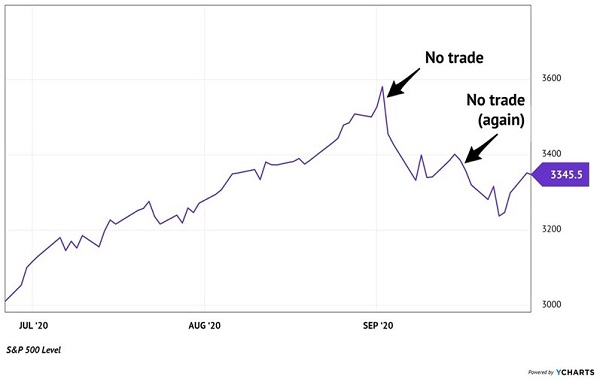 Our big signal came on October 2. So, we bought three heavily discounted closed-end funds (CEFs) yielding up to 8%+ as our dividend "swing" trade: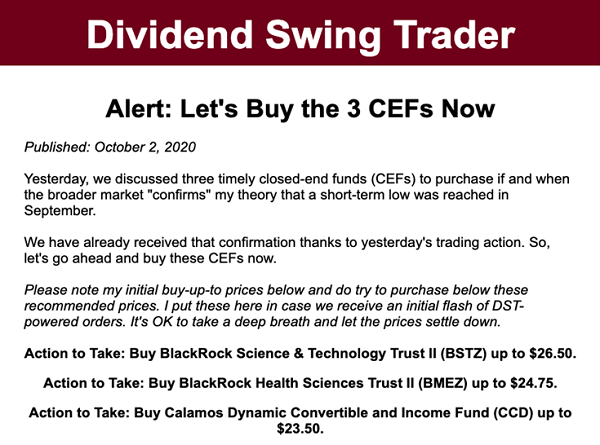 Nearly four months later, we closed these trades for total returns of 38%, 23% and 27% respectively. Thanks to these short holding periods, we banked annualized returns up to 117% from secure dividend paying CEFs.

These "dividend moonshots" were due to slow down and come back to earth. Which is why we flipped them to maximize our gains in minimum time, moved to cash, and waited for our next fat payout pitch.
Total Returns Up to 38% in Just 4 Months

Well, it's stock season once again. Mr. and Ms. Market are looking tired on the mound after a long September and October. As usual, they are throwing us "meatball" pitches to take advantage of this November.
If you're sitting on dry powder—why? It's time to deploy, and as I mentioned, we needn't gamble it away.
But we can't just buy the same names that worked last year. We can't be so basic! The market has a different flavor this year. Rates are rising, energy is high and we must cherry pick some new names for the '21-'22 stock season.
My latest set of seasonal DST winners is about to leave the starting block. Please click here so that I can share the dividend details with you.