There's no denying that 2022 was the year of energy. A look at the top 10 performers in the S&P 500 index proves that plain as day.
They are, in descending order:
Occidental Petroleum (OXY) – 119%
Hess (HES) – 94%
ExxonMobil (XOM) – 87%
Marathon Petroleum (MPC) – 87%
Schlumberger (SLB) – 81%
APA Corporation (APA) – 76%
Valero Energy (VLO) – 75%
Halliburton (HAL) – 75%
FirstSolar (FSLR) – 72%
ConocoPhillips (COP) – 72%
Clearly energy was on the top of the heap over the last 12 months…
… But as the old saying goes, past performance is not a guarantee of future returns.
So for investors looking to get beyond the old favorites in the oil patch, what stocks might hold the biggest upside in 2023?
I have a few ideas for you. But they're not where you would expect!
Cash In on this Casino-Focused REIT
I won't keep you in suspense. One of my top stocks right now is the Real Estate Investment Trust, or REIT, known as Gaming and Leisure Properties (GLPI).
This gaming-focused REIT has a ton going for it right now, including:
A generous and growing dividend that currently adds up to 5.3% annually
12-month returns of more than 8%+, while the S&P dropped by about 2X that amount in the same period.
A rock-solid "triple net lease" structure where the tenants are on the hook for upkeep, insurance and taxes – on top of the rent.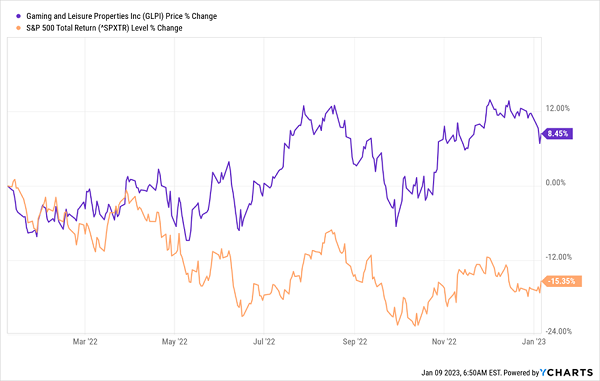 What's more, all this success has resulted in a growing market value that approaches $14 billion presently.
Meanwhile, many other REITs are struggling amid the rising interest rate environment over the last year, which makes the outperformance of GLPI even more noteworthy.
You may be thinking to yourself, "Aren't casino stocks a risky play?" Well, all stocks are risky… but honestly, this isn't as aggressive a bet as you might think at first glance. Because it's not a casino operator but instead a real estate firm that contracts with gaming properties over long-term leases. And the aforementioned "triple net lease" structure that cuts out a lot of the costs really helps to mitigate risks further.
Yes, we get exposure to "discretionary" spending trends via the casinos that are leasing from GLPI. But to be clear, these aren't the mammoth complexes in Las Vegas. Instead, Gaming and Leisure Properties holds a diversified portfolio of about 60 properties in Illinois, Colorado, Delaware and elsewhere. It may be realistic to fear travelers will make the pilgrimage to Vegas en masse if the economy sours, but local venues tend to be much more resilient if and when belt-tightening strikes.
Besides, the dividend of GLPI is very sustainable; we haven't seen Q4 numbers for 2022 yet, but in Q3 its funds from operations hit 89 cents per share – more than enough to cover the 70.5 cent quarterly payday, and indicative that future increases are very possible.
A powerful income stream plus strong momentum for shares makes this REIT worth a look, even if it's not one of the usual suspects.
Think Like a Contrarian in 2023
Investors really need to look beyond the same old news outlets and research reports as we start the new year. Because stocks in the energy sector aren't likely to deliver as they did over the last 12 months… and it's much more likely that unsung heroes like GLPI will lead the pack in the months ahead.
It may not be an obvious strategy, but it's the right one.
Consider that my colleague Brett Owens recently weighed in on a "tried-and-true" strategy for income investors known as the "dogs of the Dow." In a nutshell, you don't chase the highest-flying stocks in this benchmark but rather put your cash in the highest-yielding picks – which often means strategic investments in stocks that have lagged their peers.
On the surface, it doesn't make sense. But remember that markets are cyclical – and any stock large and respected enough to qualify for the Dow Jones Industrial Average likely isn't going anywhere.
This is exactly the kind of approach we should take this year. We need to do the research and find the hidden gems – not simply dive into the same tired stocks everyone else is talking about.
These are the kind of investments that make up our world-class "Perfect Income Portfolio." These dividend stocks are not the usual suspects, and are hand-picked for retirement portfolios thanks to strong factors like:
Attractive valuations, unlike the crowded trades of 2022,
Consistent, predictable and reliable payouts,
Double-digit share price returns, in any market environment, and
2X, 3X and even 4X the dividends from the average S&P 500 stocks!
Don't settle for the same old stocks or chase last year's winners only to find disappointment in 2023.
It only takes four minutes to discover how to  future-proof your portfolio. Let us show you how today, with our Perfect Income Portfolio! You can access our full strategy and latest briefing to created your own "Perfect Income Portfolio" here.