A great way to spot winning dividend-payers is to start with what I call the "Rodney Dangerfield stocks" — companies that get less respect from investors than they deserve.
Right now, I'm eyeing an underappreciated stock in the tech sector, of all places. It's poised to turn in easy double-digit gains in its share price and dividend over the next five years.
This deal is available because "first-level investors" are missing the big picture. That's the exact setup to look for when searching for a tech bargain. A cheap valuation isn't enough, because a stock may very well be cheap for a reason (usually when its technology is obsolete, or heading that way).
In this case, there's a misperception we second-level thinkers can capitalize on.
The Big Technology Shift
Many investors think Intel Corp. (INTC) is too reliant on the shaky personal computer industry. The chipmaker groups its PC and mobile device chips under the "client computing group" label, which supplied 59% of its Q3 revenue.
On the surface, this worry looks valid: according to IT research firm Gartner, worldwide PC shipments dropped 7.7% in Q3 from a year earlier, as the exodus to mobile devices continues. As if to drive the point home, revenue at Intel's client computing group almost exactly mirrored that plunge, falling 7.5% year-over-year.
But despite the big sales decline at its main business, Intel's total revenue was essentially flat, slipping just 0.61%.
Why? Because it's finally getting some juice out of its shift to fast-growing markets like data centers (up 12%) and the Internet of Things (up 10%). That makes now a great time to buy, because most investors don't fully appreciate this move, which will pick up speed this year.
The trigger is Intel's just-closed, all-cash $16.7-billion deal for Altera Corp. (ALTR), which makes field programmable gate arrays (FPGAs). Unlike traditional chips, users can reprogram FPGAs to fit their own specific needs. That has resulted in big demand from data centers, 30% of which will use FPGAs by 2020, according to Intel.
Altera's FPGAs will also strengthen Intel's push into the Internet of Things, another market that's set to explode this year, with 5.5 million "things"—from kitchen appliances to industrial sensors—hooking into the web every day, according to Gartner.
The price tag is steep—just $4.1 billion shy of the $20.8 billion of cash and investments Intel held at the end of Q3—but the company has worked with Altera for years, so this deal isn't as risky as it looks.
This familiarity also means the first joint effort can be pushed out quickly: Intel will release a chip combining its Xeon processor with Altera's FPGAs in the first quarter of 2016. Using the two together could improve overall performance by up to 50%.
Core Business Turning Around
Meantime, it's not all doom and gloom on the PC front. The company is now rolling out faster, more efficient processors based on its Skylake architecture. These chips are well suited to the new generation of laptops and notebooks, many of which boast touch screens and fold into tablets.
These devices are crucial to helping PCs fight off competition from tablets and slow their overall sales decline. Here's where Gartner's numbers look more encouraging: in Q3, laptop sales only recorded drops "in the low single digits," while the desktop decline was in the "high single digits."
Indeed, according to research from IDC, 50% of consumers said they plan to buy a new PC within the next 12 months, compared to 21% who planned to pick up a new tablet.
Intel's client computing group should also get an assist from Microsoft Corp. (MSFT) in 2016, as the software giant's new Windows 10 operating system has been a hit with consumers: in just five months, Windows 10 has found its way onto 200 million devices. That speedy adoption rate, which should help drive a longer-term uptick in PC upgrades, is partly why Gartner sees a "more stable" PC market this year.
What's more, by January 2017, Gartner expects 50% of businesses to have started moving to Windows 10. That should release more pent-up PC demand, because many companies stuck with Windows 7 instead of upgrading to Windows 8, its disappointing successor.
Great Price for a Dividend Star
Meantime, the stock boasts a 2.9% yield and a dividend history stretching back 23 years. In the last 12 months, it's paid out just 39.2% of its earnings as dividends, so it has plenty of room to put more cash in your pocket in 2016.
To top it off, INTC is a bargain, trading at just 13.3 times forward earnings, a discount to the S&P 500's forward P/E ratio of 17.4. Management agrees: through 2014 and the first three quarters of 2015, Intel bought back $13.3 billion worth of its stock. As of September 26, the company had $9.9 billion left on its authorization.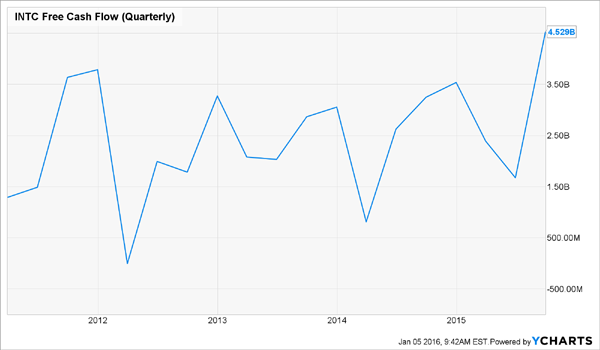 Intel could ease up on buybacks in 2016 while it shores up its balance sheet following the Altera deal. But even if it does, with its strong free cash flow (a record $4.5 billion in Q3, up 39.4% from a year earlier), I expect any pause to be brief.
Even though Intel is set for a blowout year, I'm way more excited about another stock I've found that throws off a safe 7.3% yield—more than double the 2.9% you get from Intel.
Business is booming, and with the 77-million-strong baby boomer population just starting to retire, it's all but guaranteed to keep thriving in the years ahead. I'd like to call this company a Rodney Dangerfield stock, but so few investors know about it, you can't even say it's disrespected—it's just off the radar!
But that won't last long. As desperate income investors take notice and pour in to tap its unshakable 7.3% payout, its stock price will be bid up—which means it's fat yield will be bid down.
That's why you need to lock in this juicy dividend now, while it's still cheap. Click here and I'll share the name and ticker, along with the unique system I used to uncover it.