A few weeks back, I revealed my proven 3-step process for a "do-it-yourself" 10% dividend yield.
I'll sum it up for you in 5 words: buy stocks with "accelerating" dividends. That is, payouts that grow faster and faster every year.
It's a double win!
Take Royal Caribbean Cruise Lines (RCL), a stock I focused on in a March 6 article (and still like today). Plenty of dividend investors look at RCL's current dividend yield—a meager 2.0%—shrug and walk away.
Terrible move!
I'll show you why in 2 charts … well, make that one chart with 2 different layers.
Let's start with this one:
"Accelerating" Payout Drives a 500% Income Boost!

That massive increase means folks who bought RCL in 2012 aren't yielding 2.0% on their original buy. They're doing more than 5 times better—a monster 10.2% payout!
This retirement-altering dividend is just the start. Because this soaring payout grabbed the herd's attention as it rose, pulling RCL's share price up with each hike:
A Stairway to Serious Gains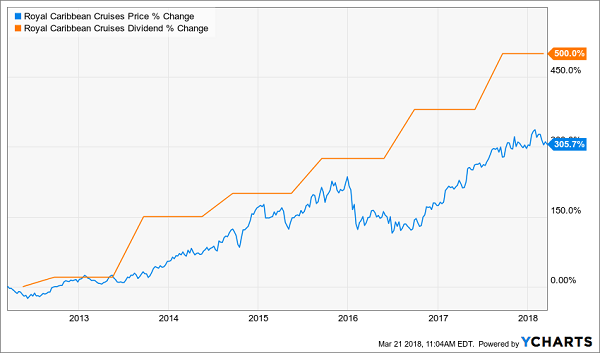 The end result? A 353% total return in 6 years, nearly triple the 119% the S&P 500 returned in that time.
And with RCL trading at 14-times forward earnings, below its five-year average of 14.8 and rival Carnival Corp. (CCL) at 15.6, there's plenty more to come!
How to Get Safe High Dividends Now
But that isn't why I'm writing you today.
This is: I'm going to give you a one-step indicator that lets you safely reel in dividends like 5%, 7% or 8%+ without having to wait 6 years to get there!
Let's move on to that now, including 2 stocks boasting safe payouts up to 8.3%, plus one "thin ice" dividend you need to eject from your portfolio now.
My One-Step Solution for Dividend Safety (and How to Use It)
My one-step solution for safe, high yields revolves around one figure: the payout ratio, which you may know as the percentage of net income a company has paid out as dividends in the last 12 months.
A healthy payout ratio is the No. 1 predictor of a growing dividend. But what most folks don't know is that there are 2 (3, actually) different payout ratios—and most people use the wrong one!
Problem is, the net income half of the ratio is an accounting creation that can be manipulated and often has little relation to the actual cash the firm is making.
KHC's "Real" Payout Ratio Looks Grim…
Take Kraft-Heinz Corp. (KHC), a company whose reliance on yesterday's brands—Velveeta, Jell-O, Kool-Aid and the like—means it's completely missing the boat on the trend toward healthier eating.
Over the past 12 months, KHC's net income has come in at $11.0 billion in total, and it paid out just $2.9 billion in dividends, for a net income–based payout ratio of 26%.
Sounds safe, right?
Too bad its "other" payout ratio tells a different story. I'm talking about the free cash flow (FCF) payout ratio. FCF is a snap shot of how much real cash a company is generating once it's paid the cost of maintaining and growing its business.
You get FCF by subtracting capital expenditures from a company's cash flow from operating activities (both figures are available under the "Financials" tab on Yahoo Finance).
Look at what KHC's FCF has been doing in the last 12 months:
A Flapping Red Flag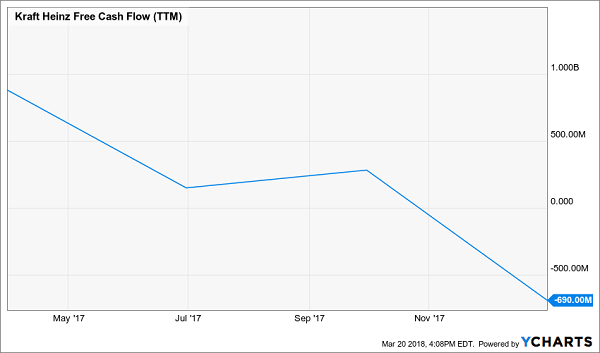 That's right, KHC's FCF is negative. That gives the company a negative free cash flow payout ratio, meaning dividend growth could hit a wall—or the payout could take a cut—if management can't find a way to kickstart growth.
But as valuable as the FCF payout ratio is, there's one place where even this figure is of little use. That's when we're looking at real estate investment trusts (REITs), where yields of 5%, 7% and 8%+ are common.
…But HPT's "Visible" Ratios Hide an 8% Payout Set to Soar
Keep in mind that with REITs like Hospitality Properties Trust (HPT), a low-key hotel and truck stop operator I analyzed on February 28, we need to go one step further, because neither the net income–based payout ratio nor the free cash flow–based payout ratio are any help to us.
Here's what they have to say:
A Dividend Disaster? Not So Fast



Source: Ycharts.com
Going by this, HPT's 8.3% dividend is in worse shape than KHC's payout! The REIT is paying 161% of net income as dividends and also daring to pay a dividend even though FCF is negative!
These numbers are enough to make even the bravest investor cringe.
But with REITs, we need to go with a different measure: dividends as a percentage of funds from operations (or FFO), the best measure of REIT performance.
We don't have to get into the weeds here, but generally speaking, FFO takes net income, then adds in depreciation and amortization (because real estate typically increases in value over time) and subtracts gains on property sales. For dividend safety, I pay particular attention to a REIT's normalized or adjusted FFO.
This figure is usually easy to spot in a REIT's quarterly earnings report. So based on HPT's last four earnings reports, the trust reported normalized FFO of $3.57 per share but paid out just $2.07 per share in dividends.
That means the FFO payout ratio is plenty safe at 58%, making another dividend hike a solid bet when this REIT announces its next payout in April. And don't forget, that's on top of its gaudy 8.3% current payout.
Another Deceiving Dividend
Which brings me to another thing you need to watch with REITs: the fact that they can handle higher payout ratios than most investors think because their income—rents paid by their various tenants—is far less volatile than sales from, say, food makers or energy companies.
Which brings me to Easterly Government Properties (DEA).
You might look at the 87.7% FFO payout ratio on this REIT, which rents its 46 properties to government agencies like the FBI and Department of Veterans Affairs, and think its payout is in trouble.
But keep in mind that these clients aren't going anywhere! The bureaucrats love DEA's ultra-modern buildings (the portfolio's average age is just 12.1 years) and that's reflected in the REITs occupancy rate of 100%.
That's unheard of! DEA literally doesn't have a single square foot available for rent. No wonder this 5.2% payer regularly hikes its payout twice a year.
Dividend Soars Despite "High" Payout Ratio

To come full circle, if you'd bought DEA when it first started paying a dividend back in May 2015, you'd be yielding a nice 6.5% on your shares today. I expect folks who buy now will be able to say something similar three years from now.
Revealed: How to Retire on 8% Dividends Paid Monthly
I know many folks on the hunt for safe—and growing—8%+ dividends with safe payout ratios to back them up.
Here's the secret: Reliable, outsized yields like these are far from being the mythical "unicorns" so many people wrongly believe they are. You just have to move one small step beyond the stingy names on the S&P 500 (and their pitiful 1.9% average dividends) to often-overlooked income plays like the 2 REITs I just showed you.
But HPT and DEA are just the start.
Which is where the 8 "perfect" retirement investments I want to tell you about now come in. I've carefully crafted them into a unique "8% Monthly Dividend Portfolio" designed to do one thing:
Let everyday Americans achieve the retirement of their dreams on a reasonable nest egg. So you can forget about the million+ bucks the pundits say you need to clock out of the workforce. As I'll show you when you click here, they're just plain wrong!
The powerful set of stocks in my "8% Monthly Dividend Portfolio" gives you 2 unbeatable advantages:
A life-changing 8% average dividend yield—so if you were to invest, say, a $500k nest egg, you'd immediately unleash a safe—and growing—$40,000 income stream, enough to let you clock out without having to sell a single stock from your portfolio to generate extra cash.
Your first "paycheck" arrives in just a few weeks! Because each of these 8 income powerhouses pays dividends monthly, you won't have to wait for months to get your first dividend payment. And you won't have to struggle to match up a "lumpy" quarterly dividend stream with your monthly bills.Best of all, if you're not leaning on your portfolio for income, you can parlay these gaudy 8% payouts back into these "elite 8" stocks even faster, growing your nest egg and your dividend stream in the process. It really is a set-it-and-forget-it wealth-building machine!
Don't be left out while other investors "lock in" their golden years with this powerful new portfolio. Simply CLICK HERE and I'll give you all 8 of these stocks' names, tickers, buy-under prices and more right now!