Most "first-level investors" believe that investing is an either-or proposition. A stock or fund can deliver eye-popping yield … or it can deliver breakneck growth. But not both.
That's simply not true. We'll prove that today by highlighting three stocks yielding 6% to 9% with 20% price upside to boot.
Remember, total returns are made up of dividends and price appreciation. The latter, price gains, are driven by some combination of:
Dividend raises (which inspire investors to pay more for the stock or fund), and/or
A climb towards fair value (a closing of the discount window in a closed-end fund's (CEF's) case, or a higher multiple on FFO for a REIT).
Here are three stocks that yield at least 6% which also boast price appreciation potential of 20% or more – paving the way to 26% total upside in the year ahead.
Apollo Global Management (APO)
Dividend Yield: 6.3%
Private equity is back.
Apollo Global Management (APO) recently put together the largest buyout fund in history, with the company announcing during Q2 earnings that it has raised $24.7 billion – a good $2.7 billion more than the previous record-holding raise, by Blackstone Group LP (BX) in 2007. CNBC reported that private equity was sitting on a record pile of dry powder, and that while the past few months were slow for M&A transactions, "political uncertainty could give private equity firms an opportunity to make some deals."
Apollo Global Management operates across several platforms, including private equity, credit and real estate. The majority of the firm's PE operations historically have been led by opportunistic buyouts including Caesars Entertainment (CZR), CKE Restaurants and Intelsat (I), though another 40% have typically been distressed buyouts and debt investments such as Telemundo, Charter Communications (CHTR) and LyondellBasell Industries (LYB). APO also has performed some corporate partner buyouts, as well as even creating new companies on occasion.
Apollo has rebounded in a big way of late, with 2016's revenues of $1.97 billion sitting at nearly double the year-ago period's top line, and profits of $402 billion tripling its 2015 total. Shares have responded in kind, roaring ahead by 50% this year after a fruitful 2016 that brought it out of multiyear depths.
APO is back in the swing of things, and it's looking to put some serious money to work – portending good things for the years to come.
Apollo Global Management (APO) Has Found Its Groove Again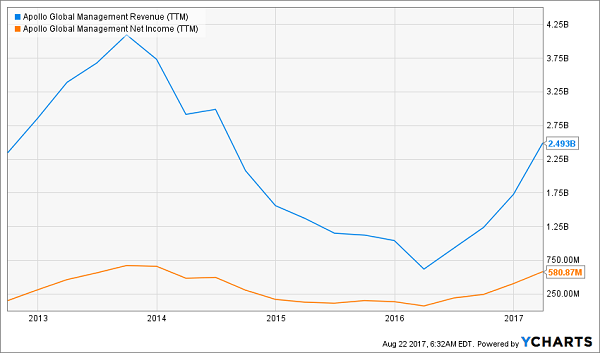 Independent Realty Trust (IRT)
Dividend Yield: 7.2%
Independence Realty Trust (IRT) is an interesting play on real estate that takes investors out of traditional booming markets such as New York City, San Francisco and Washington, D.C., and instead into so-called "non-gateway" markets mostly in the Southeast and Midwest – think cities such as Orlando; Columbus, Ohio, and Oklahoma City.
But don't worry; there's growth in these non-gateway markets, too. For instance, in its most recent quarter, Independence Realty Trust announced high-single-digit revenue expansion in its Little Rock and Charlotte communities.
Business is humming for IRT, in fact. Core FFO for its recently reported second quarter was more than enough to cover its 6-cent monthly payout. Rental rates grew by 5% year-over-year to a record-high $1,010 average effective monthly rent per unit. And average occupancy jumped 110 basis points to 94.9%.
IRT's strategy is a solid one, competing in markets with fewer major rivals, which keeps the real estate investment trust from having to slash prices to stay competitive. And it's well on its way to upgrading its portfolio, doing $147 million worth of transactions so far this year to rid itself of three class C properties and bring class B properties into the fold.
Independence Realty's geographical footprint might not be glamorous, but IRT's performance over the past couple years shows that it doesn't have to be.
Independence Realty Trust (IRT): Mid-Size Markets Fuel a Monster Recovery

Arbor Realty Trust (ABR)
Dividend Yield: 9%
Arbor Realty Trust (ABR) is something of a feel-good story – a specialty finance REIT that got clobbered in the 2007-09 bear market but has since built its way back to stability and even powerful profits, complete with sizable dividend growth over the past few years.
Arbor Realty provides debt capital for multifamily real estate, as well as commercial properties across healthcare, senior housing and other industries.
Arbor's struggles a decade ago have resulted in much more conservative fiscal management, so the dividend is well-covered by adjusted funds for operations, which came to 22 cents versus the company's 18-cent payout. All told, recently reported second-quarter FFO of $18.2 million jumped 65% year-over-year.
Arbor Realty Trust (ABR) Is an Operational Dynamo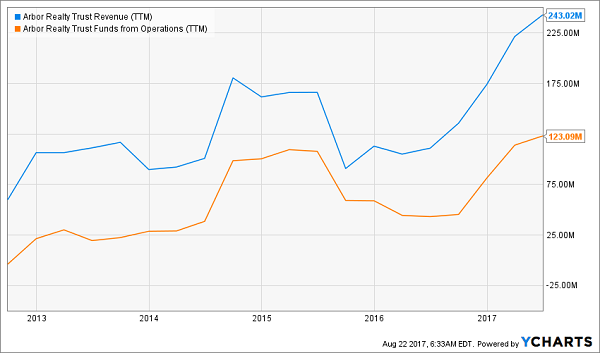 That dividend, by the way, now is perched 140% higher than when ABR reinstated its payout back in 2012.
Business is booming, with the portfolio growing 10% year-over-year, and Arbor just closed a seventh collateralized securitization vehicle of $360 million. So while Arbor's 9% dividend yield isn't anything to sneeze at, you also have to enjoy how well ABR is setting itself up for future growth, too.
How You Can Live Off Dividends Forever
That, dear readers, is the kind of situation you need to find if you want to beat the market's total returns like clockwork.
Again, headline dividend yield is a great place to start. But you also need to evaluate any potential stock pick through the growth lens, too. The final piece of the puzzle is an eye toward dividend growth – the very thing that will help keep inflation at bay and maintain your outperformance over time.
If you can do that – if you can track down secure high yields with the potential to expand over time, and produce growth simultaneously – you'll have a portfolio that allows you to pay all of your monthly bills in retirement without ever hacking away at your nest egg. In fact, you'll be able to keep growing your nest egg even after you've quit your job.
But where can you find these kinds of high-quality "triple threat" stocks?
Look no further than my 8%-yielding "No Withdrawal" retirement portfolio.
I've shown you how even a strong 6% yield can easily fall behind the market, so imagine what happens to no-growth blue chips – the Coca-Colas and Kelloggs of the world – that only yield about 3% or 4%! These supposedly safe retirement plays are really just a slow form of portfolio decay! Think about it. If you have $500,000 and you're only making $20,000 a year off it, what kind of retirement can you really expect?
You've worked too hard for too long to get so little.
My "No Withdrawal" portfolio ensures that you won't have to settle during the most important years of your life. I've put together an all-star portfolio that allows you to collect an 8% yield, while growing your nest egg – an important aspect of retirement investing that most other strategies leave out.
I've spent most of the past few months digging into the high-dividend world, and I've had to weed out several yield traps that looked great on their surface, but potentially disastrous at a closer look. The result is an "ultimate" dividend portfolio that provides you with …
No-doubt 6%, 7% even 8% yields – and in a couple of cases, double-digit dividends!
The potential for 7% to 15% in annual capital gains
Robust dividend growth that will keep up with (and beat) inflation
This all-star cluster of stocks features the very best of several high-income assets, from preferred stocks to REITs to closed-end funds and more, that combine for a yield of more than 8%.
This portfolio will let you live off dividend income alone without ever touching your nest egg. That means never having to worry about how you'll pay your monthly bills, and never having to worry about wrecking your retirement account if disaster strikes.
Don't scrape by on meager blue-chip returns and Social Security checks. You've worked too hard to settle when it matters most. Instead, invest intelligently and collect big, dependable dividend checks that will let you see the world and live in comfort for the rest of your post-career life.
Let me show you the path to the retirement you deserve. Click here and I'll provide you with THREE special reports that show you how to build this "No Withdrawal" portfolio. You'll get the names, tickers, buy prices and full analysis of their wealth-building potential – and it's absolutely FREE!