If you invest outside the US, you're probably pretty happy with 2017 so far.
Heck, even if you've stayed inside America's borders, you're looking a nice 10% return through the first 7 months, going by the performance of the S&P 500.
(And speaking of the US, my colleague Brett Owens recently revealed 4 great all-American stocks yielding up to 10%. You can get their names by clicking here.)
But those who play in the global sandbox have seen some truly spectacular returns, especially folks who hold closed-end funds that invest in foreign stocks. In fact, the CEF Insider Foreign Sub-Index is up a whopping 20.1% since the start of the year—and it isn't slowing down.
Foreign Funds Are Crushing It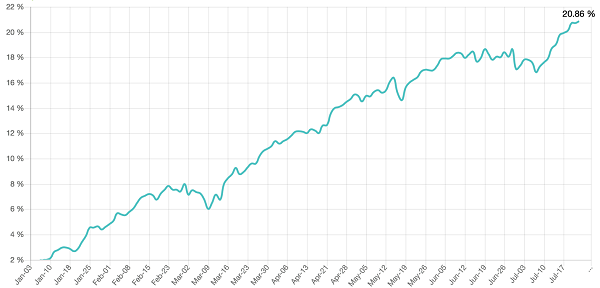 Clobbering the market is nice, but it gets even better because a lot of these funds pay massive dividends—including one that throws off a hefty 8% current yield.
Before I get into the nitty-gritty on these funds, let me explain how important those dividends are for retirees or anyone who cares about getting a passive income stream.
The key advantage of investing in high-yield funds like these is simple: you get a lot of your returns in cash, which gives you a lot more control over your investments.
That's why, as I wrote a few weeks ago, I don't recommend investing in ETFs, like the SPDR S&P 500 ETF (SPY), or mutual funds, like the Vanguard 500 Index Fund (VFINX), where you may get an 8% return in a year if you're lucky, but a lot of that is capital gains, so you'd have to sell if you wanted to lock in those profits. And if you don't, those gains could quickly disappear in a downturn.
Dividends are different because you can either reinvest the cash in the same fund or, if you think things are getting overpriced, move that money into cheaper options.
Most enticing, though, is the fact that you can use dividends to pay your bills. If you have $200,000 in an 8%-yielding fund, that's $1,333 per month in dividend payments. This same investment gets you a measly $300 per month from SPY or VFINX! So you're getting more control over your profits and exposure to a major outperforming asset class with the CEFs I'm about to show you.
3 International All-Stars
First up is the Voya Emerging Market High Dividend Fund (IHD), which focuses on high-yielding stocks in developing countries. Since these companies are big payers, IHD can pass that cash on to investors—and that's helped the fund easily beat the market: it's now up 31.3% for 2017, including dividends:
A Global Cash Machine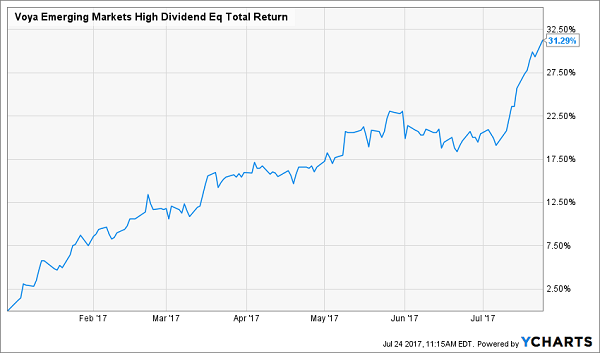 What's more, this fund boasts a 7.9% yield, which gives you control over how you'd like to use the 31.3% total return it's handing you.
Our second fund is another pick from Voya that's slightly different but still pays an impressive 7.7% dividend: the Voya Asia Pacific High Dividend Fund (IAE).
IAE focuses on the most densely populated and strongest-growing continent on earth: Asia, where GDP growth exceeding 7% has been the norm for over a decade. And despite worries about a slowdown in China, monetary policy in Japan and an aging population with limited purchasing power in South Korea, these countries still show tremendous growth when it comes to corporate sales and earnings. Plus they offer much more political stability than Brazil, Argentina, Qatar, Nigeria and many other non-Asian emerging markets.
No wonder that IAE is up big for 2017:
Stable Markets + Healthy Companies = Big Gains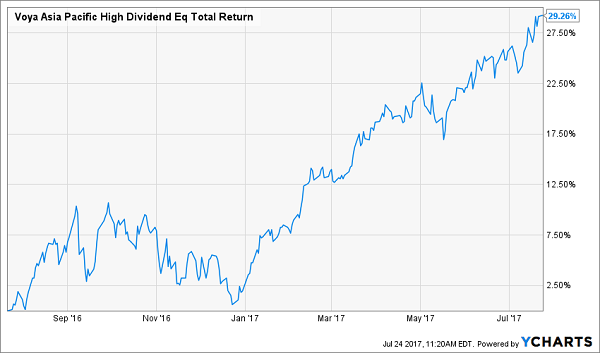 And there's one more high-yielding emerging market fund worth considering, not least because it pays a 7.6% yield.
That's the Aberdeen Chile Fund (CH). Its management team has a long history of digging deep to find fast-growing companies from this small and often-ignored country. That's translated into a strong income stream and a solid 18.5% total return for 2017.
Chile's Red-Hot Results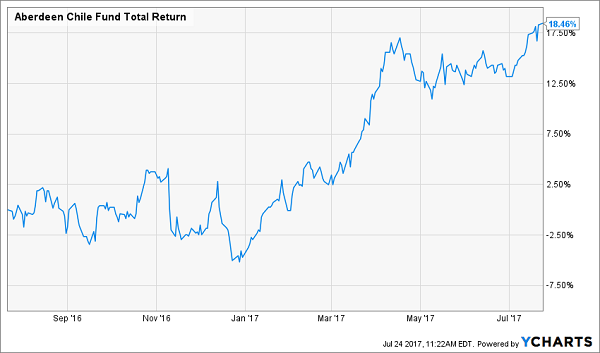 CH can do this even though the market's skittish toward Latin America over scandals in Brazil and Argentina's habit of not paying its bills. But CH has skirted those worries thanks to its focus on one of South America's more stable and capitalism-friendly nations.
8% Yields and "Locked in" Double-Digit Gains!
All three of these funds are worth putting on your watch list, but you shouldn't move them to your buy list just yet, given the phenomenal gains they've already racked up.
That's why I've just released 4 better picks that are all screaming buys now.
They hand you the same 8% yields as the three funds above, but there's one key difference: they're well off the herd's radar (for now) and trade at BIG discounts to their "true" value.
Here's the upshot: those massive markdowns set us up for easy 20%+ GAINS in the next 12 months! Throw in their fat CASH yields, and your total return could easily bounce up to 30% or more here.
This mix of big gains and high, SAFE income is the holy grail of the investing world, and it's just as tough to find as the legendary artifact itself. The opportunity to land both in 4 quick buys is virtually unheard of.
Don't miss out this rare opportunity. CLICK HERE to get the names, ticker symbols, buy prices and my complete research on these 4 superfunds at no cost whatsoever.