Contrarian investors have been handed a gift this week by Mr. Market — an opportunity to buy high-quality dividend growth names on sale at multiyear lows.
Editors and financial writers clearly love "Retail Apocalypse" and "Zombie Mall" headlines. These sensational articles spin the facts to reinforce a story that attracts enormous page views — so expect to see a lot more of them.
We all know many department stores are struggling and some malls are on life support. This isn't exactly breaking news. It was highlighted once again by J.C. Penney (JCP) poor Q1 results last week, which triggered a -14% drop in JCP shares. So, let's totally avoid the department stores and regional malls for now.
How often do you go to the local supermarket?
Like most US households, the answer is probably at least once a week. Poor results from Macy's, Kohls and Sears don't change consumer behavior when it comes to purchasing milk, eggs, bread and fresh fruit.
So, why did blue-chip landlords who own some of the most successful grocery-anchored real estate sell-off like they were malls? That is a great question.
Our Contrarian Opportunity
The mispricing of grocery-anchored centers presents an opportunity to swoop in and grab some high-yield REIT blue-chips with solid long-term dividend growth track records at bargain basement prices.
The best time to buy high-quality companies is when the herd is selling, blood is in the streets, and shares get hammered down to multiyear lows. How many times have you looked back and wondered: What was I thinking? Why didn't I buy those shares at 52-week lows?
Let's take a closer look at three shopping center names that can be bought right now for high-yield, dividend growth, with an average 30% price upside.
Profitable Charts
These three real estate investment trusts (REITs) can afford to own the top-quality shopping centers in each local market. It is a simple business model we all intuitively understand, and it is paying impressive dividends to shareholders.
In fact, the charts below illustrate the best of both worlds. High current yield for immediate income, plus solid dividend growth which supports price appreciation averaging 30% across the board.
Kimco Realty (KIM)
Kimco owns one of the largest portfolios of grocery-anchored shopping centers in the US, and continues to upgrade the portfolio as part of its 2020 initiative.
The Kimco dividend bumps have been steady over the past five years. There is no reason to expect that to change because of high-occupancy and increasing same-property net operating income, or NOI.
5 Dividend Hikes in 5 Years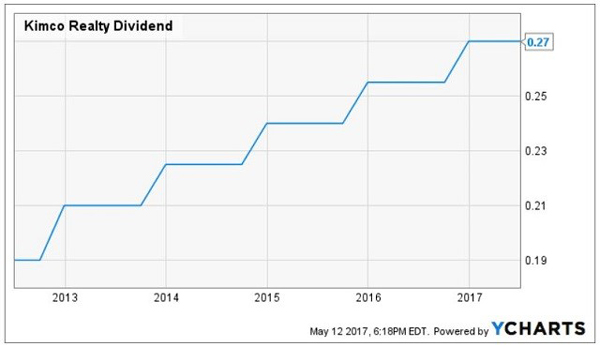 The Factset analyst consensus is for 6% FFO per share growth both in 2018 and 2019. Kimco shares are trading at such a low price, that the forward yield is now 5.7%.
Kimco's Forward Yield at Multi-Year Highs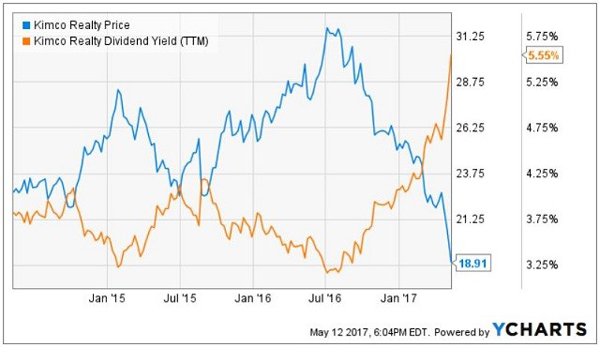 However, an even better opportunity embedded in KIM shares is the potential for significant price appreciation. Kimco is now trading at multiyear lows of $18.81 per share – while paying shareholders a much higher dividend!
Notably, this past week insiders have also begun to buy KIM shares on the open market.
The analyst consensus target price for Kimco is $26.09, which represents potential price appreciation of 38% — on top of the 5.7% yield today and steady dividend growth. Kimco has a rare BBB+ rating from S&P, a sure sign that this REIT dividend is safe.
Urstadt Biddle Properties (UBA)
This old-school REIT pursues a profitable niche strategy of owning grocery-anchored shopping centers located exclusively in lucrative New York and Connecticut markets.
Urstadt Biddle may not be a familiar name for many investors. However, UBA has executed on this targeted strategy while quietly raising its dividend for 23 consecutive years — including through the Great Recession.
23 Straight Dividend Raises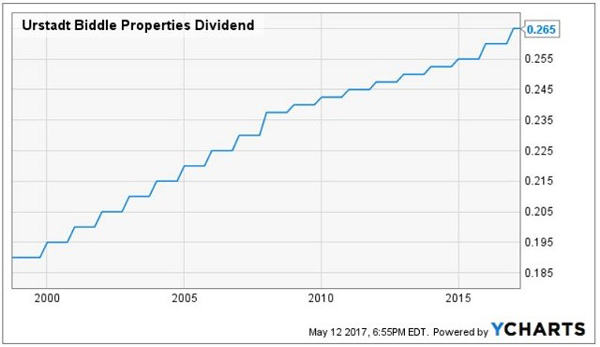 UBA shares are currently trading at 52-week lows, with a forward yield of 5.7%. The last time these shares went on sale was in 2015. If you bought the shares at 2015 lows, the yield was 5.8%, (only 10 bps lower than the yield right now).
UBA Shares on Sale, Again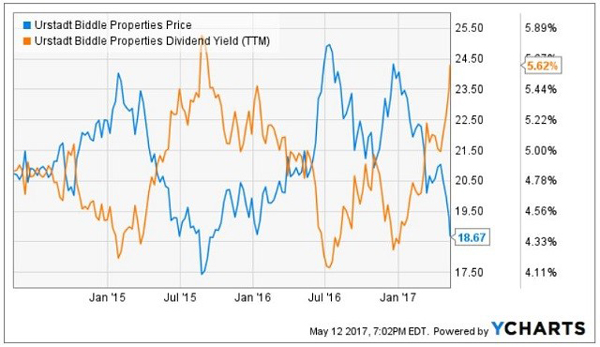 There is also potential for 21.3% price appreciation based on the analyst consensus 12-month price objective of $22.67 per share. UBA is a much smaller REIT than Kimco, but the balance sheet has investment grade metrics with just 22% debt, to support that 5.7% yield.
Kite Realty Group (KRG)
Kite Realty has been transforming its portfolio. Over the last few years the quality of both the shopping centers and top tenants has been upgraded significantly.
Kite's High Quality, Diverse Tenant Base

This transformation has been done with an eye toward leasing to e-commerce resistant and omnichannel retailers. This strategy has paid handsome dividends with considerable increases over the past few years.
Kite's Dividend Takes Off

The current yield of 6.4% is among the highest available from a REIT with an investment grade rating. Kite Realty has a BBB- rated balance sheet from the major ratings agencies.
In a similar fashion to Kimco and UBA, Kite Realty shares are trading at multiyear lows. Kite offers investors the potential of 37% price appreciation based upon the analyst 12-month consensus price objective of $25.75 per share.
But, it gets even better. While each of these high-yield opportunities are impressive they are all in the same REIT sector. In addition to these names that we like, we LOVE these 7 remarkable dividend and total return opportunities which are diversified and benefit from sector tailwinds including the growth of big data and e-commerce.
These 7 dividend growers are the safest and surest way to annual returns of 12% or better in your portfolio. These payouts have 100% upside or better in the years ahead – which means their stock prices should double along with their dividends.
"Efficient market" proponents are dead wrong – you can bank 12%+ annual returns with these types of dividend growers. Click here and we'll outline this unique investing strategy for you in detail – and share 7 favorite buys today, including names, tickers and buy prices.