You've probably noticed that we've been spending a lot of time digging into closed-end funds lately.
The reason is simple: These ignored investments can set you up for 7%+ dividends and quick double-digit upside in one buy!
But that doesn't mean all of the 500+ CEFs out there are great. In fact, many boast dividend payouts they just can't cover with earnings (see dangerous CEF No. 3 below), while others trade at silly premiums to their true value that practically lock in nasty surprises for shareholders.
It's not easy to spot either of these snags by looking at fund fact sheets. But you don't have to worry about that, because I've done a deep dive for you, and today I'm going to reveal 3 funds you need to dodge now (or dump if you own them), starting with…
Dangerous CEF No. 1: The Endless Discount Sale
I've written before about the importance of buying CEFs at a discount.
There's no reason not to: according to Thomson Reuters, 77% of all CEFs traded at a discount to their net asset values (NAV, or the value of their underlying holdings) in September.
But the discount is only step 1, because getting a "deal" means exactly zero unless management has a plan to drive a CEF's market price up closer to its "true" value.
Case in point: the RMR Real Estate Income Fund (RIF), which trades at a 17.0% discount to NAV, so you're basically paying $0.83 on the dollar for its assets, which are common and preferred shares issued by real estate investment trusts.
Sounds great, right?
Too bad the discount has sleepwalked around that level—and deeper—for much of the last decade.
RIF's Broken Discount Window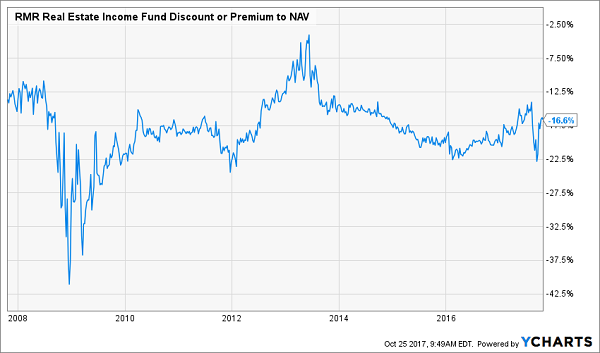 That persistent gap hasn't helped RIF's share price, which is off a little under 6% year-to-date.
The long run hasn't exactly been a party, either. Shareholders have seen a 29% return in the last decade, which sounds okay until you compare it to the benchmark Vanguard REIT ETF (VNQ) … or even the laziest investment there is, the SPDR S&P 500 ETF (SPY)!
Beaten By the Pee Wee Team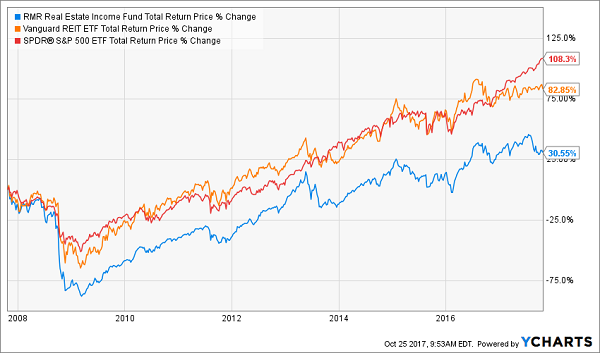 Worse, that 10-year return includes RIF's dividend, which yields an outsized 6.8% as I write. And for this performance, management is charging us a sky high 2.3% in fees!
The bottom line? Don't let be seduced by this fund's so-called "discount."
Dangerous CEF No. 2: A Discount That's Anything But
Normally when you hold a CEF trading at a big discount to NAV and that gap slams shut, you'd expect a big jump in the share price, right?
That's what usually happens. But not always.
Just ask the folks holding the Eaton Vance Tax-Advantaged Bond and Option Strategies Fund (EXD). The fund's discount to NAV narrowed from 11.2% in early January to just 2.75% today.
The result? A puff of air under the share price, which could only drag itself to a 1.3% gain in that time.
Discount Slams Shut … Price Goes Nowhere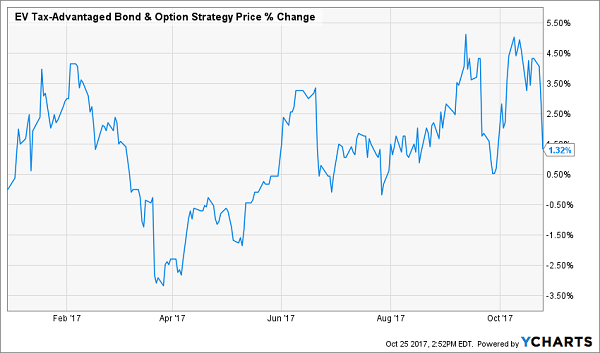 Why?
Because the fund's NAV has fallen 6% so far this year—and that, not a rising share price, is why the discount narrowed.
This could be just the opening act, because CEF discounts typically revert to the norm in the long run (that's why we insist on buying a CEF only when the discount is wider than its historical average). If EXD's discount reverted to its January 1 level, its shares would drop 7%—and that's assuming NAV doesn't slip from here.
EXD's dividend, which yields 10.1%, would cover that decline, but the fund has cut payouts twice since inception in 2010, so there's not much comfort there either.
Dangerous CEF No. 3: An Overdone Emerging Market Fund
The falling US dollar is making emerging market debt more valuable these days, and CEF investors have taken note. The slumping greenback and a massive 13.0% dividend have sent them charging into emerging-market bondholder Stone Harbor Emerging Markets Income Fund (EDF).
And when I say "charging," I'm not kidding. Because while EDF's market price has exploded, its NAV has barely budged!
Snapshot of an Overheated Fund



Source: CEF Connect
As I write, EDF is trading at a ridiculous 11.6% premium to NAV! And a reversion to a more normal level, say the 2.9% premium it traded at a year ago, would slice 7% from the share price. And if the stock ever scraped the 16% discount to NAV it hit in February 2016, it would dive 24% from here!
There is one trigger I've got my eye on—and it comes back to that outsized yield. Right now, EDF pays dividends at a rate of $0.18 monthly, or $2.16 a year. Since the payout comes out of NAV, the fund would have to grow NAV by 14.4% to cover the dividend without it eating into the value of its assets.
Finally, the fund's net investment income is just 61.4% of its distributions so far in 2017, as of EDF's SEC filing at the end of September, so it's earning far less than its payouts.
Forget 13%: Here's the REAL Yield You Need to Retire
There's no need to take crazy risks to get a 13% dividend, because the truth is, you need far less income to retire on dividends alone—a goal every investor should have if they want to spend their golden years in comfort.
So what's the magic number?
Let's try 8%.
That's enough to let most folks retire on dividends alone—without touching a penny of their precious capital—on a nest egg of $500,000!
The best news? A SAFE 8% average payout is exactly what you get in my "No-Withdrawal" retirement portfolio. It's built on a stout collection of 6 high-yielding CEFs, real estate investment trusts and preferred stocks.
That's not all. This powerful portfolio also gives you serious yearly price upside and dividend payouts that flow into your account monthly.
I'll explain more about them in a minute.
I'll also show you how my 6-pack of 8% payers is well diversified across all types of investments and sectors, and the cash flows funding these dividends will stand up—and grow—no matter what happens in the economy or stock market.
Plus, as I hinted, relentless dividend growth means your 8% yield will be more like 10% in short order.
I'm ready to take you inside this "no-worry" retirement portfolio now. Click here and I'll show you the 6 bargain investments inside it and give you their names, tickers, buy-under prices and much more.