Michael Foster, Investment Strategist
Updated: December 30, 2016
It's been a great year for high-yield bonds. If you've held them during 2016, congratulations.
But if you're like me, you're probably wondering whether to keep holding or take your profits and invest them somewhere else.
That's the question I'm facing with a high-yield bond fund that has gone up over 22% since my purchase.
To decide what to do, I first want to look at how the asset has performed relative to alternatives. The leading index for this asset class (the Bank of America Merrill Lynch US High Yield B Total Return Index) has risen 17% in 2016: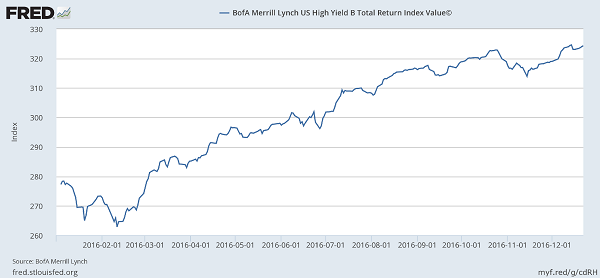 High-Yield Bond Index Soars
Meanwhile, the S&P 500 has gone up 13% in the same period, including dividends:
Stocks Doing Well, Too
Of course, no one will be crying themselves to sleep at night for getting "only" 13%, but it is less than high-yield bonds paid out.… Read more