Brett Owens, Chief Investment Strategist
Updated: August 1, 2016
I know I don't have to tell you it's a minefield out there for income investors.
Ten-year Treasuries yield a pathetic 1.5%, and dividend-growth stocks have been on a tear. The ProShares S&P 500 Dividend Aristocrats ETF (NOBL), which holds shares of companies that have hiked their payouts annually for 25 years or more, has soared 12% year-to-date, more than doubling the S&P 500's gain:
That's left many Dividend Aristocrats overvalued and ripe for a fall. Worse, it's driven their dividend yields to historic lows.
Just take a look at food distributor Sysco (SYY), which yields 2.4% today, barely above the S&P 500 average and near lows not seen in nine years: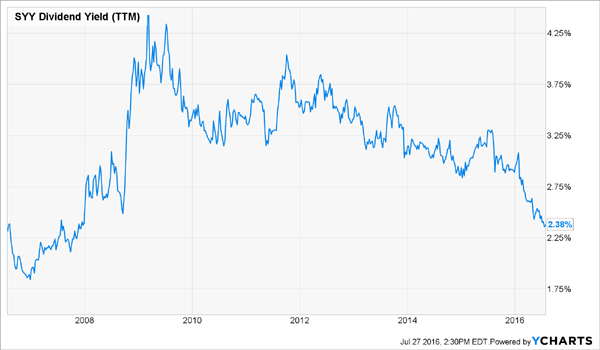 To get that meager yield, investors are buying a stock with a trailing-twelve-month price-to-earnings (P/E) ratio of 37, way above its five-year average of 23!…
Read more