Michael Foster, Senior Analyst
Updated: November 18, 2016
Donald Trump's win has done something extraordinary to the financial sector. Just look at this one-month chart for the Financial Select Sector SPDR ETF (XLF):
Banks Love Trump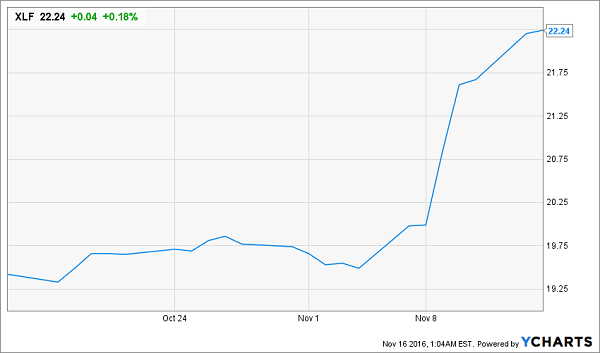 This is unexpected on two levels.
First, of course, Trump's very election came as a shock to many. Second, there was no shortage of people saying stocks would tank if the real estate mogul won. Meantime, not only has the market reached new heights since November 9 but financials have gone from one of the worst-performing sectors to one of the best—almost overnight.
The reasons are simple. First, Trump has promised to repeal the financial reforms brought in under the 2010 Dodd-Frank Act, which have limited banks' activities, and their growth potential along with them. …
Read more