Warren Buffett doesn't just beat the market – he makes a mockery of it. Since Buffett took control of Berkshire Hathaway back in the middle of 1965, the conglomerate has more than doubled the average annual gain of the S&P 500.
But here's something you won't hear anywhere else – Buffett doesn't love all of his stocks equally. In fact, there are three dividend dogs that I bet he'd sell today if he could get away with it.
Let's look at six of Buffett's current income plays to separate his three buys from his three sells.
SELL – Verizon Communications (VZ)
Dividend Yield: 5%
Verizon Communications (VZ) is technically in the Buffett boat, but it's not exactly a high-conviction pick anymore. During the fourth quarter of last year, Warren Buffett sold 99% of his position in VZ, leaving him with a scant 928 shares!
Yes, Verizon offers an ample dividend of 5% and enjoys a virtual duopoly with fellow telco AT&T (T), but it's also running out of growth runway as the U.S. telecom market has been saturated to death. Now, Verizon's being forced into an industry price war with the likes of Sprint (S) and T-Mobile US (TMUS). Fios must compete not just with the cable companies, but an increasing trend of cord-cutting and piling into streaming options.
Meanwhile, acquisitions such as AOL and Yahoo (YHOO) show that Verizon's aware it needs to diversify its offerings in the hunt for growth … but they're also not the most inspired, forward-looking ways of going about that.
Verizon can keep your money under lock and key, but it's no way to build your wealth by 12% or better annually.
Has Verizon (VZ) Hit a Worrisome Inflection Point?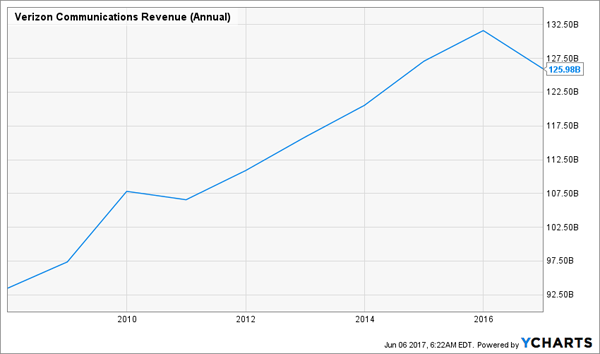 BUY – General Motors (GM)
Dividend Yield: 4.4%
If you want to chase one of Uncle Warren's highest-yield holdings, a better place to do so would be automaker General Motors (GM) – Buffett's 2012 acquisition that has earned some patience.
Automakers as a whole are quite cheap while the market tries to figure out exactly what to do with them; GM, for instance, trades for less than six times next year's earnings! That's because disruption is heavy in the space, thanks to technologies such as electronic vehicles, autonomous driving and ride sharing.
It's difficult not to laugh at developments like this, then: GM will be testing whole fleets of self-driving electric vehicles next year, in partnership with ride-sharing company Lyft. It's almost as if General Motors is checking its hurdles off a list.
Rival Ford (F) gets attention for its high dividend and similarly low valuation, but it's mired in a leadership change in which CEO Mark Fields has been replaced by the head of Ford's mobility unit – a nod toward vehicles' tech-heavy future, but perhaps not the right type of experience to oversee an entire automotive company.
GM is Dirt Cheap

SELL – Walmart (WMT)
Dividend Yield: 2.6%
Only a handful of retailers seem to be able to keep Amazon at bay, and to its credit, Walmart (WMT) is one of them. The big-box colossus is cobbling together an e-commerce presence via acquisitions of retail portals such as Jet.com, Shoebuy and Bonobos, giving it the heft to actually make things competitive with Amazon.
But Walmart's top line is stagnating, and its profits have been on the decline for a couple of years now. WMT has been forced to add delivery promotions to compete online, while keeping prices ultra-low in its stores to fend off dollar chains like Dollar General (DG) and Dollar Tree (DLTR). That's murder for margins.
Meanwhile, its dividend growth has gone completely soft, with its last payout hike from a few months ago representing a mere 2% improvement. Considering WMT is yielding less than 3% at the moment, that's a problem.
Walmart's a survivor, but that doesn't make it a good investment.
Walmart's (WMT) Dividend Growth Has Slowed to a Crawl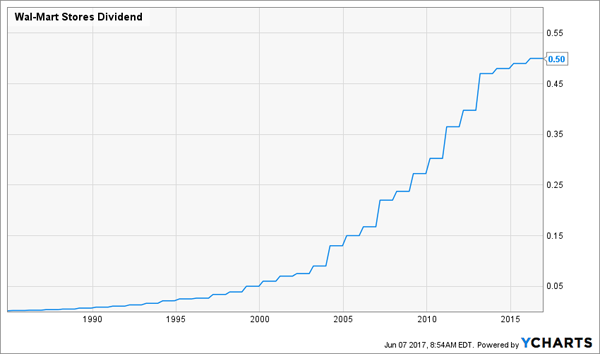 BUY – Phillips 66 (PSX)
Dividend Yield: 3.6%
Berkshire holding Phillips 66 (PSX) has been battered over the past six months as oil prices have gone back down the pipes. But Buffett's bet on PSX is a lot more shrewd than most give him credit for, and it's telling that he hasn't backed away from his 2015 pick like he has IBM or Delta Air Lines (DAL).
Phillips 66 tends to get thrown out with the bathwater when other energy stocks tumble in difficult oil price environments. What many investors tend to forget, however, is that much of PSX's profits come from refining – which doesn't rely as much on high oil prices – and a chemicals partnership with Chevron (CVX).
Those businesses keep cash flow plentiful, which has allowed Phillips 66 to more than double its dividend since 2013, not to mention fund a healthy stream of share buybacks to provide support for shares!
Phillips 66 is One of Energy's Best Blue-Chip Dividend Growth Plays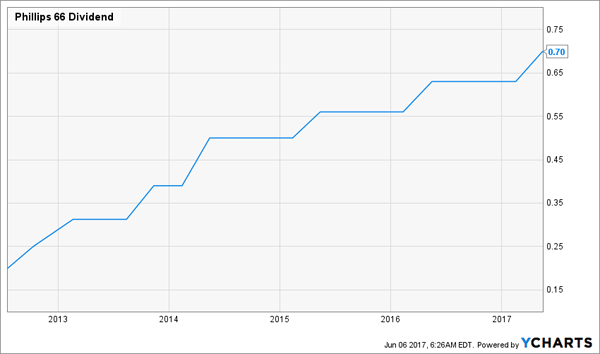 SELL – International Business Machines (IBM)
Dividend Yield: 3.9%
Warren Buffett was blunt about his failed dalliances with International Business Machines (IBM), which started with an initial stake in 2011 that he increased several times throughout the years.
Buffett jettisoned a third of his IBM stake during the first quarter, and straight-up told a crowd at 2017's annual shareholder meeting "I was wrong" about investing in IBM. Instead he expressed remorse about not jumping into other tech giants such as Alphabet (GOOGL) and Amazon.com (AMZN). No wonder why – IBM is up just 4% since the start of 2011, versus returns of 230% and 455% for GOOGL and AMZN, respectively.
IBM is an aging tech giant that recorded its 20th consecutive quarter of revenue declines just a couple of months ago. It was woefully late to the cloud and is playing catchup there, and while its Watson artificial intelligence product is great about collecting headlines, Big Blue has had enormous difficulties trying to properly monetize the technology.
The only thing IBM has going for it is its nearly 4% dividend – but that wasn't enough to keep Warren interested, and it shouldn't do anything for you, either.
IBM's Sagging Sales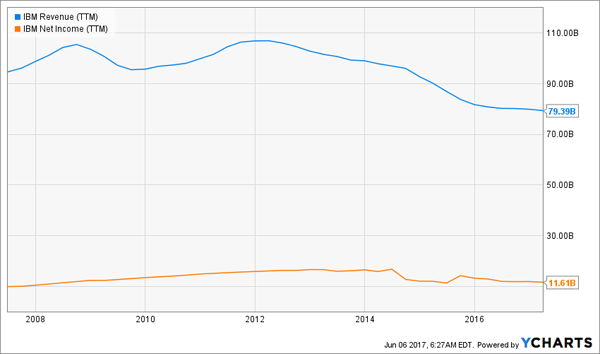 BUY – Apple (AAPL)
Dividend Yield: 1.6%
Why is one of Buffett's best dividend picks a mere 1.6% yielder?
Buffett's stake in Apple (AAPL) is young, started in 2016 with an initial 9.8 million-share position that has since swelled 133 million shares. Yes, Apple doesn't yield nearly as much as IBM, but the iPhone maker has far more total return potential than the aging IT giant.
For one, as long as Apple's iPhones command insane premiums and deliver monster margins, the company still has wild growth potential. While analysts called Peak Apple back in 2015, here we are two years later at fresh all-time highs. Yes, Apple's 10th anniversary iPhone is coming out later this year, and that's generating an enormous amount of buzz, but investors also should be excited about growing revenues in its Services division (iTunes, iCloud, etc.) and the new HomePod – a sure-to-be addictive smart speaker that will take on Google Home and Amazon Echo.
But Apple also offers financial stability. It's a cash flow machine, and while the sub-2% payout isn't much to look at, AAPL is an aggressive dividend grower. Apple announced a double-digit hike to its payout earlier this year to bring it to 63 cents quarterly – more than 66 percent expansion since initiating a regular dividend back in 2012!
You'll get your income. Just wait.
Apple (AAPL) Isn't Shy About Giving Its Cash to You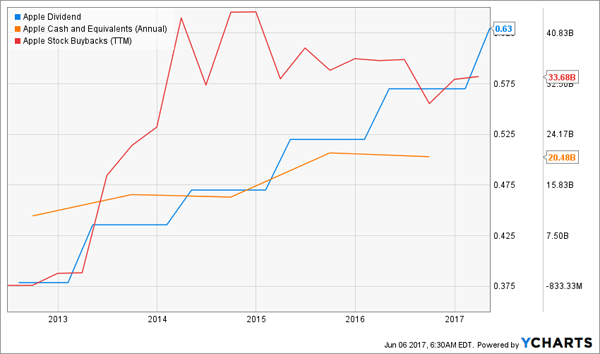 Live Off Dividends Forever With This "Ultimate" Retirement Portfolio
More than almost anyone, Warren Buffett is keenly aware of the long-term when he makes any investment decision. That's why he has been taking the scythe to no-growth, slow-dividend growth losers and propping up dividend growth dynamos.
But if you want to get through retirement without ever touching your nest egg, you need dividend growth … but also substantial dividends that are built to last decades and the potential for double-digit capital appreciation, too! And those are the kinds of picks I've complied to build my 8%-yielding "No Withdrawal" retirement portfolio!
The problem with merely OK-yielding blue chips like Coca-Cola or Kellogg is that they leave you with roughly 3% to 4% returns via income and little else thanks to their no-growth businesses. Just do the math, and you'll quickly realize that strategy will leave you far short of the goal. That's because 3% to 4% returns on a nest egg of half a million dollars will only generate $20,000 in annual income from dividends at the high end!
You've worked way too hard in life to get so little out of retirement.
But my "No Withdrawal" portfolio ensures that you won't have to settle during the most important years of your life. I've put together an all-star portfolio that allows you to collect an 8% yield, while growing your nest egg – an important aspect of retirement investing that most other strategies leave out.
I've spent most of the past few months digging into the high-dividend world, and I've had to weed out several yield traps that looked great on their surface, but potentially disastrous at a closer look. The result is an "ultimate" dividend portfolio that provides you with …
No-doubt 6%, 7% even 8% yields – and in a couple of cases, double-digit dividends!
The potential for 7% to 15% in annual capital gains
Robust dividend growth that will keep up with (and beat) inflation
This all-star cluster of stocks features the very best of several high-income assets, from preferred stocks to REITs to closed-end funds and more, that combine for a yield of more than 8%.
This portfolio will let you live off dividend income alone without ever touching your nest egg. That means never having to worry about how you'll pay your monthly bills, and never having to worry about wrecking your retirement account if disaster strikes.
Don't scrape by on meager blue-chip returns and Social Security checks. You've worked too hard to settle when it matters most. Instead, invest intelligently and collect big, dependable dividend checks that will let you see the world and live in comfort for the rest of your post-career life.
Let me show you the path to the retirement you deserve. Click here and I'll provide you with THREE special reports that show you how to build this "No Withdrawal" portfolio. You'll get the names, tickers, buy prices and full analysis of their wealth-building potential – and it's absolutely FREE!