Patriotism is rarely a good guide when making investment decisions, but these days it just might be, as Americans now have a terrific reason to buy US stocks.
That would be a surge in vaccinations that's put the US ahead of most of the world on the road to recovery, while at the same time, US stocks are lagging behind their global competitors. This is a disconnect contrarians like us can use to position ourselves for some nice gains and big dividends in the months ahead.
US Vaccinations Ramping Up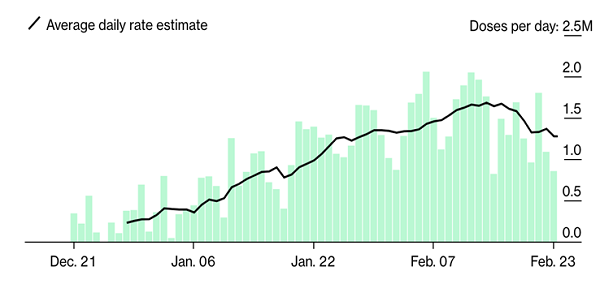 Source: Bloomberg
Right now, we're seeing an average of about 2.5 million doses being distributed across the US per day, meaning we could hit the bottom edge of herd immunity in about 50 days.
The story abroad is less rosy. Canada depends on European exports, and the EU's delivery of vaccines has been a disaster, with just a small fraction of the European population covered in the rollout so far, due to bottlenecks and problems at the continent's vaccine plants, including the AstraZeneca (AZN) facility in Belgium, and other issues.
Europe Falls Behind


Source: CDC, European Union, Gov.uk
The only countries beating the US on the vaccination front are Israel and the UK, with the latter already making plans for a full reopening in June, beating the post-Brexit EU due to their rollout problems. The UK's wide lead also provides a good benchmark for what we can expect in the US, whose larger vaccine production capacity means it should catch up in the next few weeks.
For big developing countries, the story is more nuanced. India's Serum Institute, the world's biggest vaccine producer, has focused on domestic distribution, but it's got a big job ahead in vaccinating one of the world's largest populations.
China, meanwhile, is focused on continued lockdowns and surveillance (meaning mainlanders must check in with a mobile app every time they leave their home or visit a shop, restaurant or building). China has vaccinated just 2.8% of its 1.4 billion people, and it may be years until it reaches herd immunity.
Accelerating Vaccine Drive Fuels US Economy—and Stocks
All of this means US-based companies will be among the first to see a return to normal business. In turn, demand for goods and services is set to boom in America, which is why economists are expecting 2021 GDP growth of 6.8% in 2021, almost as much as China's (7%), and ahead of the world GDP expectation of 5.4%.

Source: CEF Insider
To say this is unusual is an understatement. America almost never has a GDP growth rate ahead of the global growth rate (due to the many emerging markets that grow faster than developed ones like the US), and America's growth rate hasn't exceeded China's since 1999.
Tap Into America's Recovery With This 10.2% Dividend
You'd think, in light of this news, that American stocks would lead those of the rest of the world. Yet since the vaccines were first announced, international stocks have been in greater demand.
US Stocks: Still a Bargain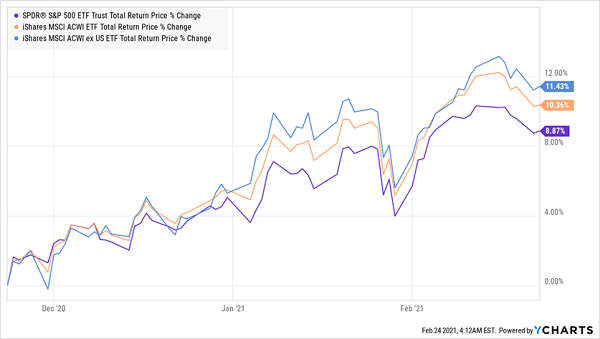 The benchmark SPDR S&P 500 ETF Trust (SPY), in purple above, trails the global stock market, shown by the iShares MSCI ACWI ETF (ACWI), in orange. Global stocks excluding America, shown by the iShares MSCI ACWI ex-US ETF (ACWX), in blue, have an even bigger lead over the S&P 500.
This is a great buying opportunity, since America's economy is better positioned than any other (except maybe the UK) to get a jump on the post–COVID-19 world.
And while you can get exposure to America's quickly rebounding economy through SPY, you can get into US stocks and get a bigger yield with a closed-end fund (CEF) called the Liberty All-Star Equity Fund (USA). As the ticker suggests, USA focuses on American companies, with a portfolio that includes many names to profit from a big jump in US growth, such as Amazon.com (AMZN), PayPal Holdings (PYPL) and Visa (V).
USA also yields 10.2%, nearly seven times as much as the yield on the average S&P 500 stock. Plus, USA's very selective investment strategy means it has crushed not only the S&P 500 since the vaccine was announced, but other foreign markets, too.
USA Vs. Everyone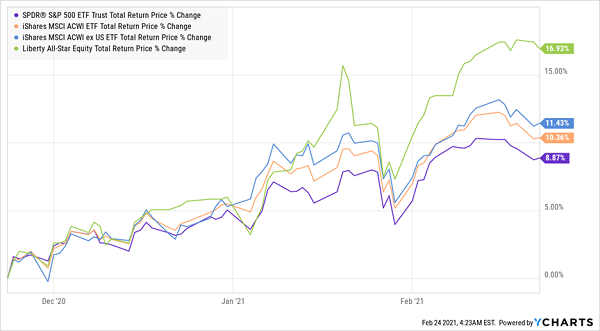 As the vaccine rollout continues—and accelerates further—in America, expect USA's outperformance to continue, too.
Add These 5 CEFs for More Big Dividends (and Upside)
You can build yourself a nice diversified portfolio of CEFs when you add the 5 other funds I'm pounding the table on today. These 5 off-the-radar CEFs yield a hefty 8% as I write this, and they trade at huge discounts to their "true" value, too.
The bottom line? I'm calling for 20%+ upside from these 5 funds as America's economic recovery picks up speed!
These 5 funds are perfect income-and-growth plays for 2021, and I urge you to buy them now. Get all the details you need right here, including the names, tickers, upside potential and complete dividend histories of all 5 of these unique funds.