I typically make a trip out to Las Vegas every couple of years, although the pandemic of late has busted those plans.
I'm a big fan of blackjack; it just always seemed like the one game at the casino I could play where my skills gave me an opportunity to win.
I was sitting at a table at the Tropicana on the Vegas strip a few years back, holed up with four other gamblers, hoping for a slow crawl to a big win at the tables.
I was playing small, only $15 per hand, but I got on a roll that seemed like it couldn't be stopped.
Now, for anyone that's ever played blackjack, there is ONE big thing that can really screw up your momentum.
And it's a player on the table that hits or stands on all the wrong cards.
Here I was, ready to build up a stack that could take me and my wife out for a dinner we would never forget, but Mr. Degenerate had other plans.
"Are you suuuuuuure?" The dealer asked for the fourth time.
The drunk guy pointed at the table crookedly again. He took a face card (a hit on 16) and busted. Thanks to his hit, the dealer drew a 5 for a perfect 21.
The casino took all of this degenerate's money. And some of mine. Now a numbers guy like me can manage the Blackjack downside by playing properly and counting some cards here and there.
Drunk guys can't do it as effectively. And the good news for Vegas casinos is that these types of gamblers are back in a *big* way.
In a minute we'll discuss the best dividends that are capitalizing on this renewed debauchery.
First, let's check in on Vegas visitors.
We are all excited to get back to Las Vegas, as recent trends have shown visitors up by 130% over last year. 

Source: Las Vegas Convention and Visitors Authority
Knowing this, I wanted to dive into the 'Vegas' based REITs that will continue to benefit as consumers brush off COVID variants and head for 'Sin City'.
Just to help provide some context there are a few ways to invest in Las Vegas, with the most popular method being via an investment into one of the casino operators, such as MGM Resorts International (MGM).
Operators such as MGM do not own the Vegas properties that we all know and love, but instead, sign a long-term lease with the property owners, such as MGM Growth Properties (MGP), which was spun out of MGM back in 2016.
The Casino REIT market previously only consisted of three major players: MGP, VICI Properties (VICI), and Gaming And Leisure Properties (GLPI).
However, a recent blockbuster deal saw VICI acquire MGM Growth Properties for ~$17 Billion, in a deal that should close by the end of the year.
The deal makes VICI the essential King of the Vegas REIT market.
Note that GLPI has Vegas exposure, but is much more diversified geographically and isn't as levered to a Vegas recovery. Still, I think it makes a solid investment and offers a 5%+ yield as we'll discuss in this piece.
Let's dive in.
The King Of The Vegas REITs: VICI Properties
Note that my investing style is more 'Peter Lynch' than anything else; Lynch was famous for "investing in what you know", often observing his family while out shopping to pick up on recent trends that he could capitalize on.
Thus, the Vegas REIT market is near and dear to my heart. I can sink my teeth into the massive casinos and entertainment meccas that I've visited such as The Venetian or Caesars Palace – two of the properties owned by VICI.

Caesars Palace, Las Vegas – Source: VICI Properties Corporate Website
And the business model is fairly straightforward. VICI owns premier casino properties and engages in 'triple net leases'; signing long-term leases with casino operators (such as Caesars Entertainment [CZR]) which handle all of the maintenance, insurance, and tax expenses.
Thus, if the portfolio consists of high-quality properties in great locations, these properties are essentially like investing in a long-duration high-yielding bond.
The good thing is, that many of the lease contracts have rent escalations built in or even CPI adjustments, making many of the leased properties inflation resistant.  Assuming that management can make smart investments, at an attractive cap rate, these REITs can be great long-term cash flow machines.
And VICI's management has done just that. Following a recent deal to acquire The Venetian/Sands properties earlier this year, VICI came out with a blockbuster announcement, acquiring the granddaddy of them all – MGM Growth Properties.
The deal will cement VICI as the premier Las Vegas REIT, with the company acquiring seven of the landmark casinos on the Vegas strip, including The Mirage, Park MGM, MGM Grand, Mandalay Bay, and Luxor among others with additional regional blockbuster casinos added to the mix, including Borgata in Atlantic City and MGM Springfield to name a few.
Thus, while VICI is acquiring over 26,000 hotel rooms and 450+ acres of prime Vegas property it is also gaining access to a high-quality portfolio of non-Vegas, regional-based MGM assets, consisting of over 6,000 hotel rooms and nearly 1 million square feet of casino space.
As an investor, I love the move by VICI, and as a quasi-Vegas aficionado, I can tell you, that they acquired the cream of the crop on the Vegas strip. Plus, the move actually helps diversify VICI; prior to the deal, they were heavily tied to Caesars, which accounted for 68% of overall revenues. Following the deal, MGM will now be their biggest tenant, but with a nearly even split between CZR and MGM.
VICI Properties (VICI) Revenues By Tenant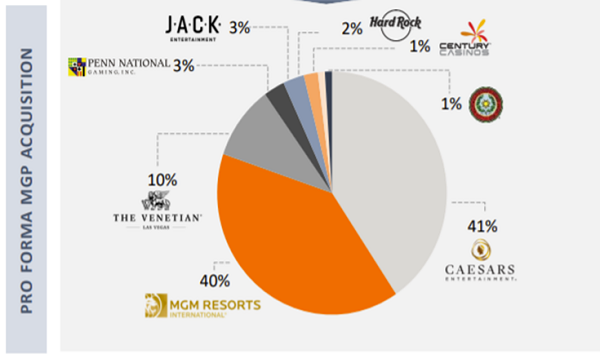 Source: VICI Investor Presentation
And while I like being levered to a Vegas recovery, the COVID variants are certainly something to keep in mind, and the good thing with VICI is that they are well diversified geographically, with 45% Vegas exposure and 55% from regional casino exposure outside of Las Vegas.
VICI is also a nice holding for income-oriented investors; currently offering a 4.5% yield with management able to show consistent dividend growth, even through the wrath of the pandemic. Valuation also looks attractive; trading at only 15.6x forward Funds From Operations (FFO), a slight premium to historic valuations, but well below the overall REIT averages.
My advice: use your table stakes and make VICI a part of your retirement portfolio.
How To Play A More Geographically Diverse Casino Recovery?
Following the MGP takeover, GLPI will be the only other Casino REIT left standing aside from VICI. Admittedly, this one doesn't get me as excited as VICI, but it does have a nice, diversified portfolio of 50 gaming facilities and management has done well in returning capital to shareholders.
GLPI is certainly not levered to a Vegas recovery; management has made it a key to invest across the US with Vegas being only a small part of their overall portfolio with the Tropicana their only Vegas-owned property.
Instead, they have built a portfolio of high-quality properties, anchored primarily by four major casino tenants – Penn National (PENN), Boyd Gaming (BYD), Caesars (CZR), and Bally (BALY).
I've watched some of their deals made over the last few years and management seems to have made some smart acquisitions, taking advantage of pandemic-driven stress in the industry. One recent example is the acquisition of the Tropicana in Evansville, Indiana and Dover Downs Hotel and Casino in Delaware at an 8.3% cap rate. As a comparison, the VICI deal with MGP was done at a 5.8% cap rate.
This ability to smartly acquire assets and expand their geographic footprint (important when COVID keeps popping up its head out of nowhere) has helped also keep the income for shareholders at above that of peers. The current dividend yield for GLPI is at 5.2% while the stock trades at only 14.5x forward FFO, a 7% discount to its peer VICI.
The stock has additionally been a great total return story for investors. Yes, there was a pandemic-related dip, but overall, in the past five years, investors have more than doubled the returns of the overall REIT market.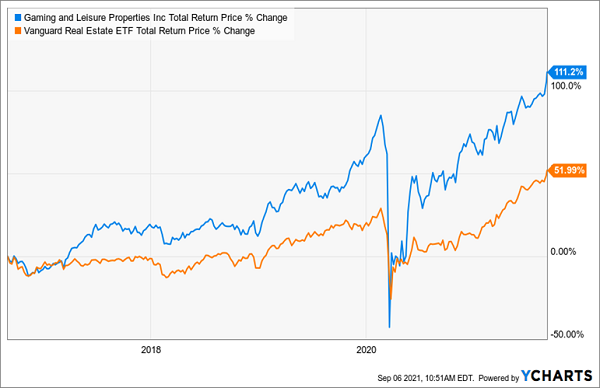 If you're playing the odds on a continued Vegas recovery, VICI is the name to bet on, but I also like GLPI for a high-quality, diverse portfolio of gaming properties in the US.
Want More High Yielders That Won't Require You To Draw Down Principal?
Chief Investment Strategist Brett Owens has you covered with his "No Withdrawal" Retirement Portfolio.
Here's where you can earn a stress-free $35,000 on a half-million… $70,000 on a million… and $100,000+ annually on anything higher.
Plus, you won't even have to tap your initial capital or "draw down" any of your priceless principal.
Don't miss this unique income opportunity. Get the full story on this breakthrough portfolio—including the names, tickers, and his complete research on every stock and fund inside—right here.