There's a terrific buying opportunity taking shape in the municipal-bond market. Almost no one sees it coming, and you can thank a familiar friend for it.
I'm talking about the Fed—specifically Janet Yellen's irresistible urge to hike interest rates in December, low inflation be damned.
She recently made that intention crystal clear, and futures markets responded by baking it in, with rate-hike odds leaping from a 30% chance to 76.4%:
Final Notice: A Christmas Rate Hike Is Coming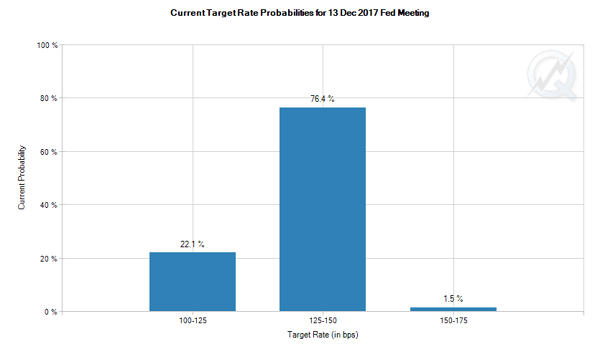 Stocks, for their part, have proven resilient, though there are still bargains to be had despite the market's climb this year.
But there's another place where you'll find even better bargains if you're patient. It's a corner of the market that gets twitchier when rate hikes roll around, because it's where the most risk-averse and yield-hungry investors go.
I'm talking about municipal bonds—and in particular funds that hold munis. (Click here for a primer on how municipal bonds work and how they can pay you outsized, tax-advantaged dividends.)
Munis have already started to sell off in response to Yellen's comments—though we're still in the early innings:
Muni-Bond Buy Window Starts to Slide Open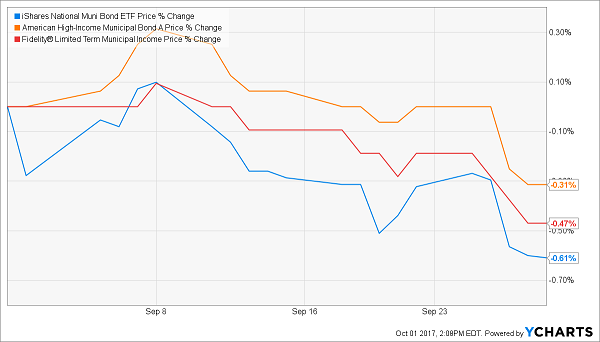 The selloff is showing up in municipal bonds around the country, including limited-term and high-income munis. As you can see in the chart above, that's started to send the benchmark iShares National Muni Bond ETF (MUB), American High-Income Municipal Bond Fund (AMHIX) and Fidelity Limited-Term Muni Income Fund (FSTFX) lower.
What to Do Now
The selloff has only started, so you could join the herd and sell … but that would be a mistake, in part because the associated capital gains taxes and trading commissions would eat into your profits. Plus you'd miss out on dividend income too.
Instead we need to think like the canny contrarians we are and view the selloff as a signal that it's almost time to buy!
Note that I said almost.
With MUB down less than 1% over the last month, since the market really started to believe the Fed's hints that a December hike is coming, it seems like there are some slowpoke investors still waiting to sell. So let's hang out here and wait for them to offload shares of MUB and similar muni-bond funds in October and November. Then we'll make our move!
If this sounds familiar, it's because something similar very happened in late 2016, when a rate hike was also just around the corner:
Muni Bonds: A Trump Bump in Reverse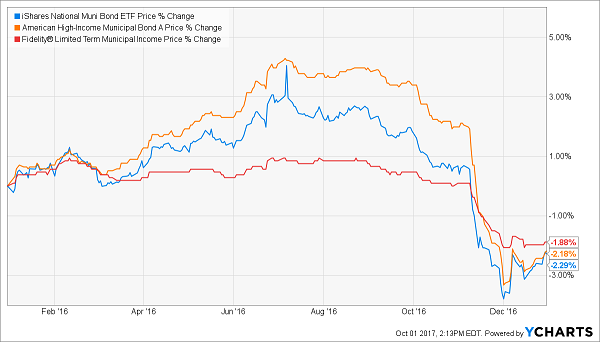 Of course, some of this selloff had to do with Donald Trump's surprise election win, so this year's selloff will likely be shallower. But year-to-date gains in municipal bonds are close to what they were at this time in 2016:
History Is About to Repeat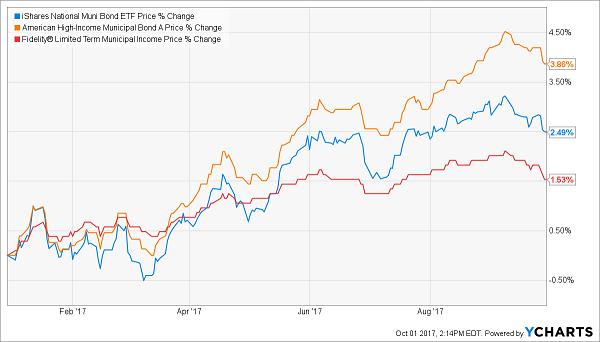 With those price gains in the books for 2017, there's room for these funds to fall 4% to 7% by year-end from their price peaks—and once again, the Federal Reserve's plans will likely be the trigger.
Get VIP Access to My 11 Top Funds for Yields Up to 9.5%
My CEF Insider service holds two muni-bond funds in its portfolio that are ripe for buying now—and the coming dip is about to make your opportunity even better!
Each of these two income wonders pays a 5%+ dividend, but that disguises your REAL payout, because their dividends are also tax-free, so the cash stream that rolls into your pocket is actually MUCH larger.
Here's the best news: for a limited time, I'm giving a select group of investors instant access to both of these high-powered funds AND the 9 other off-the-radar picks in CEF Insider's portfolio!
These 11 powerhouse funds really are the best of the best—poised for fast double-digit gains and throwing off SAFE yields up to 9.5% right now.
All you have to do is CLICK HERE to road test CEF Insider and get immediate access to this incredible portfolio with no risk and no obligation whatsoever.
That's not all.
Your no-risk trial also comes with my latest FREE Special Report, which reveals my 4 "Best Buy" CEFs now.
These "unicorns" boast 7.4% CASH payouts, on average! AND I'm expecting strong dividend growth here, too, so you'll be pocketing 10% or more in short order.
The kicker? Thanks to their ridiculously cheap discounts, they're also on the launchpad for fast 20%+ price gains!
Your Special Report, the entire CEF Insider portfolio and all the other benefits of membership are waiting for you now.
But I must warn you: we can only let 500 people take advantage of this offer to try CEF Insider—and 400 have already snapped up trial memberships. With thousands of investors likely reading this now, I expect those remaining spots to go FAST!
Don't wait. CLICK HERE to get instant access to the CEF Insider portfolio and the complete service with no risk whatsoever!