Brett Owens, Chief Investment Strategist
Updated: November 9, 2015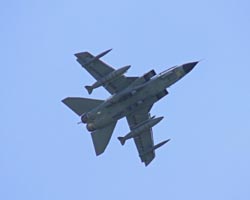 Many first-level investors hear "defense stocks" and immediately start worrying about budget cuts.
But the two aren't actually as connected as they think. And they've missed out on triple-digit gains as a result.
Despite the endless talk of reining in military spending on Capitol Hill, the defense business is booming.. Just look at how the sector's top stocks have performed.
Let's say, for example, you bailed out of Northrop Grumman Corp. (NOC) on December 1, 2012, at the height of the fiscal cliff debate. You'd have missed out on 183% stock-price gains, along with dividend hikes averaging 15.2% a year.
Same with Lockheed-Martin (LMT) – it's up 138% since then, with dividend hikes averaging 14.5% a year.
It's no surprise, then, that while the politicians were hammering out a deal that shaved $5 billion from the defense budget last month, top military suppliers were rolling out earnings reports that blew away the Street's expectations. …
Read more