The S&P 500 is near record highs. The pundits see an elderly bull market with more room to run. The Federal Reserve says it will likely hike interest rates multiple times in the next 12 months.
Sound familiar? It should. Because it's exactly what we were as 2016 dawned.
Here's what happened in the following six weeks: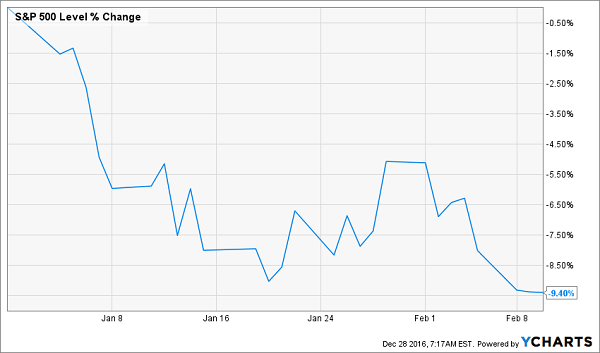 I know what you're thinking: Yes, but the index did go on to recoup those losses and more, with big rallies following the Brexit vote in June and Donald Trump's surprise win last month. In the end, it wound up the year with a 10.1% rise.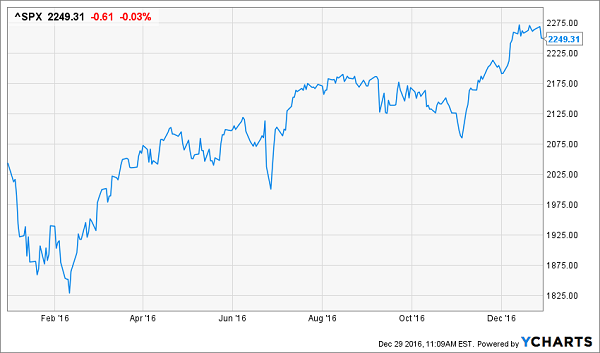 All true.
But as you can see above, the Trump bump is starting to look sleepy. Throw in the fact that the S&P 500 now trades at a nosebleed 26.2 times trailing-twelve-month earnings, and a replay of last year's winter of discontent doesn't seem farfetched.
And this time, the rebound may be a lot slower to kick in, particularly if President Trump's policies spark a trade war or send the greenback soaring. Either could put a vice grip on S&P 500 earnings … and knock them even more offside with the index's inflated value.
It's time to be careful.
The one thing you don't want to risk right now is a big dividend cut. Just look at what happened to Kinder Morgan (KMI) shares in December 2015, when the company shocked investors with a 74% cut to its payout: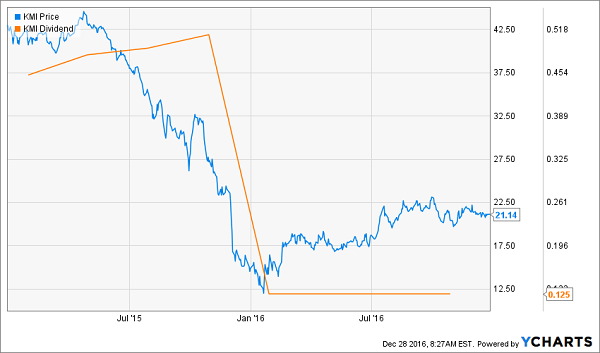 And that nosedive came before interest rate worries had investors taking a magnifying glass to their dividend stocks. The unlucky folks holding today's dividend cutters could be in for much worse.
With that in mind, here are three names you need to steer clear of now—or banish from your portfolio if you hold them. (I'd also add Kinder, which recently released disappointing cash flow guidance and sees no payout hike in 2017, to this list.)
Staples: A Bounce Too Far
Staples' (SPLS) has been a huge winner following Donald Trump's victory, soaring some 18% since November 8.
That's because The Donald is promising big corporate tax cuts, which would go straight to the office-supply chain's bottom line. The company also has little to fear from Trump's trade policies: just 15% of its revenue came from overseas in the first nine months of 2016.
Plus, the stock was trading at an unusually low 8.3 times forward earnings prior to the vote. It's now up to about 10.2, which is still below Staples' five-year average of 12.9.
But don't let any of that, or the company's outsized 5.3% trailing-twelve-month dividend yield, pull you in. This payout is way overdue for a cut. Right now, Staples boasts a negative payout ratio (or the percentage of earnings paid out as dividends)—meaning it's paying a dividend and losing money at the same time!
The situation improves somewhat when you take a look at the dividend as a percentage of free cash flow (FCF), but only just: that particular ratio has been trending up as FCF dropped in half since 2012: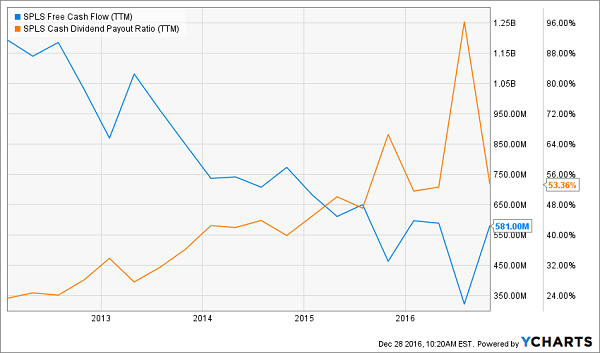 Meantime, revenue continues to slide, and brick-and-mortar retailers as a whole have seen a 10% decline in overall foot traffic through mid-December, no thanks to Amazon.com AMZN and its online kin.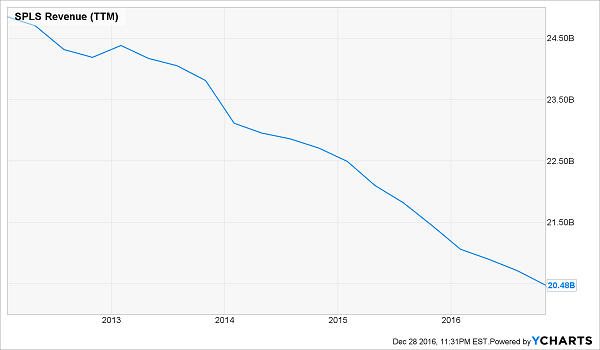 Where does this all leave us? With no reason to join Staples' beleaguered shareholders right now … unless it's with money you'd like to lose.
GCI: A Classic Yield Trap
Gannett (GCI) is another stock with an outsized dividend yield—6.5% in this case—that might seem tempting. The siren song gets louder when you look at the newspaper publisher's bargain forward P/E ratio of just 9.2.
Don't take the bait, because this dividend looks set for a Wile E. Coyote moment: GCI's payout ratio is 234%! In other words, it's paying out far more in dividends than it's earning. The dividend also soaks up 80.5% of FCF—and that's rising fast: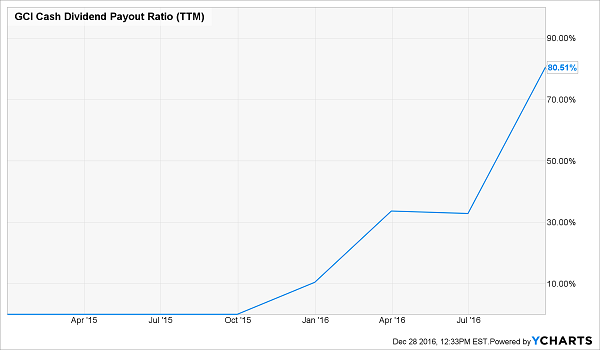 As for the bargain P/E, it simply reflects the fact that investors expect little growth here, and this time, they're on the mark. The newspaper publisher spun off its digital and broadcast businesses last year into a new company called Tegna (TGNA).
That leaves it anchored in the struggling newspaper industry with USAToday, its flagship paper, and a bevy of local dailies and magazines. Worse, its bid to buy Tronc (TRNC), formerly Tribune Publishing, recently fell apart, reportedly after Gannett had trouble lining up financing.
Now management is back to square one … and with EPS and free cash flow trending lower since the Tegna spinoff, a dividend cut may be their next move.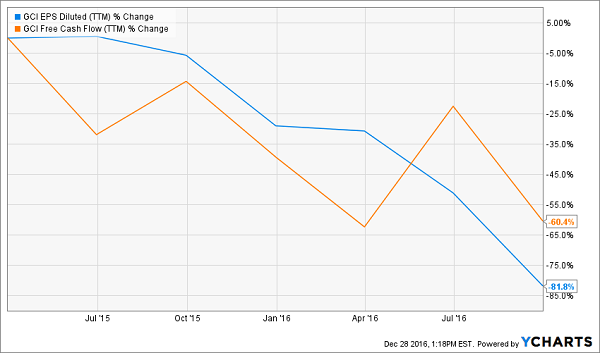 CAT Hits a Wall
Caterpillar (CAT): has been another beneficiary of the Trump bump, jumping more than 10% since November 8. That's driven down its dividend yield, but it's still a respectable 3.3%.
If you're thinking of jumping in, take note: this dividend may not even be able to hold steady in 2017, let alone rise. Why? Because right now, the company's payout ratio is 299%! Nothing puts dividend growth on ice faster than a rapidly rising payout ratio, and Caterpillar is no exception.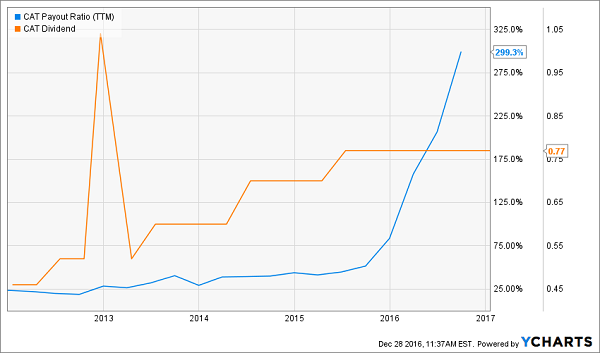 CAT has paid out a more manageable 71.6% of FCF as dividends over the past 12 months, but that figure is way up from 48.9% a year ago. If the company hopes to reverse that trend, it needs Trump's infrastructure plan to come through, er, bigly, along with a sustained rise in commodity prices.
In the background is CAT's nosebleed forward P/E ratio of 30.0, well above its five-year average of 24.5 and that of rival Deere & Co. (DE) at 19.8. If CAT simply reverted back to the five-year average—a not-unlikely scenario if resource prices don't co-operate—its price would drop about 19% from today's level.
Here's the bottom line: Add any of these laggards to your portfolio today, and you're risking a shriveled income stream and a hit to your nest egg.
And if you think Dividend Aristocrats like Kimberly-Clark (KMB), Wal-Mart (WMT) or Sysco (SYY) are any better, think again. Most of these companies' best growth days are behind them, and many are throwing off meager $0.01-a-year payout increases. That's barely enough to keep you ahead of inflation! Plus you'll probably be buying at ridiculously high multiples to earnings, to boot!
I want to show you a better way.
I'm talking about my  "No-Withdrawal" retirement portfolio, whose average yield—a rock-solid 8.0%—lets you collect a solid $40,000 a year in income on a modest $500,000 nest egg!
The 6 investments it's built on include my favorite real estate investment trust, which raises its dividend every quarter—not every year—and the last hike came in 4% higher than last the previous quarter's payout!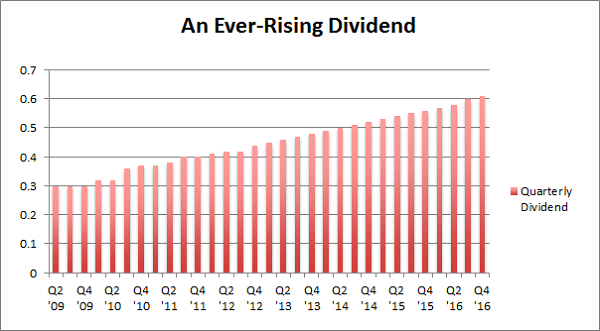 This income powerhouse pays a gaudy 8.4% yield today, and it trades at less than 10-times funds from operations (FFO). Pretty cheap.
I can't wait to show you this company's name and my complete research, as well as the names of the 5 other low-risk, under-the-radar investments in this dynamic new portfolio. All you have to do is click here to get all the details right now.