The most worrying recession indicator I know of is now shining bright red.
And now is the time to buy stocks.
I know that sounds like a blatant contradiction. Let me explain—then I'll reveal a closed-end fund [CEF] yielding an amazing 9% and set to skyrocket in the coming 12 months.
Recession Signal Switches On
The recession indicator I'm talking about is called the "inverted yield curve."
It sounds like technical jargon, but the idea here is straightforward. The term refers to the different rates bondholders get on different US Treasury issues; this has big implications for the stock market.
The federal government issues bonds of different durations, from one month to 30 years. Normally, the longer-duration bonds offer bigger yields, as you'd expect in return for committing for a longer term.
Every once in a while, though, shorter-duration bonds actually yield more than longer-term ones. That's called an "inverted yield curve," and it's happening now.
Shorter Duration … Bigger Income?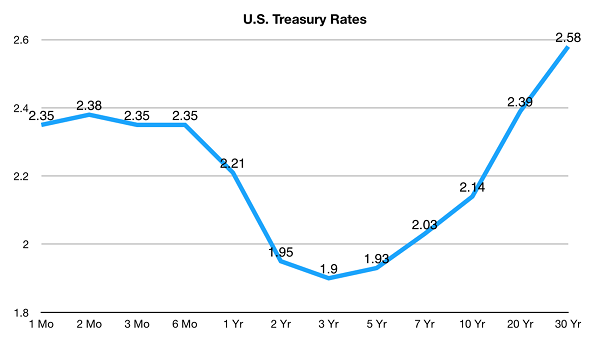 Source: CEF Insider
As you can see above, investors in 1-month, 2-month, 3-month, 6-month and 1-year Treasuries are all pulling in higher yields than buyers of longer-duration Treasuries reaching out to 10 years.
A Foolproof Recession Indicator …
This is a big deal, because every time shorter-duration Treasuries yielded more than longer-duration ones, a recession followed this inversion within around 12 months. Since this inversion happened in recent weeks, we could be facing a recession in 2020.
That news comes at a time of a widening trade war between the US and the rest of the world, including recently hiked tariffs on Chinese goods to the US and China retaliating with its own tariffs. And now we have President Trump announcing 5% tariffs on Mexican imports.
So there are plenty of reasons to worry, right?
Well, not so fast.
… Or Is It?
While an inverted yield curve is something to worry about, there are several unique factors we need to consider.
To start, note that the really big inversions are between the shortest Treasuries (less than a year in duration) and the others. However, the 2-year, 3-year and 5-year are not inverted with the 10-year and 30-year Treasuries.
This might sound like a technicality, but it means a lot for bond markets.
This inversion has happened suddenly in recent weeks, due to bets that short-term Treasury rates will skyrocket due to the Federal Reserve cutting its rate target soon.
If we look at the futures in the bond market, we can pinpoint what expectations are—and they're surprising.
A Rate Cut to Come …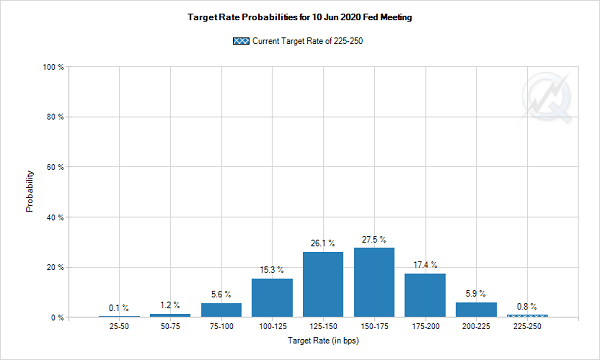 Source: CME Group
This chart shows that the market has a 94.1% chance of the Federal Reserve cutting rates in the next 12 months. If that happened, the yields on short-term Treasuries would fall, and the yield curve would stop inverting entirely.
Couple this with impressive economic numbers—the US exceeded 3% GDP growth in the first quarter of 2019, and strong growth is likely for the second and third quarters, too—and it seems hard to reconcile the inverted-yield-curve recession predictor with the economy's current strength.
… And a Rally Ahead
If the Fed does cut rates, expect the recent volatility in stocks to be replaced by something else—a massive rally.
And since that rally would come within the next 12 months, you can get in front of it by buying stocks now.
But what's the best way to buy them?
The problem with purchasing an ETF that tracks the S&P 500, like the SPDR S&P 500 ETF (SPY), is that, if the market keeps panicking in the short term, you could see the value of your investment drop before it recovers with the rate-cut rally.
But there's a good way around that: a high-yielding CEF focused on US stocks—especially one that pays dividends monthly.
That's because from now until rates are cut, such a fund will pay you dividends in cash, which you can keep as a hedge against market volatility. And you don't need to look far for a good, high-yielding fund that doesn't take on too much risk.
This CEF Yields 9% and Cushions You From Volatility
One CEF that fits the bill is the Eaton Vance Tax-Managed Dividend Equity Fund (ETY). This fund pays out monthly dividends and focuses on large-cap and mega-cap companies.
ETY's top-five holdings include Microsoft (MSFT), Amazon.com (AMZN), Apple (AAPL), JPMorgan Chase (JPM) and Verizon Communications (VZ). A concentration in household names like those makes this fund a solid proxy for the S&P 500 itself, as you can see in the chart below:
ETY Tracks the Market—With a Cash "Bonus"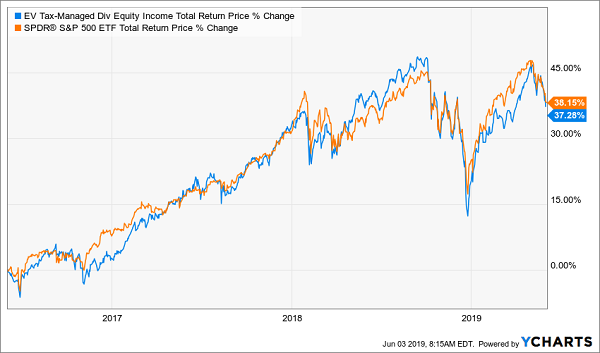 That market-matching performance may not seem terribly exciting, but bear in mind that as I write, ETY pays an outsized dividend (current yield 9%, vs. 1.8% for the S&P 500 average).
And the chart above includes dividends, as well as capital gains.
That means the longer you hold this fund, even in a downturn, and squirrel away your dividends, the larger your hedge against your holding will be, as ETY effectively "repays" your initial investment in the form of dividends.
This "dividend hedge" makes ETY a great option for playing a stock recovery, even if there's no way of knowing when in the next 12 months that recovery will come.
Urgent: Grab This Growing 10.7% Dividend Now—While It's Cheap
ETY is a great fund, but you can grab an even bigger income stream with my No. 1 equity CEF pick now.
I've made this top-secret CEF my No. 1 pick in stock-focused funds for 2 reasons:
It boasts an amazing 10.7% dividend yield, and …
Its cash payout is exploding, up an incredible 150% in the last decade!
How does this fund do it?
It's run by an investment all-star team cherry-picked from 5 of the sharpest management firms on Wall Street.
Together, this crew invests in a "no-gimmicks" portfolio of value and growth stocks, all of which have deep moats protecting their businesses: names like Visa (V), Microsoft (MSFT), Alphabet (GOOGL) and Abbott Laboratories (ABT).
So how has this all-star team performed?
They've absolutely dominated, with most of my pick's monstrous total return coming in cash, thanks to that huge dividend payout:
Crushing the Market in Cash
Finally, this fund trades at an unreal 5.1% discount as I write this. It's only a matter of time before that shifts to a massive premium, propelling my pick's market price higher as it does.
So you'll be looking at a big capital gain here, to go along with that growing 10.7% dividend. And just like with ETY, my pick's discount will also help cushion it if volatility flares up again.
I'll give you everything you need to know—name, ticker, buy-under price and a complete look under the hood of this powerful 10.7%-paying pick—when you click right here.
That's not all! I'll also give you my 3 other top cash-spinning CEF picks (combined yield: 8.7%; price upside: 20%), too. Don't miss out. Click here now!