Michael Foster, Investment Strategist
Updated: March 20, 2019
Today I'm going to show you a closed-end fund (CEF) yielding 13.7% that sounds—and is—too good to be true.
If you hold it, now is the time to sell.
The fund I'm talking about is Eagle Point Credit Company (ECC). Today we're going to dive into all the reasons why ECC is a CEF to avoid. I'll also give you five takeaway tips you can use to steer clear of funds like it in the future.
Let's get started.
CEF Danger Sign No. 1: NAV and Market Price Go Haywire
As you can see below, ECC recently saw its net asset value, or NAV, plummet 26%, erasing three years of gains overnight:
ECC's Underlying Portfolio Collapses …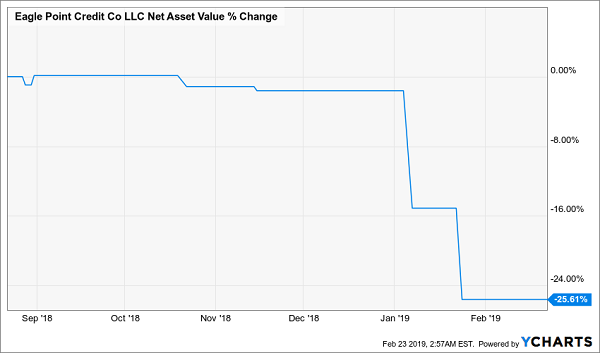 In a normal situation, you'd expect investors to sell fast.… Read more